In September 2014 it was announced that Bostik's owner Total, had received an offer from specialty chemicals organisation, Arkema, to acquire the business. With the transition seemingly entering its final stages, Bostik's products look set to grip the attention of contractors industry wide
Cementing its hold
In September 2014 it was announced that Bostik's owner Total, had received an offer from specialty chemicals organisation, Arkema, to acquire the business. With the transition seemingly entering its final stages, Bostik's products look set to grip the attention of contractors industry wide
"With a close alignment of values and strategy, the move is seen very positively by everyone within the company," explains Ciaran O'Driscoll, recently appointed managing director for Bostik UK. Having worked within Bostik across a number of roles that include directing the organisation's Irish interests, as well as leading a global initiative to further boost the company's innovation approach, Ciaran undertakes the role as MD with a true understanding of the business.
Innovation at the heart of smart adhesives
Innovation has been a key pillar of the business strategy and Bostik has invested heavily in recent years in both facilities and people. Globally, the business utilises three large R&D centres, undertaking a great deal of upstream chemical development, researching polymers, their properties, and how they can be used in adhesives. Its newest facility, the Bostik Smart Technology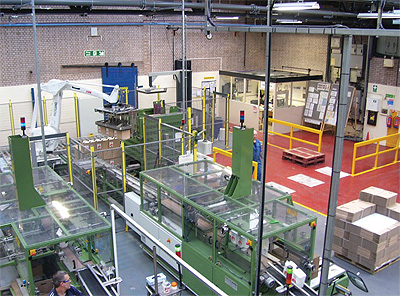 Centre, opened in France in the final quarter of 2014 and represented an investment of 12 million euros. Over 100 highly qualified scientists and chemists are employed at the centre bringing its worldwide R&D headcount to over 480 specialists focused on developing new products and processes.
The firm has also invested in local innovation capabilities and the UK is no exception. Its Stafford research facility, which employs 25 scientists, has in recent months also received significant investment with the objective of developing new products for the UK market. "Working closely with customers, we are driven to develop smart adhesives – products that do more than simply stick things together. While we have our own dedicated R&D facility in Stafford primarily focused on the local market, we can always draw upon additional resources and expertise from across our global R&D network when required," says Ciaran.
A world-renowned reputation has been gained in adhesives and sealants, particularly in Bostik's lead technologies of Elastic Bonding, Hot Melt Pressure Sensitive Adhesives (HMPSA) and Polymer Modified Binders where it specialises. This expertise has contributed to a host of recent product launches including cementitious products for flooring, tiling, and grouting as well as fire retardant sealants, which meet the most stringent standards for mass transit applications. "We want to continuously innovate by bringing new products with additional features that benefit the end user. In tandem with this, we adopt a systems-based approach with the aim of removing the risk for installers and end users whilst complying with all relevant legal and environmental requirements. All chemicals which we select are evaluated closely, ensuring they are not in any way dangerous for either our employees or end users," points out Ciaran.
New product development for the construction market
The fruits of Bostik's innovation-based strategy are in evidence among its most recent product introductions for the construction market in the UK. One such product, designed in-line with contractors' feedback, is the Screedmaster FLOW self-leveling compound, launched in September 2014. "The launch greatly exceeded our expectations. It is designed to meet the ever-increasing demands of flooring contractors, and, as the name suggests, it has excellent flow characteristics. When poured, it requires minimal effort from the contractor to spread it, and the market has welcomed the savings in terms of simplicity and time. What we are trying to do is give time back to the contractor," explains Ciaran.
The flooring range extends to include products such as Screedmaster SPEED, Screedmaster ULTIMATE and Screedmaster FLEX, which is scheduled for launch in February 2015. As a fibre-reinforced self-leveling compound, this new introduction will provide a solution for covering difficult floor surfaces such as timber and mezzanine floors. In addition, Bostik also recently introduced a range of special flooring adhesives for bonding all types of floor coverings including carpet, vinyl, LVT and wood.
From horizontal to vertical coverings, Bostik continues to deliver complete solutions to the market, as Ciaran continues: "We have also launched a system for the external wall insulation market which is a growing segment in the UK, as efforts are made to reduce energy loss from buildings." With the entire range fully approved by the British Board of Agrement, Bostik is anticipating significant success in 2015.
Focused brand strategy
Bostik's brands have also received significant focus with a new brand incorporating its 'smart adhesives' positioning launched in November 2013. Over the past year, much attention has been spent harmonising the product offering and converting products to the new branding. "Bostik has evolved through the amalgamation of a number of different companies that have their own brands, so it
has been difficult to leverage the strength of any single brand. Refocusing our branding in this way has opened up that opportunity, narrowing the focus of our significant spending and marketing in one area and providing a uniform offering that will be of greater interest to the customer," points out Ciaran.
Meeting customer needs through operational excellence
Bostik has spent tens of millions on capital expenditure and equipment and goes into 2015 with a similar programme of investment aimed at improving operational excellence and serving customers in the most efficient and cost effective way. Ciaran says, "Operational excellence will be driven forward by continued investment in state-of-the-art equipment and processes. Although significant upgrades have been made to our plants and facilities in recent years, a further £2.5 million will be invested in the UK in automation and system upgrades in 2015.
"This investment, along with technical expertise and on-site support, is being made with the customer in mind. We recognise that customer intimacy and effectively servicing customer needs is critical to our future success and we aim to build stronger relationships across all levels with our customers."
Investment in people
Bostik's recent UK investments have not been limited to its innovation and operational capabilities as considerable resources have also been allocated to education and training initiatives for both staff and contractors. As part of the Contract Flooring Association and the Thermal Insulation Contractors Association, the business takes its role very seriously, as Ciaran explains: "We continue to invest in the education of construction workers and offer training in a number of ways, including classroom and on-site training. In addition, by sponsoring industry associations including the Flooring Industry Training Association as well as colleges providing apprenticeships and NVQs, we also look to ensure the next generation of construction talent is fully equipped for the future."
The investment of time and resource has extended to the specification market and working with the Royal Institute of British Architects has seen Bostik target key areas such as flooring and tiling, thermal construction and external wall insulation both at home and abroad. Exporting to growth markets has seen Bostik develop a presence in the Middle East and Gulf regions in countries including Qatar and Saudi Arabia. A number of new airports in the Gulf region currently under construction have been supplied with Bostik products, including Abu Dhabi, Doha and the new airports in Muscat and Salalah in Oman. Furthermore, there are a number of prestigious projects in the Gulf region including shopping malls, banks and new five star hotels that hold significant opportunity for the future.
Ciaran concludes: "My personal vision is for Bostik to serve as a valuable resource for the construction community and have real partnerships rather than simple transactional relationships. We will continue to forge closer relationships across the construction sector and offer solutions for all stakeholders including contractors, distributors, retailers and specifiers. With this principle central to our ongoing development, I'm very confident of continued success in the future."
Bostik
Products: Global adhesive specialist