With 125 years of innovation and breakthrough development to its name, Bostik represents the biggest and arguably most experienced adhesive company in the world
Sticking fast
With 125 years of innovation and breakthrough development to its name, Bostik represents the biggest and arguably most experienced adhesive company in the world
Its products cover a vast range of market sectors from construction to industrial manufacturing, making Bostik a trusted brand throughout the world. The modern Bostik brand has evolved through the merging of Totalfina and Elf Aquitane in 2001 to form TotalFinaElf, which would later become TOTAL. Today Bostik is a globally recognised brand operating as a wholly owned subsidiary of TOTAL that enjoys a presence in 50 countries and boasts as many as 4800 employees worldwide. The origins of Bostik date back to 1889 and the foundation of the Boston Blacking Company in Boston, Massachusetts, which was later acquired by United Shoe Machinery (USM). Following the acquisition Boston Blacking Company became the chemical division of USM and was subsequently renamed Bostik Chemical Group shortly thereafter.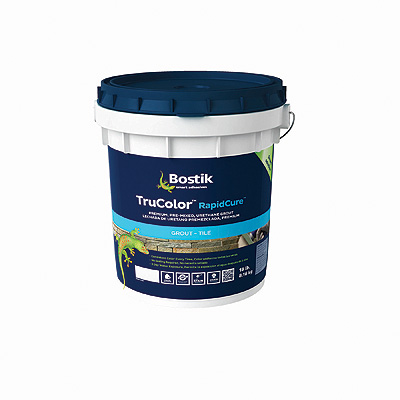 The second 'branch' of what would become the Bostik group emerged in 1911 when Frank Findley purchased the Wisconsin Paste Company, which manufactured wallpaper and billboard paste and would go on to be renamed Findley Adhesives. During the years both Bostik Chemical Group and Findley Adhesives continued to evolve and develop through several mergers, acquisitions and divestments among the various adhesives companies and their owners until the merger of Totalfina and Elf Aquitane and the bringing together of their respective adhesive decisions. Bostik of Totalfina and Atofindley of Elf Aquitane formed Bostik Findley, which was finally renamed Bostik as it exists today in 2004.
"Today Bostik commands an impressive presence within the world's adhesive industry with 49 manufacturing plants globally and 14 advanced research and technical centres around the world. The Bostik brand is recognised as a leading global adhesives specialist for construction, consumer and industrial markets," explains Chief Marketing Officer, Phil Derby. Within the construction industry Bostik's activity covers a broad range of applications including flooring, tiling, waterproofing, sealants, grab adhesives, decoration, assembly and insulation. The company introduced the first neoprene-based contact glue to stick floor and decorative coverings to diverse surfaces including cement, plaster, wood, glass and metal and additionally Bostik was the first to launch silyl modified polymer (SMP) based elastic adhesives, which are now used in many high performance sealing, bonding and waterproofing applications.
Within the consumer market Bostik likewise develops adhesives that cover a host of applications ranging from stationery through to waterproofing and decoration. One product that is readily recognisable to many consumers is the Blu-Tack brand of removable putty, which was first launched by Bostik in the early 1970s. While the product was originally developed as a way securing various articles in place, it has since found more unusual uses including removing fluff and dirt from computer keyboards, preventing doors from banging and erasing pencil and charcoal marks.
Finally within the industrial manufacturing sector, Bostik supplies bonding and adhesive solutions to many manufacturing sectors including, automotive, aerospace, rail, packaging, disposable hygiene, tapes, labels, flexible lamination, footwear, furniture and construction components. During the 1950s Bostik first began delivering adhesive, glazing and sealing products to the aerospace industry to build, seal and protect aircraft from the elements. Examples of this include the use of various products in the production of the Airspeed Ambassador aircraft including sealing compound numbers 1751 and 1790 for integral tanks and pressurisation, sealing compound number 1222 for pilot screens as well as Prestik Sealing Strip and Bostik 'C' adhesive for various sealing and bonding applications.
Recently Bostik released a revolutionary new grout, which is marketed under the Bostik TruColor brand. The product is a patented water-based urethane grout technology that offers unmatched performance in terms of flexibility and toughness for both residential and commercial tile installations. TruColor is UV, chemical and stain resistant to provide ultimate performance in colour
accuracy and consistency over time. It is highly resistant to cracking and never needs to be sealed and comes ready-to-use, requiring no mixing. TruColor is available in several unique and vibrant colours, including glass and metallic effects that enable architects and interior designers to design the most striking interiors.
Furthermore, Bostik has continued to strengthen its construction-related portfolio with several new innovations that have emerged in recent times. These include Bostik Ultra-Set SingleStep 2, a hardwood flooring adhesive that incorporates the firm's advanced Axios Tri-Linking polymer technology. SingleStep 2 offers an all-in-one solution by combining a high performance adhesive and moisture vapour barrier with proven noise-reduction properties. The product was recently unveiled at the Surfaces 2014 event in Las Vegas, USA. The Boscoseal PU polyurethane-based exposed waterproofing membrane has been developed for flat roofs and comes with a 25-year warranty and finally, Technis-R is a non-shrinking and fast setting floor screed that enables the installation of floor areas of up to 500m2 without the need for expansion joints. This was recently introduced in France.
This year will mark the company's 125th year in operation and is huge milestone for Bostik. To commemorate this prestigious event the firm will roll out its 'Bostik 125 Years of Innovation' branding as well as a commemorative 125 Years of Innovation book, to be published in English and French. There will also be a host of promotional materials and advertising campaigns, including public relations events.
"Bostik's sizable research and development resources are continuously looking to the future and applying technological advances to meet the demands and requirements of our customers all over the world," says Phil. "In terms of construction related innovations, there are a number of systems nearing the end of development and will be unveiled shortly. These include a removable flooring bonding system, which brings obvious advantages in terms of time savings and sustainability."
When it comes to defining what it is that has made Bostik a success for the past 125 years, the company adopts a unique approach in the market by combining innovation with a systems-based approach as Phil concludes: "Bostik pursues innovation just as vigorously as it has over the last 125 years. Our corporate strategy is very clearly built around innovation and the application of technology to develop adhesive solutions that will make whatever is assembled, built or constructed smarter and more adaptive to the forces that shape our daily lives. The Bostik name is synonymous with smart adhesives and bringing to market functional products that do more than just stick things together."
Bostik
Products: Adhesives