For 67 years Bourne Group has successfully operated within the construction engineering sector and has achieved year on year profit, a record of which it is very proud.
The birth of expertise
For 67 years Bourne Group has successfully operated within the construction engineering sector and has achieved year on year profit, a record of which it is very proud. Faced with very challenging market conditions over the past few years the business has managed to remain profitable and grow in spite of the global recession
Our turnover fell back during the crisis, but we continued to remain profitable and have worked hard to grow it back over the past couple of years, and this year we are once again predicting positive growth," begins says Terry Wood, Group Development Director. Controlling its core business as a steel fabricator, the company is additionally involved in specialist fabrications and works across various sectors. There are eight subsidiary companies within the Group, with each a perfect example of a policy of diversification that has seen the business expand and grow in equal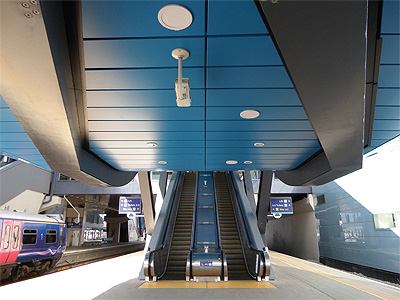 measure. The company's reputation was first established with the design, manufacture and installation of structural steelwork, but whether fabricating steel or operating the latest CAD software, its work is framed by an over arching principle: a steadfast commitment to quality, safety and the development of its people.
"We work in the refurbishment of commercial offices, medium- high rise buildings, rail & infrastructure, airports, retail, schools, process & water treatment, bridges, modular sectors and we have been extremely successful more recently in the energy from waste sector. We have a very successful design and build car parking division, having just completed a £10 million car parking facility project at Bristol parkway station. Diversification is absolutely key and essential to maintain the flexibility to react to market conditions," explains Terry.
The business recently completed a project with Clugston Construction, a company at the forefront of renewable and green technologies running energy from waste projects in Oxfordshire. Talking about the strategy behind the move, Terry points out: "As our other markets began to contract we identified the energy from waste sector as potential area for growth in which we could transfer our expertise. Utilising our skill sets from engineering, design, fabrication and erection we were able to bring together all our core skills and were successful in winning five projects in that sector."
Entering new markets can raise potential problems for any business, but through utilising the skill of its workforce, many of whom have in excess of 25 years experience on which to draw, the Bourne Group has been able to develop within the market. "Our broad skill set is well developed to suit challenges from demanding sectors which are cost and programme driven. It is of paramount importance to deliver to time, to cost, and to budget," says Terry, further explaining that the key strengths of the business come from its employees: "We invest in our people, focusing on training to maintain a position at the forefront of technological developments. With engineers in short supply, we have established a graduate training programme in which we work closely with colleges and
universities. We are always looking for talent and as students near graduation we attend seminars, employment days, and spend a lot of time at the universities building on our programme. We also have a very successful apprenticeship programme."
Providing an insight to the market, Terry explains: "A skills shortage and pricing pressures are going to be one of the challenges facing the industry, particularly as the market begins to warm up, and there are signs of it already improving. We have seen a significant increase in tendering enquiries, but more importantly the quality of the enquiries has improved, which is a good indication that things are improving in the market place. We believe that by the mid point of 2015 we will begin to see the market turning in a much more positive direction. We have already noticed that the workload of consulting engineers and architectural practises are picking up, and projects that have been sat on the drawing board are now moving into planning."
Having come out of the global recession with its head above the water the business is looking forward to the next few months with a very positive outlook, as Terry says: "We have ridden the storm, working profitably and we expect to continue that trend. The company is very busy on all fronts at this moment in time. Quite often there doesn't seem to be enough hours in the day!" Highlighting the expectations of the more distant future, Terry concludes: "The board of directors have just drawn up our 2020 plan and there are some really exciting new ideas that we would like to bring to market.
"We are well positioned with a strong balance sheet. The company is in a very strong financial position and over the course of the last two years we have seen a number of our competitors in the industry suffer financial losses and in some cases, closure. However, amongst all the bad news for other companies we have remained a positively performing business and we expect that to continue. Part of my responsibility is to make sure that we are in the right sectors and that we are talking to the right clients, and through this we are picking up on a lot of optimism in the industry and that optimism is shared throughout our company."
Bourne Group
Services: Construction engineering