Bourne Parking is a leading car park design and build business in the UK that works on a variety of projects, from retail to transport
Making a space in the market
Bourne Parking is a leading car park design and build business in the UK that works on a variety of projects, from retail to transport
Bourne Parking was last featured in Construction & Civil Engineering in April 2016, and this division of Bourne Group continues to progress strongly in its provision of high quality parking structures. The company has a strong record of completed projects that grows year-onyear, and its evolving portfolio of products supports these. As such, it has been the go-to business for its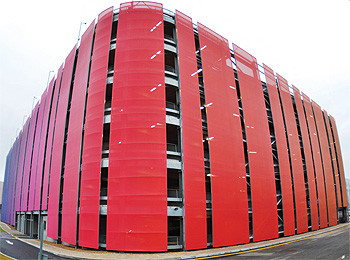 clients, which includes major names in the automotive, media, retail, and transport sectors. The number of successful projects demonstrates the scale of Bourne Parking's capability, reputation, and reliability, which is no doubt a positive sign for the years to come.
The previous time Bourne Parking was in Construction & Civil Engineering its Montex system was highlighted. The Montex system comprises of a galvanised steel frame with 2.4m wide 110mm thick precast concrete floor units, it also has a special joint detail that bonds the floor to the steel beam that provides composite strength with the beam and the diaphragm action to the structure. Bourne Parking continues to find new ways to improve the products that it provides clients, and it is always aiming to go beyond what it currently achieves.
One of the key strengths of the business is the amount of work that it conducts within the factory, which as a result means Bourne Parking can provide a better product. Managing Director Nick Hayes elaborated on this: "Due to our optimisation of offsite construction it cuts down on the number of people onsite and means that we can improve control and quality. This takes shape in a number of ways, for example because you are building things in a controlled factory environment you avoid the various weather conditions onsite that can adversely affect the project and the safety of the workers. It also allows us to ensure that we can further build upon our portfolio of products, and find ways to enhance their quality to an even more advanced level."
As a result of the extensive work it conducts within the factory and the reliably high quality outcome for its clients has meant Bourne Parking has been involved in a number of exciting projects. This includes putting in place the steel frame, concrete floor units, pre-cast stair cores and cladding for the new multistorey car park at Jaguar Land Rover manufacturing plant in Castle Bromwich, Birmingham, which it was appointed to perform by BAM Construction. This was a 59,000m2 structure that will provide over 2500 parking spaces for staff and storage for vehicles that have been manufactured. Nick provided some further details on this: "The key driver of the project was speed of construction, and we had three cranes and three crews working onsite, and the whole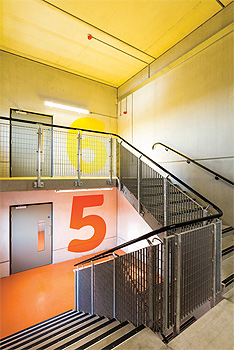 structure was up within a matter of weeks. This of course was aided by the fact that everything coming to site wasmanufactured offsite and arrived at the project in kit form."
Another example that demonstrates how reliable Bourne Parking is, and the positive relationship it builds with clients is its project for Transport for Greater Manchester (TFGM). The company had previously completed a program of projects for TFGM, in which it constructed four single deck car parks to support the city's MetroLink system, and these have now been in operation for between one and three years. However, due to the popularity of these and the growth in numbers of passengers they have facilitated TFGM is now looking to expand its parking further at MetroLink Stops. It is a testament to the quality of the projects completion and the satisfaction of its client that Bourne Parking has been asked to develop schemes for this expansion.
Similarly, Bourne Parking will also be conducting a project for another client it has already completed work for, which Nick discussed: "We have been awarded a contract for the second multi storey car park at Sky HQ Campus in West London, which demonstrates they are very happy with the first one we built for them. We have just completed the piling, it will be a very fast build, and will include associated facilities, such as changing and shower room facilities for cycle commuters, a warehouse for storage, and bus and taxi drop off receptions."
Throughout its projects Bourne Parking creates structures that are well designed and built, as well as aesthetically and architecturally interesting and attractive. It also aims to harness the latest technological developments to implement more efficient parking structures here in the UK, and Bourne Parking's automated car parks will no doubt be something to keep an eye out for in the coming years. Therefore, with so many successful projects completed and currently underway, and its commitment to continuously improving, the future for Bourne Parking will no doubt make a significant impact to transport in the UK.
Bourne Parking
Services: Multi storey car park designer and builder