Founded on parent company Bourne Group's history and expertise in steel modular engineering and construction, Bourne Parking is going from strength to strength with its fast, cost effective and innovative carpark solutions
Bourne into greatness
Founded on parent company Bourne Group's history and expertise in steel modular engineering and construction, Bourne Parking is going from strength to strength with its fast, cost effective and innovative carpark solutions
As the leading carpark design and build business in the UK, Bourne Parking has been responsible for the delivery of more than 45,000 spaces, over 85 completed carparks and approximately one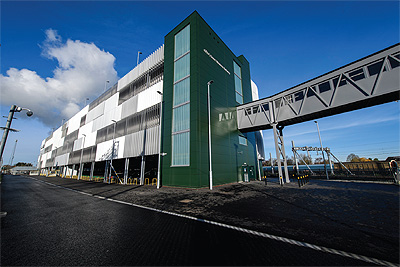 million square metres of finished space in total.
Given its reputation in the marketplace and its track record of success, it is no surprise to learn that since last featuring in the pages of Construction & Civil Engineering in 2017, Bourne Parking has seen considerable growth, with the business having undertaken several large-scale projects for major clients such as Sky, Jaguar LandRover, the train operator GWR and Gatwick Airport. "The carpark construction environment has been buoyant for the past two years despite the impending uncertainties over Brexit, with several significant projects being undertaken particularly in the Rail, Aviation and Commercial sectors," explained Karl Butters, Bourne Parking's Managing Director, when asked about the main drivers of growth for the company. "However, with competition in the marketplace ever growing we have to ensure our solutions are not only the best from a performance and quality perspective but also can match against price and delivery," he continued. "This drives us to constantly innovate our products, systems and processes. Being a specialist company allows Bourne Parking to move away from traditional construction practices and work with our supply chain to deliver integrated solutions right from initial concept stages."
Part of this non-traditional approach is the amount of work that Bourne Parking conducts within its factory, which results in a better product. Offsite construction cuts down on the number of people onsite and improves control and quality. Bourne Parking is able to avoid the various weather conditions onsite that can adversely affect the project and the safety of workers, and also ensure that it can further build upon its portfolio of products, and find ways to enhance their quality to an even more advanced level.
Another portion of Bourne Parking's continued growth strategy has been to increase its profile amongst clients, fellow engineers and consultants. "This has enabled the company to get involved in projects during the early stages of development allowing us to capitalise on our strengths as a specialist design and build carpark contractor," Karl highlighted, before giving more details regarding the value that this adds for clients: "Our in-house design expertise enables us to quickly identify potential design efficiencies that can be integrated to improve both the viability of a scheme, whilst also providing an open flexible environment that is capable of adapting to the ever-changing requirements of a modern carpark.
"To this end, all our schemes are developed based around the best practice design guidance from the IstructE Design Recommendations for multi-storey and underground carparks (fourth edition) and in particular all our carparks incorporate easy to use ramps and column free parking and circulation."
Renowned for not only being an expert in the design and build of carparks, Bourne also prioritises the aesthetics of a project, delivering against the architectural vision of the client and the wider needs of a community. "Offsite constructed modular buildings are often thought to be limited to bland, rectangular, buildings that all look and feel the same," observed Karl. "However, with Bourne's experience and maturity in the UK construction sector, our strength in structural engineering, the use of BIM 3D modelling integrated directly with manufacture, and a holistic approach to design of foundations, structure, electrical, mechanical security and control systems from day one of the project, we are able to produce really clever buildings. These can be of varying shape,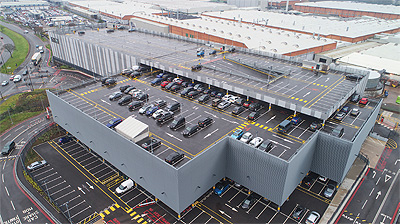 have sloping floors and can be clad using modular systems with almost any material, designed around the customer experience, traffic and pedestrian flows, whilst still using the same basic offsite constructed structural form (a galvanised steel frame with self-finish precast floor slabs). Through this approach, we can enable safe and secure delivery in world-class programme times."
As a result of this methodology, Bourne Parking has created some truly eye-catching and unusual carpark structures, transforming the mundane and utilitarian into something different to the norm, and Karl gave some perfect examples of the company's innovation in action: "Didcot Parkway multi-storey carpark (MSCP) has a wedge shape plan, which is designed to fit between two main line railways and will take GWR customers directly over the tracks and on to the station platforms," he said. "Whereas our Telford International Centre MSCP used a split-level approach to optimise the fit of a carpark building on a restricted site with sloping ground in the heart of a major conferencing facility."
Further illustrations include the Oxford University Benn biotech research building that required the carpark to be fully integrated into the design and construction of the new research building due to a lack of land space; and Sky's MSCP, where the ground floor was extended in height to five metres, to enable the ground floor to incorporate additional facilities such as goods unloading, warehousing, cycle parking, changing and shower rooms. "And let's not forget the Gatwick Airport long stay project, which comprised one of the biggest single deck carparks ever built in UK and was constructed in record time," added Karl.
While Karl has highlighted all the successes that Bourne Parking has seen over the past 24 months, he modestly didn't mention his own contribution – having taken over the MD role in January 2018, he is in fact credited with reinvigorating the business and pushing fresh energy into understanding the changing needs and requirements of its clients and keeping ahead of the competition.
The management team at Bourne Parking have instigated several initiatives including:
The development of off- site manufacturing processes (for example use of fibre reinforcement in precast concrete)
The engagement of supply chain partners
The development of innovative groundworks design solutions
The integration of latest LED lighting technology into schemes
The optimisation of ramped parking solutions
The development of more cost effective cladding solutions
"This has all been introduced to ensure we continue to optimise our parking solutions, continue to improve competitiveness and maintain our market leader position," noted Karl. "The development of our off-site manufacturing processes has proved particularly successful as it has allowed us to continue to improve the quality and consistency of our finished product in our factory-controlled environment," he continued. "We have also invested considerable time and effort into the development of a more efficient and unobtrusive lifting system for our precast prefinished slab system, which has resulted in significant time efficiencies within the erection process on site."
Karl has now passed his one year milestone as MD and as he pointed out, despite fears over global warming and sustainability there appears to be no slowdown in desire for mobility in our way of life, and the indicators are that more carparks will be needed in the future: "Car usage is still increasing," he stated. "Air travel is increasing with all the UK airports expanding. The government is investing in rail infrastructure to improve and extend services but to attract people to switch to rail travel requires integrated transport planning. This means an expansion of out of town hubs easily accessible from the road network where parking is not just available but assured. Work places, retail centres and hospitals need parking, but parking does not produce profit and therefore cost effective, low impact, attractive solutions are sought."
Therefore, Bourne Parking's focus during 2019 is to continue to deliver multi-storey carpark schemes to the highest standards, and create innovative designs with the flexibility to adapt to the ever-changing demands of customers. "Our efforts are targeted at ensuring Bourne Parking remains the UK's market leader and the contractor of choice for single deck and multi-storey carpark solutions," Karl concluded.
Bourne Parking
Services: Part of the Bourne Group, Bourne Parking is the UK's leading specialist contractor for carpark design and build