Skilled in the provision of diverse haulage services, BP Mitchell is poised for future success, as the company continues to invest in its infrastructure
Making use of waste
Skilled in the provision of diverse haulage services, BP Mitchell is poised for future success, as the company continues to invest in its infrastructure
Few haulage-related services providers are as multifunctional as BP Mitchell. Operating from numerous sites across Hertfordshire, the company is a reliable partner to the building and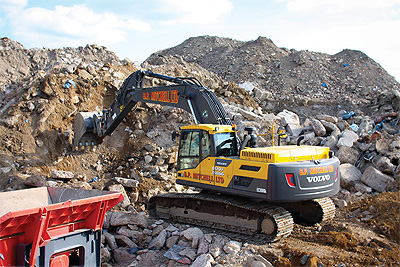 construction industry, delivering services such as demolition, waste management, site clearance, ready mix concrete, concrete pumping, and the supply of building and aggregate material like sand, topsoil, chalk, ballast, and MOT type 1 and type 2.
"When Brendan Mitchell started the firm almost 30 years ago – in 1989, he only had one lorry at his disposal and today, we have grown a fleet of 86 vehicles, which we are trying to increase all the time," notes BP Mitchell's Area Sales Manager, Errol Reyner. "Mr Mitchell's work ethic has been truly inspirational and can certainly be highlighted as one of the business' core strengths that have paved the way to the success we have enjoyed over time. He is still heavily involved in the day-to-day running of the company and you can often see him fixing or driving the lorries himself. Our dedication to providing exceptional customer service has also been characteristic of BP Mitchell, allowing us to gain the trust of our clients."
Indeed, the company's customer base is as diverse, as its range of services. During its existence, the provider has worked with and continues to serve borough councils, airport authorities, educational institutions, leisure parks, housing developments, and builders merchants, among others. "Housing represents our main activity area at the moment," says Errol. "There are a lot of major housing schemes going on in and around Milton Keynes that promise to be a great source of work for us in the coming years. In another significant project, we transported a vast amount of material to the new A5-M1 link road last year, which we had recycled from another demolition site previously. It needs to be said that a lot of our raw materials come from sites in North London, where a lot of demolition works are currently taking place."
Fresh fleet
BP Mitchell has developed the types of services it offers gradually. While mucking away, haulage, and recycling have always been at the heart of its operation, in 2009, the company began producing ready mix concrete, having obtained a QSRMC certification for this kind of operation. A year later, the business took sole ownership of an aggregate washing plant at its Birchall Lane facility that provided BP Mitchell with the opportunity to wash soil and create secondary aggregates itself.
"Calls for using more and more recycled aggregates in the construction industry has definitely been paramount to our success, and we have every reason to believe that this trend will grow even stronger in the years to come," Errol discusses. "We are striving to divert as much waste from landfill as possible, so we can use it for the production of good quality material that can find application in our customers' projects. Practically, this allows us to generate income from two different activities that are part of one cycle."
Ongoing investment in vehicles can rightly be regarded as a central part of BP Mitchell's strategic plan for future development. The company has realised the necessity to keep its fleet fresh and runs only the latest and most reliable lorries available in the marketplace. Not long ago, 15 new fuel-efficient vehicles were purchased to optimise BP Mitchell's service delivery. "It is also worth mentioning that we can now build our own vehicle bodies, thus cutting out the middleman in the process. For example, we are capable of building trailer tipping units in-house here, in our bespoke workshop, which is proving to be the right approach from an economic standpoint," Errol adds.
Among the multitude of jobs BP Mitchell has done in 2018 stands out its teaming up with the likes of CF Harrington and the main contractor John Sisk & Son for the removal of a large amount of muck from the development that is taking place around Wembley Stadium. "We have been removing up to 1000 cubic metres of soil every day and, just like with other projects, we are trying to recycle wherever possible," comments Errol.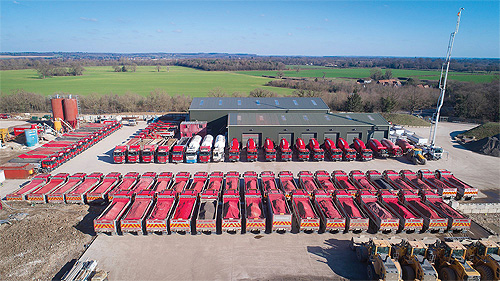 "Looking into 2019, there is still a degree of uncertainty around Brexit, but we are confident that we will continue to grow. In fact, if you look at the period since the last mini-recession in the industry, which happened around 2007, we have been increasing our turnover every year," he opens up on the company's future intentions. "We have a very good business model that we are trying to stick to, with the idea being to just keep going and trimming our approach down where necessary, so that we do not get complacent. We want to keep our staff and customers happy and ensure that we continue to get repeat business. In the meantime, it is quite important for us to raise our profile within the local community. We are now sponsoring the local football club – Welwyn Garden City FC, as well as working with several charities, and this, too, will remain a focus area for the company in the near future," Errol wraps up.
BP Mitchell
Services: Haulage services