Bradfords Building Supplies
Celebrating its 250th anniversary in 2020, Bradfords Building Supplies is currently growing in a way that will allow the builders' merchant to trade for another 250 years
Moving with the times
Celebrating its 250th anniversary in 2020, Bradfords Building Supplies is currently growing in a way that will allow the builders' merchant to trade for another 250 years
Bradfords Building Supplies is thinking big, but what else can be expected from the oldest independent builders' merchant in the UK? The company has proven its business resilience and vitality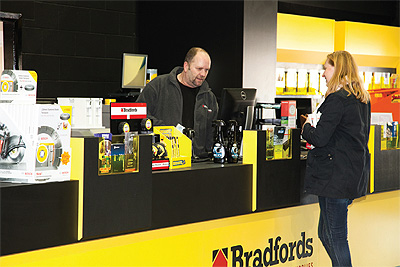 for nearly 250 years now and it is not afraid to claim that its current actions are aimed at ensuring its presence on the scene for another 250 years. Regarding himself as a steward of the family-owned company, overseeing its development, is its Managing Director, David Young. "My job is to maintain the family ethos across the company and protect and promote the values that have helped it become so successful. I am convinced that the culture and core values that have been established since the early days of the business, have not changed much in present times. Our organisation is built on trust and loyalty and we continue to work in a way that enables our partners to count on us, while we place trust in each other internally, within the business, so we can grow together and move forward."
The last five years have seen Bradfords diversify its customer base, as the company has gradually begun to open up to bigger contracts with some larger businesses. "Our core business has traditionally been general building, supplying building materials and timber mainly to local builders for works such as small extensions and loft conversions, but we have now moved to dealing with some regional and national housebuilders, too, opening up two additional sales offices to provide support," David explains.
"Three years ago, we also added plumbing and heating products to our portfolio, when we acquired a business in Yeovil called Yeovil Plumbing Supplies (YPS) and we now have a total of 23 plumbing and heating branches in the Southwest of England. It was an example of our ability to listen to what our customers want and react to their needs, thus diversifying the services our company offers. As a result, together with the 23 plumbing and heating branches, we run another 23 tool hire branches, seven kitchen and bathroom showrooms, as well as a trade kitchen business with two outlets. On top of that, the Bradfords Building division operates 43 sites and we are looking to expand to 60 in the next two or three years."
The latest of these sites was added in early August when the company acquired Penzance-based Solo Building Supplies. David comments: "It is a great geographical fit for us, providing us with a new customer base and a completely new market. It took us a long time to get the deal over the line, but it was definitely worth it, as Solo shares the same values and principles as us. We are fully integrating the company in November, because our practice when we buy a business, is to keep it standalone for the first couple of months until we get to know each other a bit better.
Expanding presence
"We are certainly very excited about welcoming Solo to the family, but the good news is that it is not the first acquisition we have made in the last five years. In fact, it is the sixth, along with a number of Greenfield sites we have developed in this time. We are planning a few relocations, as well, and we are opening a new Greenfield site in Helston in the spring of 2019, which is just 20 miles from Penzance and will further strengthen our network in Cornwall," he enthuses. "We have now identified certain core areas where we want to establish a presence. If you look at our branch map, you will see holes that we are looking to fill. It is true that we are holding discussions with lots of other independent businesses, but we are very careful about who we approach, because we want to be sure that these will be the right cultural fit. Meanwhile, I am currently keeping an eye on 15 Greenfield sites. Of course, it would not be possible to acquire them all at once, but if we can add one or two per year and acquire multiple branch locations, we should be able to reach 60 sites relatively quickly."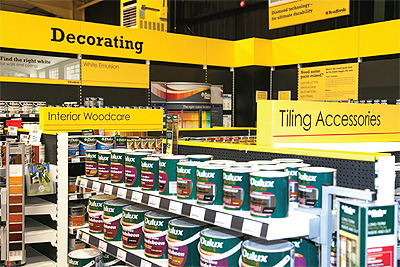 According to David, one of the major drivers of Bradfords' success has been the company's refusal to stand still. "We are always looking for opportunities and we have never been afraid to put out head above the parapet and try what is new in our market. For example, we have recently invested in ecommerce, because we are seeing the considerable potential it holds. First, we created a non-account website some time ago, and, remarkably, on the day that we are speaking, we have launched our account website, which will enable our customers to sign up, look at prices, place orders for delivery, click and collect, pay their bills, see their invoices, and raise queries. It marks the beginning of a new era in terms of how we trade. While it probably accounts for only five per cent of our turnover at the moment, we project this figure to rise to 20 or even 30 per cent in the years ahead. It will not be easy, though, as our customers tend to be very traditional. Their average age is mid-50s and some of them are compute -literate, but others are not. Still, we already email 65 per cent of our invoices, which means that these clients use email and we can expect them to visit our new website, too," he discusses.
Value-added services
With the 250th anniversary of the business fast approaching, there could be no better time for Bradfords' to outline its strategic approach for the future. Taking into account the changing business environment, David is adamant that the company has to be even more proactive in engaging with clients and trying to retain them in the long-term. "Our relationship with our customers could be defined as transactional and we need to change this. We need to add more value to our client base and I do not mean just in the sense of selling building materials. We should be able to value engineer their projects, help them save money, and drive innovation, which involves making sure that we have all the latest innovative products available in our stores. Perhaps, we also need to expand our offering to delivering insurance services, structural engineering services, or even selling computer software. In a word, our goal is to make our business personal and even more customer-oriented."
Having defined the importance of becoming its customers' favourite partner, Bradfords' overreaching goal is to be the number one builders' merchant in the Southwest, and David believes that the company holds its destiny in its own hands: "We hope to continue on the growth curve in the next three years and I am sure that if we stick to our plans and deliver on the initiatives we have already set in motion, our future will be bright."
Bradfords Building Supplies
Services: Independent builders' merchant