Power in unity
The acquisition of Brandon Hire has enabled Hire Station to extend its geographic presence around the UK, as the tool and equipment hire specialist continues to refine its customer service offering
The tool hire sector, especially in its core tools segment, is known to be an extremely competitive marketplace whose homogeneous product range makes it a game of tight margins for equipment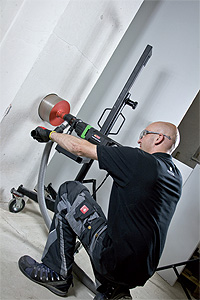 hire companies. In such conditions, what remains to be done by providers is to develop and maintain the highest level of customer service that will lift them above the competition. One company that has made a name for itself as a trustworthy and customer-friendly business, which can always supply its customers with whatever they are looking for, is Hire Station. Part of the Vp plc group – a specialist asset management organisation, Vp plc has been trading for over 60 years, the last ten of which the company has dedicated to becoming an unrivalled expert in equipment rental.
"For us, to be successful in a business sphere like ours, it meant that we had to rely extensively on the quality of service we wanted to deliver, as well as to ensure the availability of key and most sought-after equipment at all times," begins Brandon Hire Station's Head of marketing and ecommerce, Mark Moody. "We have focused on guaranteeing that all of our top hired products are always available in any of our branches around the country. The goal is to have them ready for same day collection and next day delivery, although in some cases, we can also provide same day delivery. Needless to say, we are also extremely careful in processing customer orders, making sure that we get all the information correct and act upon it in a timely fashion."
Strong brand presence
Vp plc acquired a number of large regional businesses that were then amalgamated into Hire Station. In the latest, and yet most significant, acquisition to date, Brandon Hire was made part of the group, its name being added to Hire Station to form an even stronger brand of two well-known specialist companies whose complementing strengths are supposed to increase Vp plc's footprint in the plant hire area. Having acquired Brandon, we have grown our sites from 57 to 200, which has inevitably allowed us to establish a very strong brand presence in the region. Without a doubt, we are now a national business with far better distribution than the one we had only two years ago. All this means we can serve our local customers a lot more effectively, which will remain a continuous requirement for future success," Mark explains.
As a result of the combination of Hire Station and Brandon Hire, a rebrand followed to incorporate the best of both worlds and to inform the customers of the two entities about the increased number of opportunities they can make the most of from now on. "With Hire Station being synonymous with aspects such as asset management, strong fleet, and guaranteed availability of products, and Brandon Hire being a familiar name in the SME market, in particular, where it has formed valuable business relationships, we thought it would be beneficial to demonstrate, have got something new to offer to existing and prospective clients alike. For example, immediately after the acquisition, we went on to purchase new equipment which we have started to disseminate through the Brandon business, and so we would like its customers to know that an investment in the fleet has been made and they could take advantage of the business' improved proposal.
Similarly, Hire Station customers should now be aware that we have grown the number of our outlets and expanded to new geographic areas," Mark discusses.
Bigger and better
Presenting itself under its new name with the aim of further popularising the Brandon Hire Station brand, is also one of the main reasons why the company is taking a stand at this year's UK Concrete Show, which will be held in Birmingham's National Exhibition Centre (NEC) on the 20th and 21st March. Billed as Europe's number one specialist concrete event, the show provides the ideal platform for the tool and equipment hire specialist to claim its ambition of strengthening its position in the concrete sector. Mark adds: "We are hoping to grow in this niche and, therefore, we would like to let people know that we have more and newer concrete equipment available in a greater number of locations that can help them in the processes of mixing, finishing, and polishing, to mention but a few. As Vp plc has always been all about servicing specialists, each of its divisions being a market leader in its respective sector, it makes good sense to move into concrete, because there is a host of specialist businesses we can support with our services. It is a sector that fits with our DNA and ethos and the recent investments we have made are a positive message to send to the market that in the future we want to be recognised as a leading brand in this particular area."
Going on to comment on the benefits for Brandon Hire Station of being part of Vp plc, Mark highlights the flexibility the various entities are given in their operations. "It is good to see that each of the businesses is free to work as a specialist in its sector and that the group does not force collaboration if it is not required. This is not to say that we do not transfer ideas and best practices between companies. While we operate in very different markets, occasionally there is an overlap on customers and when this happens, usually on some significant contracts, we work very closely with our sister companies."
For Brandon Hire Station, the better part of 2018 was dedicated to, as Mark says, 'making plans and putting the building blocks in place for the full-on integration of Brandon Hire and Hire Station.'
"We have been upping our investment and driving the process of consolidating suppliers, as the big goal of 2019 will be to bring the two brands together, as a bigger and better business," he sums up.
Brandon Hire Station
www.brandonhirestation.co.uk
Services: Tool and equipment hire