Bravi UK is a specialist company that focuses on the provision of low level access equipment, including the unique Leonardo self propelled machine
Raising expectations
Bravi UK is a specialist company that focuses on the provision of low level access equipment, including the unique Leonardo self propelled machine
Based in Leeds, Bravi UK is the master distributor for the full and exciting range of Bravi products. The company provides new and used equipment, together with a full range of customer support services, for example, parts, service and training throughout the UK and Ireland. The business' team of highly experienced industry professionals can assist a customer's every need. Andrew Fishburn and Stuart Honeywood started the business in February 2008.
"Bravi UK is basically centred on a product that we had a lot of success with at Wizard Workspace called the Leonardo," states Andrew. "This is an Italian low-level access machine that we liked so much, and had a lot of success with, and we felt that we wanted to be involved with the product further. Stuart and I also felt that there was a gap in the market for this type of product in the UK, especially for a company that can offer exceptional levels of customer service to a range of different outlets."
Safe, comfortable and cost effective, the Leonardo lift replaces the need for ladders and steps. Furthermore, with its compact design, it is ideal for even the most cramped working environments. "The Leonardo is Bravi UK's leading product, and is designed to ease a client's aerial working problems, working at heights of about 4.9 metres," Andrew explains. "The HSE's recent 'Working at Height' campaign was designed to reduce deaths and injuries from falls at height in the workplace. As a result, a whole plethora of products have been introduced over the last three or four years to cater for that market."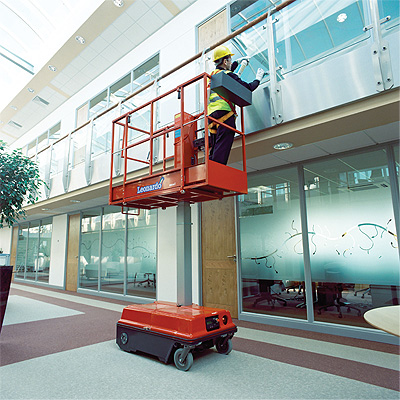 Bravi UK can offer something unique to the demands of the market, as Andrew describes: "As opposed to aluminium scaffold or push around products, the Leonardo can be driven and positioned at full height. This means that an individual can take their tools and equipment up on the safely contained platform area, stay up in the air, and simply drive along from one point to another. Aside from the health and safety benefits, our customers have found that once they have started to buy into the powered access market, they have become much more efficient and productive in their processes.
"One of the unique aspects of the Leonardo product is that it can be transported in a van," Andrew points out. "As it only weighs 450 kilograms, we have been able to design a ramp system in conjunction with another manufacturer that can hold its weight. This means that a customer can now arrive on site and just drive the equipment out of the vehicle and straight to the work site. If you think about it, all local facilities, such as offices, shops, railways and factories can use the machine, so these are the clients we are focusing on offering our services to."
The Leonardo is Italian manufacturer Braviisol's leading product at this time, but Bravi UK is contemplating introducing new ranges in the near future, all of which are aimed at specific aerial access problems. Andrew elaborates on the scope of the company: "The Bravi product is actually sold in about 20 countries all over the world – so it is a global product. Within the UK market alone, there are currently over 100,000 scaffold towers being used every day, so this gives you an idea of the potential for expansion in the industry. Braviisol supply us with the equipment, and one of the reasons that we have set up this UK distributorship is to allow them to continue to focus on building their brand and improving their production facilities."
In line with concerns set out by the HSE, Bravi UK can assure all of its clients that the Leonardo and other lifting equipment is fully safe to use, as Andrew confirms: "All of Braviisol's designs are governed by European legislation, and are all CE certified. Meeting CE certification means that a product is very safe. In terms of operator safety on a practical level, we offer full training to our clients to ensure that they operate the equipment safely. This training is governed by the International Powered Access Federation (IPAF), and courses issued to operatives cover basic health and safety and the safe use of the machine. Equally, Bravi's machines offer zero emissions because they are battery powered, which means that the Leonardo does not contribute to diesel fumes in places like internal building sites."
In regards to the current condition of the market, Andrew is highly optimistic: "There is an explanation called the 'Iceberg Effect' used to calculate the real business cost of an accident in the workplace, outside of human injury. It is estimated that for every pound of cost that is visible above the line, there is eight pounds of costs below the line. Looking at sickness, insurance claims, rectification costs on site, and legal costs, poor health and safety is costing British businesses a lot of money. The biggest challenge we face is demonstrating Bravi's range of products to industries to show the effect it can have in reducing costs related to workplace accidents.
"We are conducting a series of direct demonstrations through agents and dealers, and we also have a new DVD set to be launched," Andrew explains. "We want to encourage a lot of people to visit our web page and experience the product, as it shows the machine operating via a video stream. Our objective is to expand the business so we have every geographical area covered in the UK: we want to make Leonardo a household name in the contracting and end-user environment. We can offer clients a complete after-sales service via our comprehensive support network, and we pride ourselves on treating each customer individually," he concludes.