Flexing its muscles
Britlift adopts a customer-oriented approach in the development of lifting equipment that has helped the company distinguish itself from its peers and grow significantly in the first year of its operation
Only a year has passed since the formation of Britlift, but the specialist designer and manufacturer of lifting equipment has already been involved in a number of prestigious projects at home and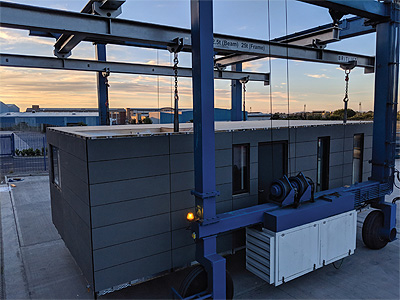 abroad. Having previously spent ten years collectively in their chosen industry, founders Liam Botting and Anthony Culshaw (now Managing Director and Technical Director, respectively) were overcome with a feeling that they could introduce a fresh and flexible approach that centres entirely on the customer's true needs.
"Clients looking for a custom product had historically been offered an off-the-shelf service, which resulted in them being supplied with lifting equipment that suits not their needs, but those of the suppliers," maintains Liam. "In contrast, we have taken a diametrically opposite approach, in which we work with the clients to ensure that they receive a product that is right for them and their project in any given situation. Whether it is a custom design that needs to fit a tight budget, a fabrication that needs to suit a tight lead time, a project that requires a site visit 200 miles away to understand the lifting problem, or whether it is supplying to a construction site in a factory or offshore, Britlift can advise, consult, design, fabricate, source, and supply to fit all requirements."
Paying such a high degree of attention to the requirements of every individual customer is a trait that is not seen too often in the providers of today, so the appearance of Britlift in the market has been met with huge interest from the outset, leading to an uptake of the company's custom design work. "We have been able to win a significant amount of orders in a short space of time, precisely because we can really understand the exact needs of our clients.
"Rather than supply an off-the-shelf solution, in most cases we will design and fabricate a beam or a frame specifically for the type of lifting that is required," Liam explains. "This helps to ensure that the customer gets exactly what they need and also has a positive effect on the overall cost of a project. In order to do this successfully, it is important that we are able to offer quick lead times, which we consider another core strength of ours. On some occasions, we have supplied endto- end custom-designed solutions in under two weeks, including design and engineering, material delivery, fabrication, proof load testing, CE marking, painting, and finally, shipping.
"Besides this, we are able to quote and provide a supporting drawing within 24 hours of being contacted by a client, and, unlike many other lifting equipment manufacturers, we genuinely fabricate in-house. By having this differentiator, we can control workload, give accurate manufacturing lead times, prioritise, and expedite projects," he continues.
Britlift takes pride in developing equipment that is CE-marked and delivered with an EC Declaration of Conformity, and Liam stresses the importance of customers being wary of the quality of lifting equipment they are looking into. "It seems to be very common for someone to fabricate their own uncertified (illegal) lifting equipment, or ask a local welder to do it for them. This is highly surprising because of how safety-critical lifting equipment is, and considering the very high standard of certification that is legally required."
Unrivalled knowledge
Taking advantage of the rapidly growing modular building industry, Britlift has channelled its efforts to serve the sector, having worked with many of the well-known modular building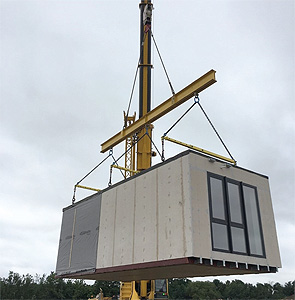 manufacturers in the first year of its existence. Liam analyses where the company adds value in this particular field: "As the modular units are becoming larger and heavier, the lifting circumstances on-site are becoming more and more difficult. Lifting is a crucial part of installing modular units and is something that should be taken very seriously by everyone involved. We have gained unrivalled knowledge in the past 12 months and possess a comprehensive understanding of lifting during manufacture and on-site installation. We also understand the weight and time restraints that exist on-site and how important saving even the smallest amount of time can be. In addition, we are specialists in reducing rigging time and weight. When 15 minutes can be saved on rigging between module sizes, it also leads to a huge saving over the lif time of the entire installation project. Similarly, rigging weight can be of vital importance in relation to the capacity of the crane. Should a lighter set of riggings allow a lower capacity crane to be used, again, the savings made over the course of the project can be substantial."
To give us an example of Britlift in action, Technical Director Anthony refers to a project the company has delivered for a modular home manufacturer that required a lifting frame for its rubber-tyred gantry cranes (RTGs). "It was a two-frame supply, actually. Along with the RTG frame, they also needed a second frame to install the modules on-site. We designed the former frame in a way that would allow its full flexibility in length, width, and connection points. It was 11m x 6m with a lifting capacity of 25 tonnes and was designed for a direct connection to the RTG. The on-site lifting frame was designed similarly, with the same length and capacity, but the width was achieved through modular struts that can be removed and replaced."
"While our success is mainly due to the overall service we provide, rather than a specific product, if there is one particular item that is gaining popularity within the modular building industry, that is our telescopic spreader beam. We have been involved in a project where the client wanted to streamline their lifting operations and, to this end, we designed and supplied six 11-tonne telescopic beams to allow a quicker adjustment during the installation of different-sized modules, reduce the overall rigging weight, and improve manual handling," he reveals, when discussing the nature of yet another successful project Britlift has participated in.
Brimming with confidence
Internationally, the company has supplied none other than the fabled European Organization for Nuclear Research, known as CERN, with a lifting frame for a low headroom lift. It has also worked on the first-ever project in India to involve the use of prefabricated bathroom pods. "We were asked to supply a lifting frame system that can be adjusted to suit the four different pod sizes on the project. We developed a modular system that allowed for the different pod dimensions within the modular strut makeup. The modularity of the frame also enabled an easier and more cost-effective transportation," Liam clarifies.
Going strong in its second year of operations, Britlift is brimming with confidence as it is moving closer towards its goal to becoming the manufacturer of choice for custom-designed lifting equipment. "Our aim in the next three to five years is to increase our manufacturing capabilities threefold, as well as to quadruple our engineering capacity," Liam concludes by revealing his company's aspirations for the near future.
Britlift
www.britlift.com
Services: Design and manufacture of lifting equipment