Not so many years ago, an architect's toolkit would contain nothing more than a pencil and a ruler. However, from hand-drawn designs to the use of 3D modelling and CAD, technology has transformed architecture. We've moved away from the 2D space and entered a world of what feels like endless possibilities with virtual reality and 4D visualisation for even more realistic visual rendering. The industry has come a long way over the past 40 years, a timeline that many of our most experienced designers will have worked through.
Munday + Cramer are an architectural design practice who are celebrating their 40th anniversary this year. Their head of architecture, Philip Ruffle, has been at the practice since 1994 and has been looking back at the evolution of technology in the industry, from the methods they used when the practice was first established to the technology that is now embedded into a designer's toolkit today.
Here Philip reflects on the evolution of architectural technology over the past few decades. What capabilities each new innovation and method has allowed, how it aided the development of design and what he expects to see in the future from architectural tech.
Remote sensing
A well-known example of transformative architectural innovation is remote sensing. First created for something other than architecture, using some form of Ground Penetrating Radar (GPR) it's now used as common practice in the industry. Imagery is needed throughout all types of projects in the architectural industry; such techniques date back as early as 1858, when hot air balloons were used to capture Paris from above. Fast forward to now and companies are using drone technology to help with such tasks.
Architectural technological innovation is about making architecture easier, with LiDAR (Light Detection and Ranging) being an invaluable tool. It's now easier than ever to capture, store and send 4K images, with technology progressing far enough that its even available on iPhones. This excitement doesn't just mean we can get construction plans on our phones but also suggests technology will become more accessible to everyone, it will be more portable and most importantly cheaper. Additionally, with the advancement of high-resolution LiDAR, like Digital Terrain Models and Digital Elevation Models, it means construction mapping, detailed geological surveying and ground investigation will be better quality and less likely to be inaccurate.
Sustainable development
To understand sustainable development, history needs to be known. Although it's not clear, sustainable development is reflected on change in trend and building technology development. The 1960's is when it all began; environmental activism and the move to sustainability began to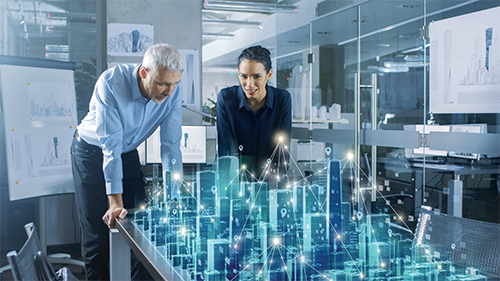 break through to the point where people started questioning why and how to be greener. Fast forward to the 21st century, we are in the age of architecture and nature becoming one. Now that construction output is expected to increase by 85 percent globally by 2030, we must focus on sustainable growth and consider ways to minimise waste, simplifying the workflow and reduce unproductive workforce hours. A way to do so is by embracing change and adopting Building Information Modelling (BIM).
From daily scheduling to procurement, BIM offers us a solution to the well-known and forgotten issues that impact architecture projects and the industry in general. BIM allows architects and project managers alike to monitor everything, even considering times for curing and drying times. Managing waste, minimising unproductive on-site time and a reduction in our carbon footprint can all be reduced by a streamlined workforce and timelines. Management of waste also concerns itself with moving towards more sustainable materials – as the technology evolves, we must too. For example, wall insulations are being exchanged for denim and newspapers to limit potential harm to both humans and the environment.
Smart and emerging technology
Smart technology is something that everyone is aware of, from smartphones to fridges, we've all heard about it. But in an industry whereby engineering is at the centre of its operation, any innovation and updates are encouraged. Since starting out in the industry in 1994, it has been great to see the leaps and bounds that technology has taken, and how it has developed the industry as a whole. There are many examples of this, such as smart glass and switchable glass. The development of the technology not only allows residential building more privacy, but also is more energy efficient. As technological devices evolve it creates new grounds for the workflow and also helps to develop even newer technology.
Architecture is making headway in the world of augmented, virtual and mixed reality. Virtual reality started as a part of science fiction – which later evolved into a machine the size of a vending machine. The headset, now no bigger than a phone, has come a long way. This extended reality (XR) is becoming intertwined in our own lives, as we start to use it in everyday life. ArchiCAD has the facilities to review designs on phones and tablets in virtual reality. These tools are becoming more widespread within the world of architecture, the tool decreases our carbon footprint but also saves money and allows for a better showcase of projects.
In conclusion, the evolution of architectural innovation breeds through collaboration. As we've seen, especially over the last 18 months, there is a growing need to have work assessed in an online space. Cloud-based spatial design tool Arklo, works with VR and allows architects, technologists and designers to collaborate in real-time. This, coupled with a development into areas of environment, remote sensing and showcasing projects, can ensure a rich future for the architectural industry.
Philip Ruffle is head of architecture at Munday + Cramer. Munday + Cramer is a multi-disciplinary practice in Essex offering Architectural, Building Surveying, Project Management, Facilities and Property Management. It is celebrating its 40th anniversary of working within both the public and private sectors, serving a diverse client-base, and more importantly; working with buildings of all shapes and sizes.
For more information please see: https://mcessex.co.uk