Quality over quantity
In 2013, Mark Edworthy and Paul Scantlebury, two experts in property, planning, finance and construction, came together in the South of France to combine their 45 years of experience to establish a company that would enshrine community and comfort. Consequently, Burrington Estates was founded. As a commercial property developer, Burrington Estates targets both residential and commercial spaces. On the residential side, it has rooted its reputation in creating unique luxury apartments and homes that encourage a better quality of living, while in the business sector, the company marks mostly mixed-use schemes in the West Country to create innovative and sustainable commercial locations for businesses to establish themselves.
The founders have transformed the company into a thriving business with a turnover of £70m and, in the past five years alone, have completed over 400 homes in the South West. Mark's qualifications in Chemical Engineering have given him experience in management through the oversight of new fuel station constructions, while Paul brought to the partnership a valuable network of cross-sector contacts. His natural intuition to detect a project's potential even in the early stages has allowed him to undertake major building projects across the UK and Europe. With Paul's experience in first-time buyer housing, student accommodation, leisure, retail and office facilities, and Mark's background in excellent development completion and financing skills, the power duo constructed a company that prioritises desirable locations, attention to detail and innovative developments. Mark and Paul were then able to welcome Peter Andrew MBE as Chairman of Burrington Estates. Peter's 40 years of experience in land and planning has
provided him with a refined understanding of the issues affecting house builders.
Overseas opportunities
The first project initiated by the team was an ambitious transformation of a former Grade II hospital in Exeter. The site was developed into a hub of 30 luxury student lofts and apartments with a business centre and restaurant; a development which was inspired by the Georgian elegance of Mayfair. Since then, Burrington Estates has continued to expand its project portfolios with developments that include Eurotech Park, Burrington Business Park and The Ship in Plymouth.
Today, the company has received permission to develop 35 quality business units at Exeter's SkyPark Development Site, which was purchased in August 2020. With a renewable energy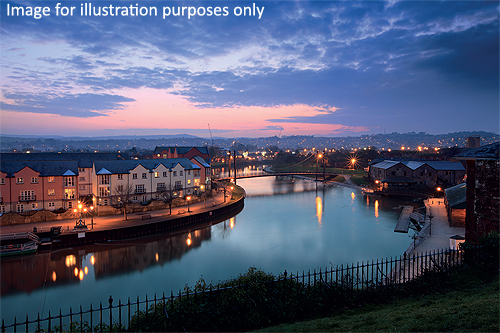 focus, Burrington Estates aims to include Solar PV and EV charging points, insulated panel technology and covered bicycle storage as some of the key features. The units will be built to the BREEAM 'Excellent' benchmark and provide flexible spaces from 1000 sq ft. The project is expected to be completed by August 2021. More excitingly, the company is carrying its trade across Europe. In the heart of the French Riviera, Burrington Estates is taking its expertise to a property rental site in high demand, Villa Le Grand Bleu, in the area of Super Cannes, to broaden its overseas opportunities.
Of course, the company's impressive projects have not gone unnoticed. Since 2017, NHBC has commemorated Burrington Estates's work with the 'Pride in the Job' and
'Seal of Excellence' awards for three consecutive years. This competition is highly regarded in the house-building industry and recognises site managers who achieve excellent standards in house building. For Burrington Estates to receive such awards proves its success in management, and acknowledges its dedication to pursuing excellence in delivering prime homes for homeowners in the UK.
Additionally, in 2020 it was awarded the prestigious 'Housebuilder of the Year' at the Insider South West Residential Property Awards 2020. Burrington Estates was made a stand out winner for its unrivalled standard of new homes being built across Devon and Cornwall.
Investment plans
However, despite these already remarkable achievements, Burrington Estates continue to strive for higher goals. By 2026, Mark aims to treble the turnover for the company and so far, the trajectory looks promising. In March of this year, the company announced that BGF, the most active British growth investor which has invested £2.5 billion into nearly 400 companies, pledged a £15.5m investment into Burrington Estates. "We have found real chemistry with the BGF team and look forward to partnering with them in building a flourishing business," Mark commented.
Of this investment, Mark is funnelling £13.5 million toward expanding Burrington Estates New Homes across the South West and Midlands, a decision that will stand his turnover goals in good stead. The remaining £2 million will be allocated to Burrington Estates Commercial Development Business, a project to build and sell business parks containing small business units.
The philosophy "do what you love and do it well" is one of the pillars buttressing the success of Burrington Estates, and laying down a legacy of craftsmanship in home and business development is at the fore of its priorities. The company continues to push for properties that equip both homeowners and business people with beautiful spaces in which to thrive.
Burrington Estates
www.burringtonestates.com
Services: Home builder and commercial specialists