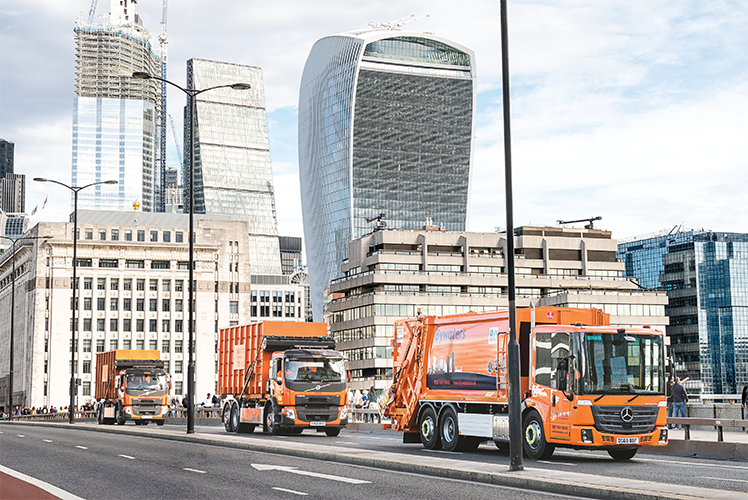 Lean and green
Bywaters is proud to partner with its clients to increase recycling rates and overall sustainability, and, through precision and strategy, it is determined to put forward new and unexpected solutions to meet the requirements of the 21st Century
As one of London's leading sustainability organisations, Bywaters is more than just a recycling company. With services extending across the whole of the UK, the business provides safe, secure and efficient waste and sustainability partnerships, helping a diverse industry to better manage resources. With a zero-waste to landfill ethos, Bywaters' services are far-reaching, providing a vast offering for any sector, including a broad range of skips, wheelie bins and roll-on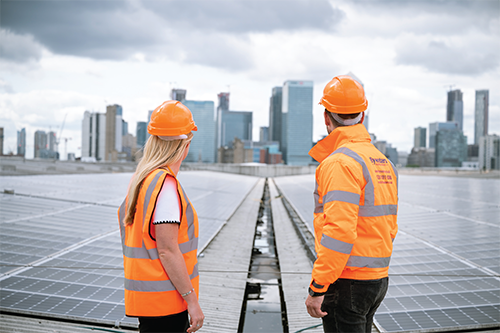 containers, innovative machinery, refuse collection, re-use solutions, and engineering support. As advocates of circular economy principles, Bywaters works closely with every client, to improve sustainability through the recovery and reuse of all possible materials, leading to ongoing carbon reduction.
The multi award-winning business began its journey long before being incorporated as a limited company in 1952. It all started at the end of World War I with one man operating from a horse and cart in North London. Over time, the business developed from this small- scale operation, eventually becoming one of London's most well-established 'sustainability, including waste management' companies.
Today, Bywaters is still family-owned, serving thousands of businesses across the UK in sectors that include property and facility management, NHS facilities, Government institutions, sports stadia and events, education, construction and hospitality. As an industry leader, the company is also determined to share its knowledge with its clients to secure a greener future.
Every year, eight million metric tons of plastic enters the oceans, causing lasting damage to biodiversity and ocean ecosystems. Although it is not a new problem, it is one that resonates across industries. Accordingly, Bywaters aims to lead the UK towards a sustainable future, protecting it for future generations. Its services are founded on a commitment to safeguarding the environment, with all clients offered access to Bywaters' in-house team of sustainability consultants. These 'Green Gurus' work with organisations to develop bespoke strategies to reduce waste, increase recycling, reuse material and move toward a circular economy.
To provide far reaching benefits, Bywaters has been campaigning for change, with a specific focus on the reduction of ocean plastics. In 2018, Bywaters supported Sky Ocean Rescue's nationwide education campaign, and 'Plasticus' the Sky Whale was formed of material recovered by Bywaters. The whale weighed 2500kg, representing the amount of plastic entering the ocean every second. This campaign provided a segue to further projects, including Bywaters' recent partnership with Stroodles, the eco-tableware company famous for its pasta straws. Bywaters and Stroodles have teamed up with Thomas Franklin – a nine-year-old environmentalist from Devon – to support his ambitions of making the Scouts more sustainable.
Thomas has been a brand ambassador for Stroodles since entering the 'Sail Design Competition', which is part of the #MakeASplash campaign to support the charitable organisation, Clean Ocean Sailing. Thomas's and Stroodles' aligned values inspired a plan to introduce a two-tiered Scouts badge. The overarching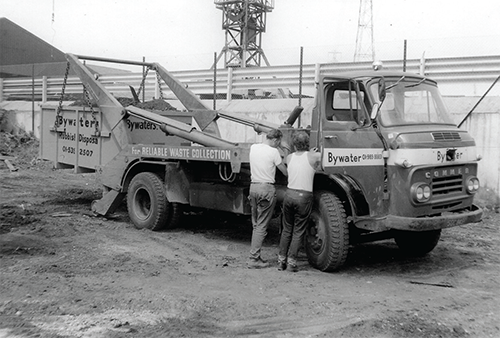 aim is to educate and inspire younger generations to understand the threat plastics pose if not handled correctly, ensuring that young people have a better understanding of biological preservation than current generations.
On the 16th September 2021, the first Sid Vale Cub Scout Group launched the scheme in partnership with Stroodles and Bywaters. After undertaking a 'Beach Clean' in Sidmouth, they became the first Scouts to earn two blanket badges called 'Ocean Helper' and 'Ocean Hero' sustainability badge. It is hoped that the successful implementation will act as a springboard to catapult the campaign nationally. With a reach of over 348,000 male and female Scouts in the UK, and over 153,000 adult helpers, the scheme has the potential to create a strong, lasting impact on the fight against ocean plastics.
Not satisfied with just helping its clients to improve their environmental credentials, Bywaters practices what it preaches, reducing its own emissions by over 50 percent since 2014. This significant shift was supported by the installation of 4000 solar panels at its award-winning Material Recovery Facility, at the time the largest solar retrofit in London. On a sunny day, the array can provide enough power to run the material sorting operations.
This relentless drive to improve sustainable operations has been supported by a detailed plan to achieve Net Zero by 2030. Firstly, Bywaters will be assessing every element of its performance, identifying opportunities to reduce emissions where possible. Secondly, the company will continue to increase its use of renewable energy, persisting with an eight-year track-record of having its carbon reporting independently certified by The Planet Mark. Finally, by investing in zero-emissions technical innovations, from harvesting latent heat generated by its MRF, to new sorting technology, Bywaters will further fund operations to reduce its environmental impact.
With these measures in place, the future of Bywaters is looking particularly exciting as it prepares to lay down investments and new ventures to combat climate change. As part of its 'de-carbonisation plan', it is investing approximately £7 million in electric vehicles and high-power charging points across its sites, starting with its first electric dustcart. This 100 percent electric vehicle is at the cutting edge of zero-emission waste collection logistics, providing all the standard features of equivalent fossil-fuelled options – including bin lift and telematics technologies. In addition to eliminating emissions, the vehicle is cheaper to maintain and quieter to operate, for an additional reduction in noise pollution on collection visits.
The fleet will be charged through on-site vehicle charging points, with electricity drawn from its retrofitted rooftop solar PV array. As part of the procurement process, Bywaters has conducted trial runs on a number of its City of London collection routes to test functionality and battery life, and, most importantly, ensure that fleet roll-out is seamless, with benefits achieved from day one.
In connection to these promises, the company will be releasing its Net Zero white paper in 2022. The white paper will highlight its extensive range of environmental solutions, products, and services that will help customers pave their way to a more sustainable future.
Bywaters
https://www.bywaters.co.uk/
Services: Waste management