Scratching the surface
With over 30 years of experience under its belt, C R MacDonald offers a complete range of tarmac and paving services to a host of clients based in and around the West Midlands
For more than three decades, Redditch-based industrial and commercial tarmac contractor C R MacDonald has commanded a leading position within its field of expertise across the wider
Birmingham and West Midlands region. Often undertaking important industrial, commercial and domestic tarmac surfacing projects, its services cover a broad spectrum of areas including – but not limited to – car parks, forecourts, loading bays, playgrounds and service roads.
Today, the company boasts a fleet of approximately 125 vehicles and a workforce of over 240 employees, including sub contract labour, who are accredited with various CSCS, CPCS and NRSWA qualifications. "Arguably, the aspect of the business that we take greatest pride in is our ability to offer a complete package of services, from an asphalt or tarmac drive to the full resurfacing of roads or footpaths, making us a 'one-stop-shop', if you will," explains C R MacDonald Director, Craig MacDonald. "We have invested a great deal of time, effort and resources over the years so as to be able cover virtually everybody's needs, and to offer a top quality, reliable service no matter the job, which we strive to deliver at a competitive price."
Craig estimates that around 80 per cent of C R MacDonald's business in 2020 comes from supporting contractors that are working on term maintenance contracts for local authorities and councils. Examples of such relationships include the company's work with the likes of Balfour Beatty in Warwickshire, and with Eurovia and Ringway in Worcestershire. "This is a business model that has gradually evolved over time," Craig states. "In the early days, we would take on practically any job on offer, before working our way towards specialising in assisting in local authority contracts. What encouraged us to do so, primarily, was the volume of work on offer, however, such is the need to be fully compliant and accredited to take on said jobs, one certainly has to work hard to get through the door. Once you do however, the volumes are certainly impressive."
Proof of the above statement can be found in the fact that in 2019, the company reached the milestone mark of winning £30 million worth of business, increasing its turnover and profit margins in the process. "The last year has certainly been a good period of time for C R MacDonald and – simply put – I see this as being down to having a great team of people around us who are good at sticking to what they are best at, which is delivering the types of project that we have found ourselves involved with in recent times," Craig declares.
'Wildlife Ways'
Highlights from the past 12 months or so for Craig and his team include C R MacDonald's involvement in Solihull Council's 'Wildlife Ways' development. As part of this scheme, improvements will be made to 69 kilometres of existing footpath and cycle networks, and there will be 23 kilometres of new footways and improved access for cyclists added, with routes landscaped with links – wherever possible – to existing green spaces and sustainable transport options. Balfour Beatty is the contractor that C R MacDonald has been working with for the last year on this project, with a further 12 months to go before its completes its involvement.
Passion for projects
At the same time, the company has also been involved in the development of new cycle routes into Birmingham city centre, and it is clear when speaking with Craig that such projects are a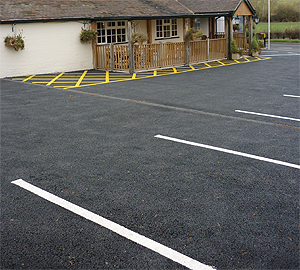 particular source of passion for himself personally. "These types of contract are of great interest to not only myself, but the rest of the C R MacDonald team, and we can only see them becoming ever-more important sources of growth going forward," he says. "Both of the cycle route projects that I have mentioned – Solihull and Birmingham – have been funded by the European Union, and to be involved in each has already proven to be very fruitful for us as a business. In the future, it would be nice to see the UK begin to fund similar developments, which is a scenario that I think we are not too far away from seeing become a reality."
Turning to the topic of what 2020 and beyond holds for the business, Craig is focused – first and foremost – on delivering steady growth in terms of turnover and net profit, and key to achieving this is to ensure that C R MacDonald builds upon its hard-won reputation for being a reliable and attentive service provider to its clients.
Meanwhile, at the heart of the company's future activities will be its workforce, and Craig has every reason to be confident that it will be in good hands going forward. "We already have a lot of young people here within C R MacDonald, including a number of graduates, and I never fail to be impressed by how bright and enthusiastic they are, and by how they possess fresh ideas that they are happy to engage with us about," he enthuses. "It is mine and my colleague's responsibility to help nurture and develop said people so that, when the time comes for the next generation to take over the reins, that C R MacDonald will be in the best possible hands."
C R MacDonald
Services: Industrial and commercial tarmac contractor