The common misconception outside London is that Canary Wharf is just a building, but as John Garwood and Cormac MacCrann explain it is much more than that
Spreading its wings
The common misconception outside London is that Canary Wharf is just a building, but as John Garwood and Cormac MacCrann explain it is much more than that
The Canary Wharf estate, which extends to over 97 acres, is planned on a grand scale, yet with astonishing attention to detail. So called because when in use as a dock many of the imports were from the Canary Islands, today, the development, which consists of approximately 14.1 million square feet of office and over 200 shops, bars and restaurants, comprises 30 office buildings, five retail malls, a department store, sports and health clubs, a conference and banqueting centre, two Docklands Light Railway stations, a London Underground station, landscaped parks and gardens and five public car parks, in addition to car parking below the office buildings.
For centuries, Canary Wharf and London's Docklands had been the centre of international trade. With the advent of containerisation, the area fell into disuse and the docks were eventually closed in 1980. Within a decade, a new era for Canary Wharf began to take shape and by 2000 one of the world's major business districts had been created.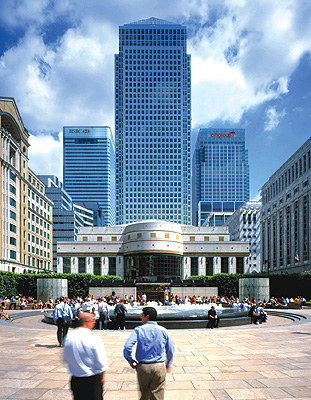 Canary Wharf Group plc (CWG), the enterprise responsible for the redevelopment of the site, owns 16 completed properties. CWG also owns and controls the retail space (approximately 680,000 square feet), Winter Gardens (40,000 square feet) and public parking, (approximately 1.5 million square feet), as well as 4.25 miles of roads and parks and open spaces on the estate (totalling 382,900 square feet) in addition to land held for future development. It is through this ownership and the management of the entire 97 acre estate that CWG controls its cohesion, which enhances the value of the whole development.
John Garwood, group secretary, tells Construction Today Europe more about CWG: "Our prime business function is the design, building, leasing and managing of Grade A office and retail space at our 97 acre estate in East London. Over the last 15 years CWG has constructed more office space in London than any other property group totalling over 14 million square feet of commercial space."
John continues: "Obviously we have now sold some of the estate, but we still own 7.9 million square feet out of the 14.1 million square feet that has been built and we remain the major property owner on the estate. It is important that we retain control of the common parts because that way we can maintain the integrity of the estate."
He adds: "I think Canary Wharf Group is also fairly unique in terms of having its own in-house construction group. Most developers don't have that."
Cormac MacCrann, construction director, explains the range of activities undertaken by CWG "We do full design, strategic planning and project phasing, cost supervision, risk analysis, value management, trade contractor procurement, trade contractor and interface management, commissioning management, construction and handover to end user; once finished, we also lease and manage our properties. So we do the complete range of property services from conception all the way through to completion and management of the buildings.
Cormac talks further about CWG's unique approach to construction: "Canary Wharf Contractors (CWC) takes a practical approach to innovation. In this industry being innovative means doing something that has been done before, but doing it slightly differently, and, in our case, doing it better. We believe that practice makes perfect and that we are in a particularly strong position to deliver inventive solutions to construction challenges. After all, just by looking at the development in its current state, you can see how much we have built, and this means you get a lot of
opportunities to improve not only your specific processes, but also your overall approach to project delivery."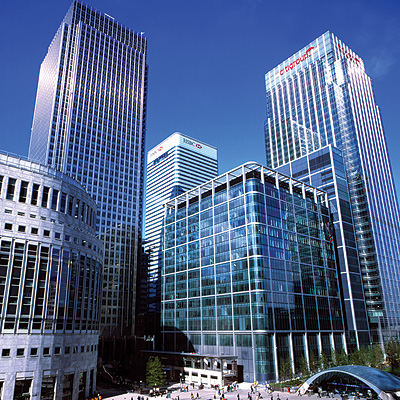 In the construction industry, particularly in the UK, different contractors offer different approaches to the challenges of quality, safety, programme and budget. The CWC solution is relatively simple: committed and experienced people, working in a team environment, come up with the appropriate answers and make the informed decisions that the construction process demands.
Cormac observes: "Many of the team have been involved in the construction of Canary Wharf since the late 1980s and by working together have accumulated unrivalled experience, expertise and vision.
"People here identify with the estate and feel part of it because they have witnessed this development evolve. I also think people have a sense of pride in saying they work for Canary Wharf Group," continues John.
Cormac adds: "Our staff remain motivated because of the constant challenge working for CWG represents. I think that keeps good people together."
Talking about how the estate will evolve over the coming years, John concludes: "We have already built 14.1 million square feet of office and retail space. But this isn't the end – we currently have 1.2 million square feet under construction for tenants such as KPMG, Bear Stearns and State Street, we also have permission for another 4.8 million square feet including sites at North Quay, Riverside South, 10 Churchill Place and 30 The North Colonnade, which are under design. Heron Quays West and the exciting Wood Wharf joint venture are sites earmarked for future development."
There are some thrilling chapters yet to be written in the Canary Wharf story. With the leadership skills and enthusiasm shown by the team at CWG, we should all expect CWG to continue regenerating and revolutionising the wharves, delivering prosperity to its residents, workers and fans.