Trusted to deliver
Proudly placed among the UK's top 50 mechanical and electrical companies, Carmel (Group) is leveraging more than 35 years of expertise to deliver for some of the UK's biggest household brands
Not all companies can blend the familiarity and reliability of a local service with the influence of a national contractor, but not all companies are like Carmel (Group). With more than 35 years of experience, Carmel has established itself as one of the leading players in the UK building services market, providing a range of engineering design, consulting, installation, and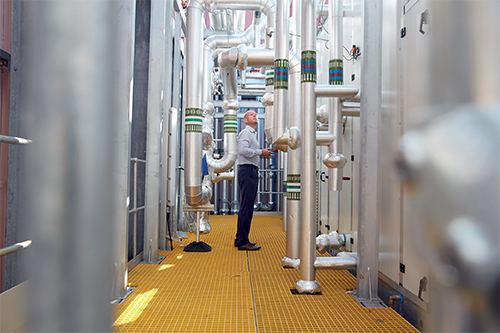 maintenance services to the construction industry. In charting this success, Carmel has been buoyed by a steady stream of repeat business, testament to its emphasis on impeccable customer service.
Three distinct companies make up Carmel (Group). The first, Carmel (UK) Ltd, sits comfortably among the UK's top 50 mechanical and electrical companies, delivering a complete range of expertise in managed building services. The second, Carmel Solutions (Co) Ltd, is a multi-disciplined building services company, incorporating a fit-out arm for small construction projects. Finally, Carmel MEP Consulting offers expert mechanical, electrical, and public health (MEP) project solutions.
In bringing these together under a single umbrella, Carmel guarantees that its clients are looked after by a highly motivated, multi-disciplinary team. As Ryan Timms, Group Director at Carmel, puts it: "The high quality of our people at each level in our organisation ensures we deliver marginal and major improvements at every stage, from pre-construction to maintenance, whilst leading on safety."
Ryan's words are born out in the company's impressive client base, which encompasses a number of household names, including Sainsbury's, Tesco, Morrisons, Co-op, Amazon, and John Lewis, alongside several top-tier contractors. It's a footprint that spans the commercial, healthcare, education, office fit-out and refurbishment, and light industrial sectors. "We work across a diverse range of projects for our clients, including new space, refurbishments, initiatives, energy and carbon reduction projects, FM capital works, distribution, and support facilities," Ryan comments. "We have the experience and capability to cater for their building services needs right from project inception and feasibility all the way through to post-completion after-care as and when required."
Today, Carmel boasts approximately 130 employees. But although it's reasonable in size, it continues to operate according to a so-called "family business" approach. "From the chairman right across all roles in the company, we believe everyone has a voice and a key part to play in the continuing and future improvement and success of the business," Ryan tells us. "We pride ourselves on the mental health and first aid training we provide for all our staff, in which we believe we're firmly ahead of the game."
It's with this in mind that in December 2019, Carmel became an Employee Ownership Trust (EOT). Introduced by the UK Government in 2014, it's an initiative designed to encourage more shareholders to set up a corporate structure, facilitating wider employee-ownership. It's a business model proven to better engage, reward, and attract staff whilst driving innovation and improving business performance.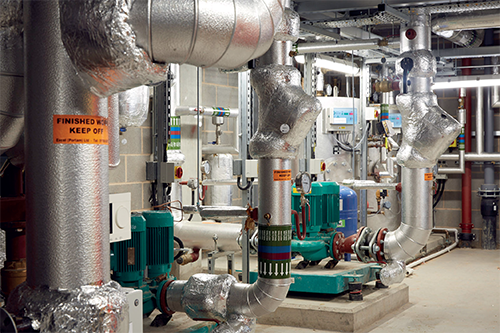 "We have elected EOT representatives who report directly to the board, bringing information regarding the results of employee surveys, or input surrounding suggested best practice, and who also communicate regular updates back to the staff," Ryan explains. "The EOT has already provided a catalyst for the appointment of new directors from the senior management team."
Business for Carmel has not been easy over the last few years, as it, like many businesses, has faced a number of unprecedented challenges. Nevertheless, a series of swift and effective management decisions in response to the Covid-19 pandemic are now paying dividends. The company is well-placed thanks to a consistent forward-order book, and is showing particular success with its retail and logistics clients.
"Ongoing challenges remain across the economy and the construction sector," Ryan reflects. "Labour availability and cost, material price increases, and fuel are all impacting margins and slowing down projects. Further economic uncertainty is created by the terrible events in Ukraine and the impact of high inflation across world markets.
"Nevertheless, we have to continue to put ourselves at the forefront of the building services industry," he continues. "Our innovation and our experience across the installation of mechanical and electrical systems gives us a key role to play in supporting many of the technologies that a 21st century building requires for control, performance, and sustainability. With smart buildings representing an integral component within the UK's plans to reduce energy consumption, that's only set to continue."
Currently, Carmel is on-site at the Queen Elizabeth Hospital (QEH) in King's Lynn, where it is delivering mechanical and electrical services to a new endoscopy unit. It's Carmel's second contract for a modular building client in the healthcare sector, following work of a similar scale for an intensive care wing at London's Hillingdon Hospital. It's a prosperous relationship, illustrative once again of Carmel's ability to understand and meet its clients' needs.
"Knowing what our customers value is key to driving repeat business," Ryan says. "We pride ourselves on delivering high-quality projects and have an inherent capability to do so at pace."
Looking ahead to the remainder of 2022, Carmel is focused on consolidation of its existing structure, with a view to continuing its growth, and to the ongoing development of its employee skillsets. "We're also preparing to venture out into other potential markets from 2023 and beyond," he reveals. "We're looking to further diversify our order book to include more work in the commercial office and living space sectors, such as student accommodation. Refurbishment also remains a strength of ours, and we'll continue to explore opportunities in facilities upkeep and systems dilapidation."
Carmel (Group)
www.carmel-uk.com
Services: Mechanical and electrical building services