Carrieres du Hainaut is one of the leading suppliers of Belgian blue limestone
The stone ranger
Carrieres du Hainaut is one of the leading suppliers of Belgian blue limestone
For centuries, many leading architects have been attracted to the qualities of Belgian blue limestone. This is evidenced by its use in some of the world's most impressive structures, including St. Peter's Basilica in Rome, the Bank of England in London, and the Pantheon in Paris. Building on this tradition, Carrieres du Hainaut has been a leading producer of blue limestone for use in indoor and outdoor construction for 120 years. The company employs 500 people and has, through its reputation for quality, built a global customer base.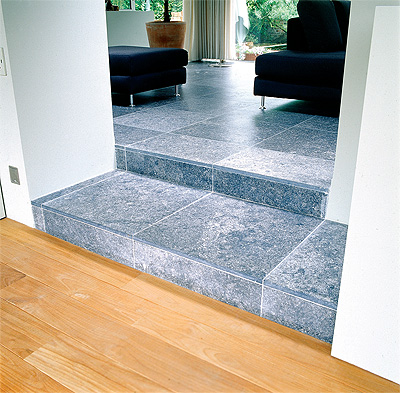 Traditionally, the company's blue limestone has been most popular as a basic material for outdoor construction, having been used in the building of private residences, offices, and shops, along with numerous public works. Recently, however, there has been a growing trend towards its use in interior construction work. Indeed, Carrieres du Hainaut's limestone has been utilised in bathrooms, kitchens, and dining rooms, and for a variety of applications.
Xavier Verdonck, the company's production director, explains more about the stone's advantages: "It provides a natural and beautiful finish, and is appealing to those who are developing either a traditional or modern application. Blue limestone is also a very good long-term investment, because, alongside quality wood, it is the only material to gain value as it ages, as usage continues to enhance the limestone's appearance."
To compliment the quality of its product, Carrieres du Hainaut has, itself, gained high regard in the sector for the impressive service that it delivers. "We work to have the nearest possible contact with the users of our limestone," Xavier explains. "We are trusted because we have a history of delivering products of the highest quality, and a workforce that is very proud and enthusiastic about helping to take the company forward. Furthermore, we never rest on our laurels, and we are always looking at further extending our range of finishes."
In the past 20 years, the company has exerted much effort on marketing its brand, launching the famous 'blue campaign'. This is, to date, the most significant effort made by an ornamental stone company at promoting its products to the public and media. Carrieres du Hainaut further bolsters its reputation by participating in key industry events such as Interieur and Batibouw, which provides it with an important opportunity to liaise with clients.
The company benefits from the use of one of the largest and most important quarries in Europe. This provides vast reserves of blue limestone, but is also a significant part of the reason why Carrieres Du Hainaut aims to maintain a proactive approach to environmental issues. As an example, aggregates from mining and shaping, which are used in the construction market in both concrete and overburden, used to be stored, but are now being utilised to support the rehabilitation of green areas, the production of bricks and cement, the water-tightening of waste deposits and in some aspects of civil engineering.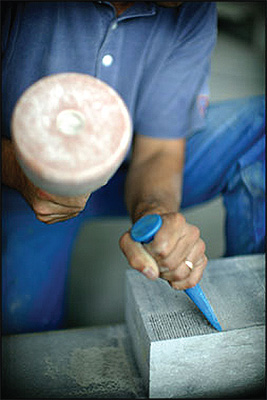 The company constantly monitors and attempts to address other environmental nuisances that its work may cause. Noise, vibrations owing to mine blasting, and dust creation are concerns, and Carrieres du Hainaut seeks direct dialogue with the population near the quarry so as to ensure any problems are resolved in the best way possible. A corporate citizenship approach has been adopted through communicating knowledge of the company's operations to primary and secondary school pupils, whilst the students are also guided through a succession of related workshops.
Another important element of Carrieres du Hainaut's recent work has been its considerable investment in supplying drainage water from its digging activities to regional water distributor, Societe Wallone de Distribution des Eaux (SWDE). This has been possible because the deepening of the quarry involved cutting into active paleodrainage, leading to a substantial inrush of water to the deposit. The company provides to SWDE over 70 per cent of the total volume of underground water it collects, and the conveying system is currently being built. This involves the laying of conduits, and the building of a buffer reservoir to raise underground water to a quality that is drinkable.
Despite the business' track record of success, it is not short of challenges, as Xavier reveals: "After growth of approximately five per cent per year for the last 15 years, we are anticipating that we will see a slight flattening of this upward trend. Then it will become a question as to whether this is a long-term or temporary issue, but we remain highly optimistic because of our quality and customer service. In the future it will be important for us to improve our productivity and shut down ratio, and we made a start on this last year by introducing a new way to
manage maintenance.
"As a company, we possess excellent potential to improve our position, and that of blue limestone, in the construction marketplace. It is highly motivating to work for a large quarry that has such strong expansion potential, and that also has new projects and developments in the pipeline. We are passionate about our company, and our products, because they actively contribute to the beauty of our environment."