With an operational history extending back for more than 15 years, Castle Building Services represents a trusted supplier of mechanical and engineering solutions to the construction industry
A bastion of success
With an operational history extending back for more than 15 years, Castle Building Services represents a trusted supplier of mechanical and engineering solutions to the construction industry
Castle Building Services was founded in Hebburn, Tyne and Wear during 2001 to provide advice and carry out work for clients relating to all levels of mechanical and electrical services, ranging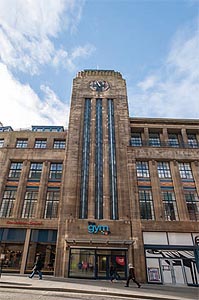 from initial concept design, cost planning and budgets, to construction, installation, commissioning, handover and beyond. "We strive to deliver every individual project, with innovation, efficiency and pride. By maintaining a collaborative approach we can further establish a true understanding of our clients' requirements with an aim to provide a complete service package," explains Commercial Director, Andy Dawson. "Expert knowledge and unparalleled delivery are some of the vital sparks that keep Castle Building Services at the forefront of mechanical and electrical engineering. We focus on providing outstanding solutions throughout the UK, with an emphasis on environmentally efficient technology. We specialise in new installation, pre-fabrication and refurbishment, integrating all of these and providing market leading services into the commercial, education, residential, leisure, retail, health, custodial and defence sectors."
Castle Building Services employs expert knowledge, expertise and a highly trained workforce to offer the most comprehensive range of mechanical and electrical skills available within the UK marketplace, where it is able to offer a full service to its clients. "We offer a service that includes integrated design, including pre-construction advice and building information modelling (BIM) technology. This early engagement allows us to leverage the maximum benefits of 3D clash co-ordination, to eliminate risks through our 'build before you build' philosophy. The BIM approach can also encourage early off-site pre-fabrication, which saves time, reduces waste, improves site storage and benefits overall site safety. It also allows for early design management to select the best build methodologies and incorporate them into the final design," Andy says. "The company ethos is to provide trustworthy delivery of quality projects, on budget and on time and as a result, Castle Building Services is well received in all sectors. The high proportion of the company's repeat business is a testament to this and as a result, it has engaged with many enlightened clients that appreciate value for money and which further reward our enthusiasm and commitment with opportunities for development."
The workload of Castle Building Services is evenly divided between traditional works and more involved design and build projects, all of which are managed internally and sourced externally. Its technical review process ensures that all aspects of the resulting design is thoroughly tested and examined at every stage to ensure that it is both robust and detailed correctly. Furthermore, the company is always available to provide upfront advice on technical, practical, programming and commercial subjects with an aim of delivering a final accounting at bid value.
With ever evolving building regulations it has become increasingly important that a project receives an integrated team approach in order to achieve targets such as Part L compliance – relating to the conversion of fuel and power in buildings – and BREEAM. Castle Building Services operates as low a carbon consultant for clients and can therefore positively influence building regulation compliance, without wasting time and effort later during the construction process. This has allowed the company to enjoy highly positive results across several sectors. "Each of the company's resources are strategically covered by our directly employed workforce consisting of skilled site operatives such as engineers, managers, account teams and administration staff," Andy reveals. "We pride ourselves in that people are our greatest asset and our aim is to promote a non-confrontational approach to working life, while encouraging our staff to communicate openly within a friendly,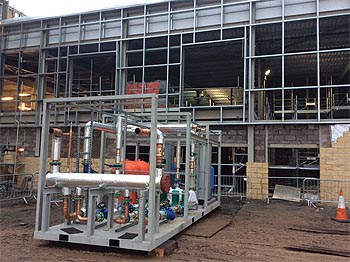 enjoyable and efficient environment."
Indeed, Castle Building Services takes a positive approach to the training and development of its staff by engaging with several training types and organisations. These include graduates with staff attending university; departmental trainees in areas such as estimating, accounts, health and safety, and purchasing that all undertake specific NVQ courses; adult trainees working towards industry accreditation in either mechanical or electrical fields; and apprentices that work towards becoming industry accredited in either the mechanical or electrical fields. "We treat the training and development of apprentices with high importance, which is in part because we recognise the general shortage of both skilled and management staff within the industry as the older generation moves towards retirement," Andy says. "It is our mission to develop further in the field of training and personal development so that we have a generation of youthful team members that can propel the business forward over the coming years."
The company's approach of delivering a comprehensive mechanical and electrical solutions package, while making significant investment into the training of its team has enabled Castle Building Services to establish a leading reputation. This is demonstrated by its impressive portfolio of completed projects, which includes designs suited for a range of industry sectors and applications. Within the education sector for example, the company's recently completed projects include the further development of the Sunderland College Holmeside Vocational Campus. This site is set to boost the fortunes of the local city centre, as the campus is intended to attract students from all over the UK. During December 2016, the company also completed building services at a Grade II listed building in Newcastle. The site had previously operated as a CO-OP store and will now serve as a new 184-bedroom Premier Inn, which will further add to the city's burgeoning hotel provision.
Although the construction industry has faced its share of challenges in recent years, Castle Building Services has continued to maintain a strong order book through sticking to its commitment to the highest standards in quality and technical innovation. These values coupled with the company's on-going staff development programmes, will enable the business to continue to enjoy positive returns throughout the coming months and years. "The market is generally picking up at present, but remains extremely competitive. Our honest approach and willingness to support the requirements of clients and those of our people are what sets us apart from the rest," Andy concludes. "The immediate focus of the business will be on delivering the projects we have secured over the next 12/24 months and to continue to deliver a quality product with the vision of ensuring organic growth throughout the next three to five years."
Castle Building Services
Services: Mechanical and engineering construction solutions