CB Solutions provides innovative product solutions to the modular and construction industries
Certified success
CB Solutions provides innovative product solutions to the modular and construction industries
Since its inception in 2000 by timeserved joiner Chris Burrell, CB Solutions has developed into a market leading manufacturer and supplier of architectural aluminium doors, windows and curtain walling, high performance 30 and 60 minute fire doors, hotel and student pod doors and glazed hardwood screens. Its catalogue also consists of UPVC external and internal windows and doors, a variety of screens, steps and ramps, and its own timber decking – Aggredeck®. The company has four innovative main products that it would like to highlight including the fire doors and door sets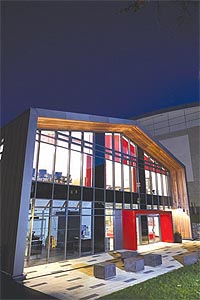 range, Aggredeck®, UPVC and its architectural aluminium systems.
CB Solutions is one of a small number of companies in the UK registered with both FIRAS and CERTIFIRE. The company handles the whole fire door and door sets package from site survey specification, production of the fire doors and glazed apertures under the CERTIFIRE scheme, to the on-site installation and commissioning with FIRAS registered supervisors. It offers a multitude of door finishes from veneered to laminate, along with various frame and architrave finishes that are cost effective, stylish, safe and created to the specific requirements of the buyer. All fire door and fire door sets are fully certified and manufactured with a traceable label and tag. The company has carried out successful installations in various locations including schools, hospitals, offices and high security MoD buildings.
CB Solutions has created an exciting product – slip resistant Aggredeck® that creates a safe platform in wet areas and those covered by trees which are naturally at risk when moisture, moss and leaf residue begin to form, making it slippery underfoot. It is ideal for busy areas, such as hotels, pubs, harbours, retail parks and it is the perfect choice for walkways and bridges. Aggredeck® was developed with building regulations for disabled access in mind. It is ideal for access ramps, giving maximum assurance to wheelchair-users and people who are less mobile, offering extra safety on outdoor steps and heavy footfall areas. It also comes in various colours to assist the visually impaired.
The pioneering architectural aluminium system Passivhaus Comar 10 Window range is the company's most recent addition to its product range. It includes inward opening tilt and turns, fixed lights and offers u-values of 0.66 W/m2K as well as future proofing and energy savings. The 90mm deep outer frames require minimal care and maintenance.
The products are popular with new business clients and many buyers including circa 50 customers in the construction industry that it supplies to on a regular basis. "The majority of our customers are construction, modular and portable building companies ranging from small and medium sized enterprises through to supplying through main contractors to blue chip companies," explains Kerry Taylor, Business Development Manager at CB Solutions.
To keep up with demand CB Solutions has expanded its second site, whilst keeping the original factory in Beeford to continue manufacturing its UPVC range. Other products are developed at the company's factory in Lissett. The new plant has 1472 sq m of manufacturing floor space, spray shop, door shop and an aluminium-zoned area with three CNC machines.
A further exciting development at the Lissett site is the Biomass Centre that heats the plant by incinerating off cut pieces of wood. "Our managing director Chris Burrell drove the installation of the Biomass Centre to reduce emissions and energy costs, to make us as environmentally friendly as possible," explains Kerry.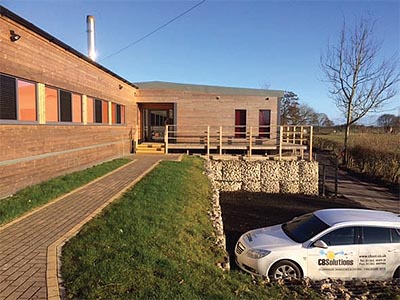 The hard work appears to be paying off as the company turnover in 2015 doubled from its 2013/2014 financial year and increased progressively in 2016. The increase in turnover was a result of the plant expansion, increase in demand for aluminium, product improvement, greater installation experience and reduction in lead times. "Our fire doors turnover increased by £1 million and our aluminium increased by £2 million in 2015 from our 2013/2014 financial year," says Kerry.
"This is thanks to a strong senior management team, constant product development, a pro-active approach to exceeding market requirements and providing excellent installation and aftercare services. We also have much tighter controls on waste from our plants with the Biomass Centre, which has also helped reduce overheads. Improvements on quality control through ISO accreditations are also significant contributors to the increase in turnover," she adds.
Furthermore CB Solutions has a whole host of other accreditations to its name giving it a competitive edge in the market. The company obtained ISO 9001 2008 in quality management systems and is working towards the latest industry standard ISO 9001 2015. The company is a member of Constructionline, a register for companies in the construction industry in the UK. It is also a member of the Modular and Portable Building Association (MPBA), which is an association dedicated to the marketing and promotion of modular buildings. As highlighted earlier, CB Solutions is accredited by CERTIFIRE assuring the performance, quality and reliability of fire protection products and a FIRAS certificate holder for improving the installation standards of fire protection products. CB Solutions has also achieved the Achilles standard and is CHAS Heath and Safety compliant. This highly sought after list of commendations is taking the business into 2017 and beyond.
To further enhance the business in 2017, CB Solutions plans to introduce the new Sage 200 software to support objectives to consistently explore new methods of efficiency and provide better business intelligence and control over systems. It is also developing a lean manufacturing system.
CB Solutions
Services: Specialises in the off-site assembly of doors, windows and curtain walling