CEMEX Readymix & Aggregates
Growing its South Coast business in the UK is a key strategic goal for CEMEX, and at the heart of this is the work of its CEMEX Readymix & Aggregates division
South Coast standard-bearers
Growing its South Coast business in the UK is a key strategic goal for CEMEX, and at the heart of this is the work of its CEMEX Readymix & Aggregates division
In the field of aggregates, CEMEX – a leading provider of building materials and associated services – provides a wide range of products, from decorative and high-PSV aggregates, to limestone,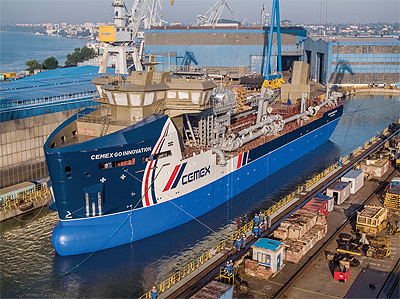 rock armour, and sand and gravel. Its extensive national network of quarries, plants, depots and wharves combine the widest possible product range with excellent availability, while its dedicated marine division, CEMEX Marine, operates a fleet of dredgers supplying sand and gravel to the construction industry and beach replenishment projects.
"On the South Coast of the UK, our marine business is a huge strength for the group, with our ships and wharves acting as the backbone of our supply chain along the coast, feeding our Readymix and Building Projects plants as well as our external customer base," explains Adam Leverett, General & Commercial Manager of CEMEX's South Coast Materials business. "Given that we have both wharf and quarry facilities present in the south, plus rail access to other materials, we can produce a range of concrete and building product solutions that I strongly believe give us a competitive advantage over the majority of our peers. CEMEX has also recently aligned its UK Readymix and Aggregates divisions under one Materials business, which allows us to work more collaboratively and be much more customer focused."
Significant upgrades
Product wise, CEMEX's marine aggregates, sharp washed sand, 10mm and 20mm gravel, and ballast, for instance, all remain perennially popular, as do its quarried materials. Its most innovative solutions, however, are arguably to be found in its newer range of solutions marketed under its neogem portfolio. These are special materials including sands dedicated to the sports industry, specialist path gravels, premium quality screeding sands, and decorative aggregates that provide tailored solutions to each segment of the market.
CEMEX's long-term confidence in its Materials business becomes all the more evident when we begin to document some of the significant investments that have been made here in recent months, particularly as it relates to the group's wharfs and its shipping capabilities. "One of the highlights this past year occurred in early 2019, when we officially opened a multi-million pound new dry discharge facility at our wharf in Northfleet, Kent," Adam continues. "Meanwhile, the Port of London Authority's decision to invest in a new conveyor and infrastructure as part of its own investment plan has enabled CEMEX Marine's dredgers to turn around faster as the discharge of sand and gravel for processing has become significantly more efficient.
"We have also recently invested significant Capex into our wharf at Shoreham, which will greatly improve our production efficiency, traffic management, and site safety and welfare facilities. The phased works here are underway and will be completed in the first quarter of 2020, while at the same time we continue to upgrade and improve both the aggregate and on-site readymix plants at our Southampton and Poole wharves."
Efficiency & environment
The above-mentioned works at CEMEX's Shoreham wharf are intended, at least in part, to better accommodate the group's new £30 million, 340-foot-long dredger, the CEMEX Go Innovation. "Marine aggregates are the lynchpin of our business on the South Coast, however the age and cost of continuing to operate our existing vessel was becoming unsustainable. Hence, the decision was taken to invest in this new ship, which will be in the water by the end of the first quarter of 2020," Adam states. "This new ship will provide us with greater flexibility in how we offload material onto our wharves, and therefore some of the redevelopments being made are to facilitate larger cargoes, which in turn will provide us with greater storage capacity and improved efficiency in the ergonomics of each site."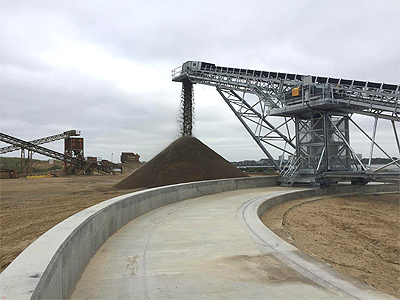 Across the UK, each of CEMEX's sites are certified to the ISO140001 standard, while all of its products are responsibly sourced in line with BES6001 standards. In addition to this, CEMEX today also boasts an alternative fuel rate of 56 per cent plus, 90 per cent of its concrete contains by-products and admixtures that reduce embodied carbon dioxide, and 87 per cent of its quarries have rehabilitation plans and third party biodiversity certification. As part of its sustainability efforts, the group also recently ran a global 'Smart Innovation' competition that was open to all employees in order to generate disruptive ideas. In total, some 1250 ideas were captured, with around 100 being identified as having high innovation potential for testing or execution.
Industry first
CEMEX, as an organisation, also finds itself in the midst of a digital transformation, one that resulted in the launch of a new digital platform, CEMEX Go, in 2018. "CEMEX Go represents the industry's first end-to-end digital solution," Adam enthuses. "Using this tool, our customers can request quotations and mix designs, place orders, track deliveries, instantly find electronic proof of deliveries and invoices, and make payments, and we continue to roll out new functionalities via regular updates.
"For me personally, I believe the tracking element of CEMEX Go is a real digital 'game changer'. Our customers have full visibility of where their materials are at any point in time, such as when the product is loading, when it is on its way to site, or when it is being offloaded. Having this instant access to information of the whereabouts of ones' materials allows our customers to be more efficient with their staff on site, while being able to provide this level of transparency ultimately also creates more trust between the supplier and the customer."
Moving on the subject of the future, Adam first reveals the fundamental daily goal of the business, before imparting upon us his expectations for 2020. "Our main objective has always been, and will always be, to achieve zero harm in what we do. Getting everyone home safe to their families comes before any commercial objective, and this mantra runs throughout the business from our CEO down to the local workforce. Pleasingly, we have had no lost time injuries or recordable accidents in the South Coast area this year and we will be focused on keeping this positive trend going.
"As it relates to our expectations for 2020, we certainly anticipate there being a growing demand for our materials once the country has some certainty regarding Brexit, and I believe our recent and continued investments demonstrate our commitment to being the best construction solutions partner on the South Coast."
CEMEX Readymix & Aggregates
Products: Aggregates