As part of CEMEX UK, the Asphalt and Paving Solutions divisions plays an integral role in building a better Britain
Building on success
As part of CEMEX UK, the Asphalt and Paving Solutions divisions plays an integral role in building a better Britain
CEMEX's story begins over a century ago as a local cement plant in Northern Mexico. What ensued was a long and successful period of organic and acquired growth to become one of the world's leading companies, today turning over around $15 billion thanks to the efforts of more than 30,000 employees. In the UK, CEMEX has been a key player in the market for over 80 years supplying an extensive range of products from concrete, cement, mortars, screeds and aggregates to asphalt, concrete block paving, rail products, and bespoke precast and concrete blocks.
Courtesy of 230 readymix concrete plants, 63 quarries and a large logistical capability CEMEX UK is able to delivera complete range of marketleading building solutions to meet every application throughout the country by road, rail, sea and inland waterways. With around 3000 people operating within this network, the UK subsidiary generates close to £775 million in annual sales.
Within CEMEX are a number of business units, all striving towards the same goal of safely delivering a high performance, costeffective solution; this includes the company's Asphalt and Paving Solutions divisions, which work together to manufacture products and then lay them. Discussing these areas of the business, Garry Gregory, Asphalt & Paving Solutions Director, notes: "In terms of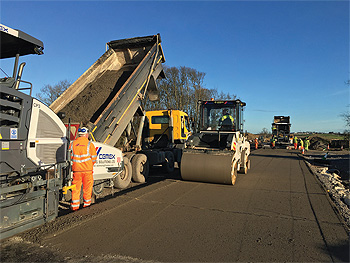 Asphalt, CEMEX is a national business in GB with 31 manufacturing plants across England, Scotland and Wales; the main density of which are located in the North, along the M62 corridor. We have a combination of manufacturing facilities to serve the needs of both collect customers, which is under our 'Local' brand, and also deliveries. Some of our facilities have become a hybrid of the two, catering to both collect and delivery customers; supporting that from a service perspective, we have two customer service centres, one of which is in Rugby, while the other is in Preston Brook."
He continues: "We also have national sales and technical teams that are supplemented by an internal sales team; the purpose of these is to give support to customers, find solutions and give advice or answers to any questions clients may have. Meanwhile, the Paving Solutions division is our contracting arm, where the experienced operators lay material and carry out surfacing on the roads. This is a more regional business, so for that we have a Southern Paving Solutions business, with one gang operating in South Wales and another in the South West; we also have four operating gangs in the North, which are focused primarily in Lincolnshire and Yorkshire. These groups are supported by a team of estimators and quantity surveyors. In addition we have the capability to lay cementitious surfacing materials which is the mainstay of our cementitious paving business – again under our overall Paving Solutions umbrella."
As part of CEMEX, the two businesses maintain the vision and ethos of the global CEMEX business, which is to operate safely with a zero harm target and at the same time have a positive impact on the community within which they are located. Furthermore the businesses aspire to go above and beyond for customers and offer the best possible solution. "It may sound clichéd, but what makes CEMEX Asphalt and Paving Solutions different to their competition, is its people. CEMEX has more than 30,000 people operating across the globe, and more than 3000 of them are in the UK. Within Asphalt and Paving Solutions there are around 300 dedicated employees, who care about the business, their colleagues and the communities and strive to go the extra mile; a commitment that can be seen in the recent internal engagement survey results (that are carried out every year) where in the case of both Asphalt & Paving Solutions the feedback highlights significant improvement year on year. We also look at how we are performing in the eyes of our customers and carry out a customer satisfaction survey each year via an external provider. In 2016 our customer satisfaction level rose by 12 per cent when compared to 2015, which shows we are working on the right things that matter to customers," says Garry.
When it comes to asphalt, CEMEX manufactures approximately two million tonnes per year across its 31 plants, offering an extensive range of products, from limestone based asphalt to hot rolled asphalt and thin surface course materials. In addition, a new Asphalt plant is currently under construction in Liverpool which will be up and running midway through 2017. "Under our Local brand, we have worked hard to become a onestop- shop, so in addition to asphalt products we offer sundry products such as tack-coat as well as precoated chippings and emulsions. This year, to enhance the customer experience further, we have added sheets, rakes and brushes so our clients can come to us and get everything they need.
"Over the last two years, we have focused on broadening our asphalt range, which led to us launching six new value added asphalt solutions in 2015. These were targeted towards specific customer segments under our VIA range; for example, we launched a porous asphalt, which is known as VIAFLOW which is targeted to combat floods and manage water; VIAMAIN, which is suitable for the utilities segment as it offers enhanced compaction properties and long term durability. There is also VIASHIELD, which is targeting the agricultural farming segment due to its acid resistance," highlights Garry. "In addition to these products, we also launched our Eco and Eco+ ranges this year, which are low temperature asphalt solutions. The former is ideal for short term road possessions and offers carbon savings whilst the latter gives extra workability thus saving time for the contractor."
Also available in the VIA range is VIATEX, a durable, thin surface course system, VIAPAVE, a polymer modified thin surface course system, VIACOURSE, a single layer solution for highways, VIAFLEX, a highly versatile flexible asphalt, and VIACOURT, a flexible solution for sports surfaces.
Complementing the capabilities of the Asphalt division, CEMEX Paving Solutions is a leading UK surfacing contractor that specialises in schemes from major highways and airfield surfacing to business parks, car parks, storage and materials handling depots. Promoting client involvement at the earliest possible stage in order to derive optimum benefits for each project, Paving Solutions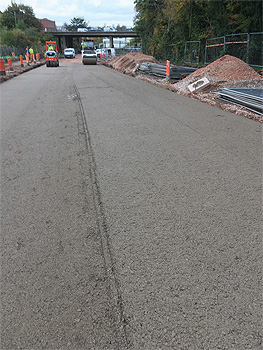 uses the latest in paving technology, materials and operating systems to provide a total solution that is tailored to meet each customer's infrastructure surfacing and maintenance needs.
Elaborating on the latest developments within CEMEX Paving Solutions, Garry comments: "The biggest developments are in our cementitious business; up until a few years ago we offered a natural roller-compacted concrete, but over the last year or so we have developed different surface finishes. As such, we continue to offer natural roller compacted concrete (RCC), but also offer a brushed finished solution that uses a special additive from America; additionally, we offer diamond milled roller compacted concrete for projects with strict surface tolerances. We are now pushing RCC with an asphalt overlay, which is a minimum depth 150mm RCC topped with a minimum 35mm asphalt surface course, to be used for highways works. We are hopefully on the cusp of a HE specification change that will allow RCC to be used in this way across UK highways.
"Depending on the application, Cementitious Paving can be a more economic solution and longer lasting compared to other more traditional solutions. However, for this development to work, we firstly need the specification change, which will then need to be followed by a change in mindset from people such as government agencies, local authorities and designers. As an industry, we have been lobbying hard and pushing for this specification change to go through and as CEMEX, we have played our part in this lobbying, I must say. We remain hopeful the specification change will happen in Q1 2017."
Back to this year and it's fair to say the market remains challenging. The UK market demand is four to five per cent below 2015 levels primarily due to the deferral of Highway England schemes and limited local authority spend. Forecasters are anticipating less demand for asphalt next year with a drop of one to three per cent compared to 2016 demand levels expected. "In paving solutions, we have moved away from large schemes and frameworks and moved onto smaller, more discreet schemes – that is not to say we aren't interested or can't do big schemes but we take them on a more caseby- case basis," noted Garry. "We want to make sure we are set up to do a good job and also that we can satisfy the customer.
"Having said that, we have worked on a number of major schemes this year, including the Selby bypass and the Bedale bypass. The Bedale bypass project was a mix of asphalt and cementitious surfacing, and we are also currently working on a scheme in Bristol, with our client Balfour Beatty on a guided bus way scheme and this is a combination of asphalt, roller compacted concrete (RCC) and CBGM," he continued. "It is the first of its type when it comes to the use of RCC on a public project. Additionally, we continue to service the City Of Bristol framework and the central part of the SWTRA framework, on an ongoing basis.
"While the market is challenging, from a volume perspective we have outperformed the market in 2016 and look to do the same next year. We have a plan in place, and I feel lucky as I have the best team in the industry and support of CEMEX. We continue to invest significantly in both our Asphalt & Paving Solutions businesses but it is paramount we get the necessary return on this investment through attaining fair value for our products and solutions in order for us to have a sustainable business model for the long term. Our plan remains to focus on the aspects of the industry that we can manage and control and do them well. For issues outside of our control, such as the market and external developments, if these change I am confident we are flexible and adaptable enough to successfully revert to one of our contingency plans," concludes Garry.
CEMEX UK – Asphalt and Paving Solutions divisions
Services: Producer of asphalt products and leading surfacing contractor