CEMEX UK Building Products
All around us in our built environment are products using concrete. In fact, it is the second most consumed material in the world after water. CEMEX UK Building Products is one of the leading suppliers, using concrete to produce blocks, bricks, paving and rail sleepers for use in our homes, hospitals, infrastructure and much more, helping to build a greater Britain
Solid innovations
All around us in our built environment are products using concrete. In fact, it is the second most consumed material in the world after water. CEMEX UK Building Products is one of the leading suppliers, using concrete to produce blocks, bricks, paving and rail sleepers for use in our homes, hospitals, infrastructure and much more, helping to build a greater Britain
CEMEX Building Products is part of leading materials supplier, CEMEX UK which manufactures cement, aggregates and concrete, used in construction contracts both large and small, including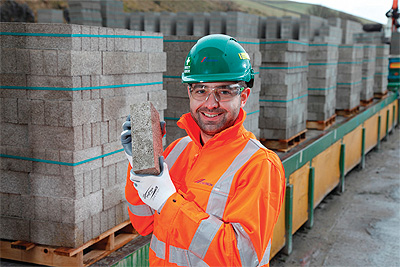 some of the most prestigious projects and buildings in the country. As well as offering a diverse portfolio of products, CEMEX UK Building Products strives to offer a complete solutions package to customers.
"We realise that we are operating in a very competitive marketplace and as well as offering the products and excellent service we want to offer a complete package to customers saving them valuable time and energy, so a one stop shop solution," elaborates Director of Concrete Products, Floors and Ash, Grant McMillan.
To help customers CEMEX Building Products has a Housing Solutions business, which can offer the construction industry a package of relevant products when building new homes. So for example the customer may require internal and external blocks, decorative paving (Readypave), a flooring system (Readyfloor), mortar and screed. The company can discuss their requirements for all of these products and have one central point of contact for all of them.
Over the last three years, within Housing Solutions, CEMEX has developed ReadyBrick, initially in response to the shortage of clay bricks within the industry. This year a new form of Readybrick, a concrete facing brick has bee trialled. McMillan continues: "These new bricks are currently being used in several housing developments in Scotland. They are being produced at our at our West Calder factory in Scotland so they have a minimal distance to travel from production to construction.
"There have been some initial challenges in developing this new line. Feedback received during initial trials indicated that the bricks had to be voided to make them easier to place on site. Manufacturing bricks with voids involved a new manufacturing technique for us and initially there were some issues with bricks cracking as they came off the production line but with some fine-tuning in the operation of the press to limit vibration, this has been solved.
"The other challenge with this product was optimising the colour of the bricks, which involves careful selection of the raw materials and the use of specific pigments. This is particularly so for the lighter coloured products like our Lothian Gold buff coloured brick, where the usual local raw materials don't lend themselves to achieving the colour that is required by customers. "
Another business area is Flood Solutions and within this area, CEMEX has recently successfully introduced its unique Ready Aquawall rapid assembly flood defence and retaining wall solution. It can be used in a wide range of applications including flood defence walls, riverbank reinforcement, sea defence walls and land reclamation.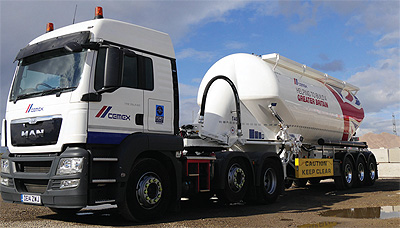 Ready Aquawall solution is formed using interlocking 'W' shaped blocks and is manufactured on the standard concrete block production line. It has been developed in partnership with Aquacast International Ltd and provides local authorities and construction companies an alternative to gabion baskets or sheet piling on riverbanks and in flood defence applications.
Like ReadyBrick, Aquawall has been trialled in the field allowing CEMEX to prove the product and develop a base to further market the product. "We've been working closely with a company called Miles Water Engineering, which is based in Norfolk and involved in flood defence and water related projects," McMillan says.
"We have given Miles Water Engineering some of the Aquawall blocks to trial on live projects and the feedback is that there is a real opportunity in the market, as the product saves time during installation as well as ease of construction. The fact that walls can be constructed rapidly and easily means that they can be used in temporary as well as permanent situations resulting in a great deal of flexibility.
"This is an interesting area for us bearing in mind the changes in climate which have resulted in significant amounts of flooding in certain areas of the country plus the amount of investment the Government is making in flood defence infrastructure in the UK," McMillan concludes.
CEMEX Building Products currently operates eight manufacturing plants throughout the country giving comprehensive coverage to supply products when and wherever they are required. The business extended its capacity in 2015 with a new plant at Rochester in Kent producing concrete T-beams for floors. "We wanted to increase our capacity in the South East so this plant was commissioned at the beginning of 2015. Since then we have been steadily building up production and sales volumes from the plant," McMillan comments.
"We have a programme of investment in all our plants to help us optimise our capabilities and grow the business in the future. Both the Housing and Flood Solutions business should help our customers going forward saving them both time and money."
CEMEX Building Products
Services: Leading supplier of concrete products