With three modern factories capable of producing a wide range of packed cement, bulk cementitious products and an exceptional on-time delivery record of 96 per cent, CEMEX UK's Cement Division has developed a solid reputation in the market
The perfect mix
With three modern factories capable of producing a wide range of packed cement, bulk cementitious products and an exceptional on-time delivery record of 96 per cent, CEMEX UK's Cement Division has developed a solid reputation in the market
Operating from three key sites in Warwickshire, Lincolnshire and Essex, CEMEX's UK cement business provides high-performance, innovative cementitious solutions for its customers' evolving needs. Proud of its local roots, the company uses locally quarried materials and additives with the goal of using British cement to help build a Greater Britain.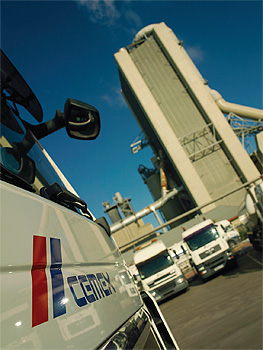 Years of experience operating as a global leader in the cement sector have resulted in an unrivalled expertise when it comes to producing products for a range of needs within the construction industry. The businesses' portfolio of bagged products exemplifies this as it caters for all needs from premium, which is delivered in 100 per cent waterproof packs, sulfate materials and high strength, conforming to class 52.5 N, to fast set, which sets hard within one hour; other products include white, for architectural and decorative applications and hydrated lime, which improves workability and water retention in mortar. All bagged products are marketed under the company's well-known Rugby brand, promoting the British provenance and excellence of production.
"Our primary production plant is in Rugby, Warwickshire, which was built in the late 90s and manufactures about 1.3 million tonnes of cement annually. Within this site we have state-of-the-art facilities that ensure the best possible quality for our customers," begins Carl Platt, Commercial Director of CEMEX UK's Cement Division.
"We also have a £50 million investment in our site at Tilbury, Essex, which is the country's most advanced grinding mill that uses clinker from our UK plants to make cement; this site has the capacity to produce 1.2 million tonnes a year. Alongside these two sites is our factory in South Ferriby, Lincolnshire. In December 2013 a tidal surge saw the River Humber burst its banks, which caused this factory to be swamped by millions of litres of water. This damage put the plant out of action for in excess of 12 months and a significant amount of money went into refitting it."
Despite the challenges of being unable to use one of its factories, the company adapted to these difficulties and maintained supplies to its customer base. "We were able to make our network flexible enough throughout the supply chain to ensure we didn't lose a single customer during this time," says Carl. Elaborating further on this flexibility, Matthew Wild, Commercial Cement, Building Products & Logistics Vice President of CEMEX UK comments: "The first thing we did during the floods was quickly switch our supply profile to Tilbury; without the benefit of having this plant we would have suffered far more so the use of this asset was key, as was our ability to supplement the clinker that we were getting from South Ferriby.
"We used the wider CEMEX network of assets in Europe to ensure quick and efficient imports of clinker from Spain to Tilbury as a way to supplement the clinker we would have otherwise had from South Ferriby. Furthermore, because 60 per cent of our deliveries go on our own fleet of tankers, this gave us increased flexibility to move vehicles around in order to compensate for the amended supply profile. We also have strong relationships with our haulier partners, which enabled us to react quickly and deliver an almost seamless transaction and thus ensure our customers a continued supply of products despite losing one of our major assets."
Also playing an integral role in these operations was the company's import terminal in Edinburgh, Scotland. "We also have a terminal in Newport that gives us further flexibility. Through flexing our supply chain well enough to operate through Tilbury along with our other logistics solutions we developed a sophisticated approach to operating during this challenging period."
Customer-centric in its approach to business, CEMEX UK's Cement Division's commitment to swiftly and efficiently providing customers with high quality products has resulted in an exceptional on-time delivery record of 96 per cent. Complementing this strength is the company's focus on innovation, which plays a key role in the UK cement business. Amongst many examples of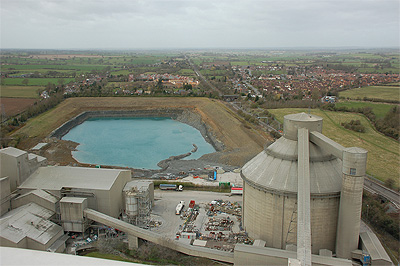 developments is the inclusion of recycled materials in its cement to produce more sustainable products with reduced carbon footprints. In a pioneering effort, the company became the first in the industry to have independently verified carbon labelling of its products and a carbon footprint calculator, both of which help customers to improve their sustainability credentials alongside technical advice and consultation over the correct selection of cement for any given project.
Factory-produced BS EN 197-1 cements are always given a CEM designation with those simply using clinker as a main constituent known as CEM I, traditionally referred to as 'Portland' cement. Cements produced using by-products from other industries and blended with clinker produce a range of composite cements and can be design accordingly. For example CEMEX CEM II products reduce landfill by re-using fly ash from coal fired power generation and can reduce CO2 emissions by 25 per cent per tonne produced. To promote the use of CEM II, CEMEX has designed and trademarked a unique logo that highlights the importance of using this more responsible material.
"We have been the UK's largest supplier of cementitious fly-ash for many years and had a number of contracts with UK power stations. However, power generation in the UK has changed over the last decade and fewer power stations are now producing ash to the quality standard we require," notes Matthew. "Moreover, we have seen a change in availability of fly-ash over the last 12 months as fewer power stations are generating by coal any more. This has resulted in fly-ash from the UK power stations dwindling to an almost negligible amount. Due to these developments, we have had to quickly adapt to a different proposition and increase the import of fly-ash from Europe into Tilbury. We have used this fly-ash for blending in CEM II both at Tilbury and Rubgy and now almost 100 per cent of the fly-ash that we utilise comes from sources abroad."
Alongside the notable changes in UK power stations, the amount of iron ore manufactured in the UK has also dwindled following factory closures and reductions in capacity at some steel works; this development has led to a reduction in the amount of slag granulate in the UK. "From a supply side the amount of slag has been reduced, however, when fly-ash availability began to tighten the demand for slag began to increase, which led to a change in dynamics. Today there is more slag being used in the UK requiring additional imports from abroad. In line with these developments, we have established deals with an importer in the North, which now supplies slag into our Northern based concrete plants. We also have our import terminal in Newport, which is being used to import slag powder from Spain for our southern-based customers. In some ways it was a perfect storm for both of these previously widely available UK-based cementitious materials," says Matthew.
As Carl pointed out, there are cost implications for CEMEX regarding the need to now import fly-ash and slag from abroad, as well as a CO2 perspective. "Using slag and ash play an important role in CO2 reduction but when bringing these from further afield you have to think about the CO2 impact and the extra costs involved logistically. We have the ability and experience to handle the complexity of importing these products thanks to our nimble and mature supply chain, but we do need secure sources of these products going forward, which will have a cost impact," added Matt.
Despite market challenges, the company has maintained a strong reputation in the market thanks to its customer-centric approach to business and flexibility when it comes to using its facilities. Looking ahead, CEMEX UK's Cement Division will seek to use UK based assets as much as possible to continue making UK manufactured cement while also using its extended European network to meet any further demand requirements. "I don't see a situation in the near future where power generation or steel manufacturing in the UK will lead to us having UK sources of ash or slag available, so it is a matter of securing medium term sourcing for both of these cementitious materials in Europe.
"Another thing we will look into is the potential development of new sources of lower carbon cements in line with the commitment made by the cement industry for carbon reduction by 2050. To do this we will need to look at materials more readily available in the UK, such as limestone; it is all about seeing how our products can evolve to meet challenges we face in the short-term," concludes Matthew.
CEMEX UK – Cement Division
Services: Global building solutions company supplying cement, ready-mixed concrete and aggregates