With over 15 years of industry experience, CESAS Civil Engineeringis a trusted sub-contractor primarily specialising in reinforced concrete structures and industrial process and control buildings
Concrete support
With over 15 years of industry experience, CESAS Civil Engineeringis a trusted sub-contractor primarily specialising in reinforced concrete structures and industrial process and control buildings
Operating from its base in Newtownabbey, County Antrim, CESAS Civil Engineering is a Northern Irish business specialising in the construction of reinforced concrete structures across several industry sectors. Frank Begley incorporated the company during 1999 with Ray Doherty joining the business the following year, while today both Frank and Ray continue to run the business as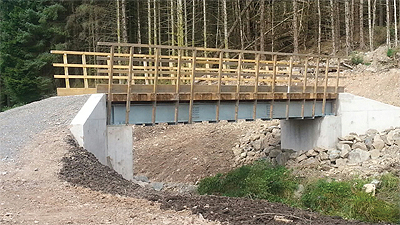 Co-Directors and manoeuvre CESAS into new markets. The company was founded to provide concrete structures for the water and wastewater sectors, where CESAS developed its experience in constructing industrial buildings and over the following years it has grown in experience and specialisation to work with leading energy companies and contractors.
"We work as a subcontractor, primarily for large civil engineering contractors to which we provide specialised projects comprised of reinforced concrete structures and industrial buildings. These industrial buildings include pumping stations and control buildings for water projects, as well as substations for power projects such as wind farms. We also provide warehousing solutions and other industrial buildings as required," elaborates Director, Ray Doherty. "During our history we have diversified in the type of work that we do, for many years we were involved exclusively in the development of water and sewage treatment plants and all of the concrete structures associated with that sector. Following this we began building motorway bridges and road bridges over rivers, while we started working in wind farms during 2009. We have had a steady client base in this sector during the subsequent years and have constructed wind turbine foundations and control buildings on over 20 wind farms."
Throughout its history, CESAS has worked as a sub-contractor for a number of leading construction companies to provide infrastructure solutions for Scottish Water Solutions, which has itself handed over more than £1 billion worth of infrastructure and non-infrastructure projects from the Quality and Standards (Q&S) II Programme to Scottish Water. Between June 2011 and April 2012 for example, CESAS worked alongside Farrans Construction Ltd. to develop new structures for the upgrade of existing infrastructure at the Eaglesham Sewage Works in a project valued at £250,000. New structures constructed across the sewage works included a deep concrete ring grit chamber and washwater chamber with associated shoring temporary works; new concrete inlet channels with associated live connections to existing flow; new hardstandings for booster kiosks; and extensive new ducting systems throughout the site for M&E control. Furthermore, the company also set up over-pumping of live flows during the inlet reconstruction and co structed a new concrete access road and hardstanding, as well as reinstatement of grassed areas and paths.
Additionally, during March 2011 CESAS also worked with Farrans Construction at the Carron Valley Water Works in the construction of a new structural steel framed water pumping station building with metal roof and wall cladding. This project was completed in March 2012 and valued at £276,000. It included all building finishes such as masonry work, concrete process pits and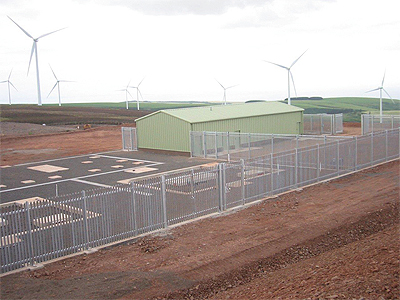 floors, metal doors and access ramps; new ducts and duct pits to the new pumping station; deep excavation and laying 120m of 350mm diameter ductile iron pipes for suction inlet; deep connection to 700mm water supply main; process pipework in and out of the pumping station with associated non-return valve chamber and meter chamber and all site finishes including paths, kiosk plinths and drainage. CESAS also operated on a separate site as part of the same project to undertake new DI 350mm and 250mm water main laying with associated ducts and duct pits and two new deep manholes for flow meter and pressure valves. Excavation in rock and disposal of material, as well as reinstatement on site was also carried out by CESAS.
As the company has diversified into new areas in recent years, CESAS has carried out projects in the ferry, highways and off shore wind segments. "During 2012 we were involved in the Isle of Skye ferry terminal for the Raasay ferry, sailing to the Island of Raasay. This was a relatively small project, which was undertaken for the main contractor, McLaughlin and Harvey. During the terminal upgrade we provided a relatively simple single storey building for storage," Ray explains. "We are also very proud to have recently completed our largest project in the offshore wind farm market in 2016. This was undertaken at the 96-turbine Kilgallioch wind farm in South West Scotland for the main contractor, Farrans Construction on behalf of Scottish Power Renewables. During the project we were involved in the construction of the foundations for each of the turbines as well as a wind farm control building. Next year we certainly hope to be involved in more wind farm projects as statistically speaking, we have built 355 wind farm foundations to date over the last six years with 16 control building sub-stations."
With its growing portfolio of completed projects, CESAS provides its clients with a trusted solution in concrete civil engineering solutions. Over the coming years the company will seek to further leverage its expert capabilities to grow to represent a primary contractor for clients operating within the civil engineering sector. "We have a real depth and breadth of experience running through the company in the development of concrete structures. This represents our main asset, especially when working with new contractors and one-off developments, where we can offer clients the ability to undertake projects on a turnkey basis. This means that we can build control buildings and substations away from the main project and undertake the construction entirely, so we source the materials and project manage ourselves before handing over the completed building to the client," Ray concludes. "While we will continue to work as a subcontractor for the foreseeable future and have several projects lined up for 2017 and beyond, we also have an ambition to work directly with clients within the next three to five years. This will involve continuing to complete turnkey projects and winning the third party accreditations required to operate as a full contractor."
CESAS Civil Engineering
Services: Specialist in reinforced concrete structures