CIMC Modular Building Systems
With an innovative design and patented building technology, CIMC Modular Building Systems (MBS) has found a solution to clients requiring speed of construction, enhanced quality and early return of investment
Contained growth
With an innovative design and patented building technology, CIMC Modular Building Systems (MBS) has found a solution to clients requiring speed of construction, enhanced quality and early return of investment
Founded in Shenzhen, People's Republic of China, in 1992, China International Marine Containers (Group) Ltd (CIMC Group) has diversified its services over the last three decades to become one of the leading global manufacturing groups. From its relatively humble beginnings as a container business, CIMC Group today operates in sectors such as modular building systems, vehicles, energy, chemical equipment, food equipment, offshore facilities, track equipment, logistics equipment and financial services. Boasting a global network that operates throughout North America, Asia, Australia and Europe, the massive organisation has more than 150 subsidiaries and 70,000 staff.
Under the helm of its parent company, CIMC Modular Building Systems (CIMC MBS) has enjoyed impressive growth since its foundation in 2004, becoming the world-leading provider of modular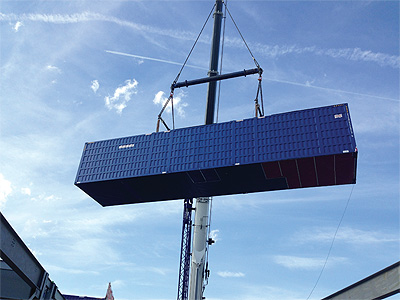 buildings and modular building systems in just over a decade. With an enviable list of global clients, from internationally recognised hotel operators to global resource firms, CIMC MBS has developed a strong reputation as a unique provider of profit driven solutions.
From its four manufacturing facilities based in three locations, and its five branches that serve customers on a global scale, CIMC MBS provides its high quality services to a broad range of sectors such as hotel and hospitality, apartment and workforce accommodation and student accommodation. Benefiting from the experience of the CIMC Group in areas such as project development, design, construction and operation, CIMC MBS works with its clients' teams to ensure designs are constructed safely, efficiently and cost-effectively.
To strengthen its foothold in the construction of modular buildings, CIMC MBS established regional offices in Europe in 2014 and Australia in 2009. CIMC MBS UK, located in London, UK, is responsible for all projects in the UK and Europe and also has technical input into V system projects across the globe. With the knowledge and experience to take clients from A to Z during a project, CIMC MBS UK assists with everything from design to delivery. Furthermore, the team works with architects that need assistance and welcomes close and open discussions with architects, engineers, developers and contractors to help deliver successful projects. Meanwhile, CIMC MBS Australia is responsible for all projects throughout Australia and New Zealand. The team is capable of delivering products into all major ports and also provides a holding yards service if needed.
Retaining its values to provide performance-driven results on time, to budget and with optimum safety, CIMC MBS consistently delivers and exceeds expectations. Moreover, the company can support projects thanks to its extensive funding resources either via internal funds, through strategic partnerships with international banks, legal firms and accounting and leasing consultants across the globe. Available to customers is a onestop- shop package of debt finance, which covers modular purchase, construction costs and project costs.
Focused on volumetric modular construction, CIMC MBS constructs a building off-site in controlled plant conditions; although it uses the same materials and designs to the same standards as conventionally built facilities, CIMC MBS's way of creating modular buildings offers a number of benefits to clients. These include a high level of quality and repeatability, up to 60 per cent reduction in construction times and a 70 per cent reduction in onsite labour; furthermore, modular construction reduces overall capital costs by ten per cent to 30 per cent as a result of greater design, delivery and onsite management efficiencies.
The company's product range includes the V system, which is perfectly suited for hotels, student accommodation and departments. The V system can be stacked up to 16 levels without the need for additional structures, is designed to be shipped anywhere and have superior acoustic and fire isolation as each module is separated by an air gap and internal linings are fire rated. Benefiting from container technology, each module is tailor made to meet the clients' needs in terms of room size and internal specification. Meanwhile, the T system is a singular module that is supplied complete with external façade and roofing. The modules are typically supplied with a single point of entry for services and come commissioned with air-conditioned rooms and hot water systems. CIMC MBS also provides customers with the flat pack option, which can be used in a number of ways, such as a temporary office, accommodation and or sanitary room. Four units can be packed as 1×20 metre containers for convenience and cost saving.
Having provided modular buildings to customers such as InterContinental Hotels Group, Hilton, Travelodge and Premier Inn, CIMC MBS is currently working on a £15 million contract that uses its converted container system to create a new on-site hotel at Bristol airport. As the company's modular system is still relatively new to the UK, this contract gives it ample opportunity to show the benefits of using this system.
As CIMC MBS continues to showcase the advantages of modular construction to the conservative UK market, the company naturally anticipates increased demand from UK customers over the coming years. However, as an organisation that doesn't rest on its laurels, CIMC MBS is also looking to establish itself in other markets that show opportunities for growth.
CIMC Modular Building Systems
Services: Modular building construction specialists