Serving clients based in the civil engineering, nuclear, tunnelling, renewables and offshore industries, Derbyshire-based Colcrete Eurodrill is a leading manufacturer of mixing and pumping equipment and drilling tools
Active development
Serving clients based in the civil engineering, nuclear, tunnelling, renewables and offshore industries, Derbyshire-based Colcrete Eurodrill is a leading manufacturer of mixing and pumping equipment and drilling tools
Formed from the merger of Colcrete and Eurodrill in 2001 under parent company Keller Ltd, today the business manufactures two distinct product lines: Eurodrill products consisting of drill rods, casing systems and percussive drilling systems; and Colcrete products consisting of mixing and pumping equipment.
Thanks to the combination of a diverse range of applications covered by its products and a very experienced and knowledgeable team, Colcrete Eurodrill has established an extensive bespoke offering as well as its standard range, and a reputation for exemplary customer service.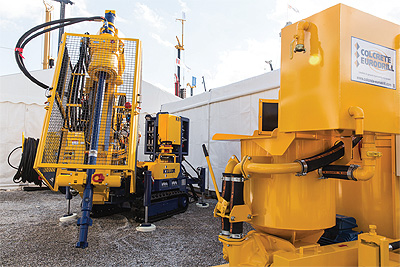 Construction & Civil Engineering magazine last featured Colcrete Eurodrill in July 2015, and since that time the company has weathered a slow period – the result of delayed project awards – and emerged stronger than ever, with some significant contract wins and some interesting potential opportunities on the horizon.
"It was just before Christmas where we started to see the real improvements and we won some big orders – we haven't looked back since December really," Mark Rex, MD explained. "Business has really picked up and we have been able to re-establish our night shift in the drilling consumables section, which gives us the ability to add 120-180 hours a week capacity through four operators running four machines at night.
"We exhibited at the Bauma Fair in Munich earlier in the year and made some good potential contacts for future business alongside the opportunity to catch up with existing customers."
Thanks to the upsurge in demand and Colcrete Eurodrill's positive response to the extra work, the company is well on the way to achieving its year-end targets and has increased its workforce by eight staff, with a view to continuing this expansion. "On the fitting shop/machine side of the business we are installing a new paint spray facility, which will free up some space in the building as well as give us a better opportunities for painting," Mark elaborated. "On the drilling side we are going to be installing some new machines this year as well. Overall the plan is to invest somewhere in the region of £1.2m over the next two years on new equipment, so that we can maintain the level of business we are currently undertaking and keep the quality levels at the right standard.
"We always aim for new staff to have a long-term future with the company rather than a short-term contract, and to keep us moving forward and meeting market demand they need to be flexible and adaptable when working with clients so we can come up with a solution that addresses their needs."
To this end, all of Colcrete Eurodrill's machinists are multiskilled, with effective training on several machines. "It might only take one person to run a machine, but we train them on at least six or seven so that if necessary we can swap and change operators between machines whenever required. The objective is to always be able to cover for holidays and illness, as well as having the right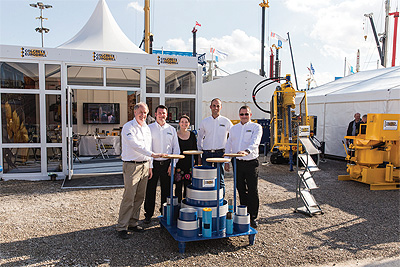 levels of skill available to run particular jobs. It also means we have the flexibility to move shifts to days or nights to cover whatever situations arise."
Being confident in its ability to adjust the workforce as and when required has helped Colcrete Eurodrill establish a global presence, with clients across theglobe. From the Guadarrama Tunnels in Spain to the Bhariab Bridge Project in Bangladesh, the organisation's technology is utilised on almost every continent, and as Mark pointed out, this works to the businesses' advantage: "The global market varies all the time depending on project activity, with some areas being quiet when others are becoming very busy. So at the moment there is potential for us in the US, not just within the wide open market but also in our own parent company's internal market." He added: "The weakening of the pound offers potential for us to do more with overseas export, as customers in places like the US have better buying power, so while recent UK political changes are creating challenges, there are also opportunities."
As Colcrete Eurodrill continues to receive international enquiries, it remains determined to adhere to its successful strategy when forming relationships with partners across the world. "When looking for distributors, we like to work with small-to-medium sized companies (SMEs) in various countries, as we have found they have more of a vested interest in selling our product. There's a risk that when you work with a major company that you become just another page in a catalogue.
"We also actively develop native speakers who are familiar with the industry to promote and sell our products and feed the enquiries, as this works more effectively for them as well as ourselves," Mark added. The success of this approach is undeniable, as through its extensive global distributor network Colcrete Eurodrill has already supplied to major projects throughout Europe, the United States, Canada, Australia, Africa and Asia.
With its target figures already achieved, Colcrete Eurodrill now has a new challenge to maintain its impetus and set new records for turnover and satisfied clients. "2016 has been good so far and there are more prospects out there for us," Mark stated with confidence. "Our vision for the next three to five years is to double or treble the business volume in terms of turnover." Given the company's track record of success in the market, 2017 should see even more exciting expansion and developments on the agenda.
Colcrete Eurodrill
Services: Manufacturer of drilling tools and pumping/mixing technology