Over the course of 25 years, Collard Group has evolved into a multi-discipline business, and today it confidently offers all of the necessary demolition, remediation and waste management solutions to meet the needs of its customers across the South of England
A quarter century of success
Over the course of 25 years, Collard Group has evolved into a multi-discipline business, and today it confidently offers all of the necessary demolition, remediation and waste management solutions to meet the needs of its customers across the South of England
For Collard Group, 2019 marks the 25th anniversary of one of the leading demolition and waste management companies in the South of England. Established in 1994 to provide haulage services to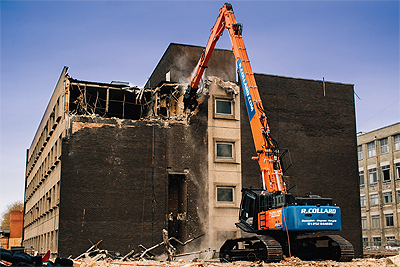 local construction companies, today it possesses the capacity to process over one million tonnes of waste and recycling per year, and has diversified to also become a provider of recycling services, skip hire, aggregates, earthworks and ready-mixed concretes. A family-run business, Collard Group now employs more than 400 full-time staff, has more than 4000 skips at its disposal, a fleet of some 225 vehicles – around 150 of which are HGV class – and a turnover in excess of £50 million.
Reflecting upon the company's success over the last quarter of a century, Founder and Managing Director Rob Collard attributes it to several factors. "First of all, I put our success down to hard work," he states. "We have put together a very strong team of people here who, not only share the same principles as myself, but who have a diverse range of skill sets and experience, which has allowed us to diversify into a number of different sectors and specialisms. Equally as important, is the fact that we remain very much a family-run business whose values revolve around being a quality service provider to customers of all sizes, whether that be a homeowner wanting a one-off skip on their driveway, or a company embarking upon a multi-million-pound demolition and earthworks contracts."
From its headquarters in Hampshire, and its supporting depots there and in Berkshire, Oxfordshire and Surrey, Collard Group is able to offer an end-to-end suite of services to the construction industry and to domestic customers. Regardless of the type of project it takes on, the company's commitment to the highest standard of delivery remains unwavering, while its integrated demolition, waste management, haulage and recycling systems enable it to provide sustainable, closed-loop solutions to the circular economy of the South East of England.
"In the last several years in particular, we have witnessed a high level of growth in house building in the region, and this has seen us working extensively with some of the big building companies such as Berkeley Group," Rob explains, when asked about some of the recent sources of activity for Collard Group. "An extension of that work has also seen us work with groundworks businesses that are massive users of our aggregates, waste skips and tipper lorries."
The company has also had notable success as a result of its ever-expanding waste management and collection services. By combining industry-leading equipment with years of experience, its teams are able to collect whatever kind of general or recyclable waste that needs collecting and ensure that it is dealt with in the most environmental friendly way possible. "With our waste services, we have made it a point to establish a network of nine strategically located, commercially viable recycling depots – typically no more than 15 miles apart – and this has been absolutely key
to the growth of Collard Group," Rob enthuses.
Expansion plans
Among its network of recycling depots, the three most recent sites to fall under the company's umbrella come as a result of a hugely significant acquisition made in October 2019, namely that of Raymond Brown Waste Solutions (RBWS). Said acquisition marked a major milestone in the Collard Group's history and brought together two successful businesses and brands with long, proud histories in the waste sector. "We were initially approached by an agent working on behalf of RBWS, not long after the business was put out to market," Rob details. "Following a period of dialogue, and with the support of the banks to secure the necessary funding, we completed the acquisition, which marks the fourth major purchase of waste-related businesses in the past ten years.
"I truly believe that the acquisition of RBWS represents a real statement of intent from Collard Group, one that extends our reach and ability to provide waste disposal, skip and other associated services from M25 down to the south coast, and it does not end there. Our plan is to grow this business into one that commands an annual turnover of £100 million, so there are many more highlights yet to come!"
Strong momentum
The last five years have also bore witness to the company making significant investments in plant and equipment, including a state-of-the-art wash plant and a new ready-mixed concrete plant. The wash plant in particular, has great long-term potential as Collard Group is one of the first major companies to be experimenting with using washed, recycled aggregates into ready-mixed concrete. "There is huge potential for growth in this field, and we are investing heavily in creating a BS standard concrete made with recycled products, and we want to be the first in the UK to achieve this," Rob reveals.
Turning our conversation to the topic of what the future holds for the company, Rob expects 2020 to be an interesting year, to say the least, but one where – under the right circumstances – the economy can gain some strong momentum once developers begin to increase their activity levels in the new financial year. "I personally feel that, with the acquisitions and investments that we have made to date, we find ourselves in the perfect place to expand Collard Group further still," Rob concludes. Indeed, from what we have seen from the company in recent times, there is every reason to believe that the foundations are in place for the next 25 years of its life.
Collard Group
Services: Demolition, waste management, aggregates, earthworks and ready-mixed concrete