Collinson Construction strives to transform the modular construction sector and facilitate the mass production of components by adopting best practices from other manufacturing industries
Modernising the industry
Collinson Construction strives to transform the modular construction sector and facilitate the mass production of components by adopting best practices from other manufacturing industries
Drawing inspiration from other sectors and their guiding principles is the way to modernise the construction industry." These words belong to Sam Collinson, Managing Director of Collinson Construction—a company whose specialism lies in the creation of modular and tensile buildings.
"We are passionate proponents of what is referred to as the 'common architecture' approach in the automotive industry," Sam states. "There is no doubt to us that modular construction is the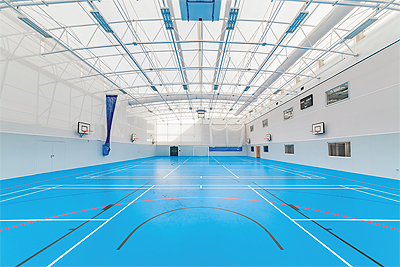 future, but it currently comes at a premium, with the only benefit being a shorter on-site construction programme. This is because companies are generally creating modular factories as 'indoor construction sites', using the same construction processes and materials, and, essentially, standard methods and products. Hence, you get the same quality as a traditional build, rather than a superior result."
In Sam's opinion, in order for volumetric modular construction to really work, a product needs to be built from the ground up, adopting best practices from other industries. "Car manufacturers, and dare I say silo manufacturers, perfected the art of mass production long ago."
When Collinson was first established in 1962, the company designed and manufactured bulk storage silos, applying the same 'common architecture' principles to the process.
Sam continues: "Now, the challenge is to bring the construction industry up to speed. A step forward is that we are currently developing what we are calling volumetric modular common architecture construction (VMCA) by creating common components for our core platforms.
"We believe that once you have standardised the core architecture or components, you can then streamline the assembly methods, de-skill your workforce, and speed up the production process, to drive down the price and reduce the design and development time for each product or project," says Sam. "In designing our components, we are looking to have parts that work across a range of products. For example, we have 5 core ranges of silo with 130 different models and when you factor in model variants such as leg height and colour finish, there are well over 30,000 variations of what is essentially the same product, as 90 per cent of the components are common across all silos. This holistic approach to designing product ranges using common componentry is what allows us to ensure our end product meets and exceeds customer expectations."
Ultimately, Sam holds that customers are no longer keen on having too much choice in a construction project. He explains: "The fact that every building is unique may seem like a positive at first, but when you dig deeper and understand the sheer complexity of the project, you realise even a building could benefit from product design. Unlike traditional construction, which happens on-site, products are developed in a manufacturing environment where the margin for error is slim and the quality control is high. Therefore, we are openly challenging the idea that 'bespoke' always means 'better'. A well-designed, precision-engineered building product manufactured offsite, with a number of carefully-curated customisation options, offers a far greater level of product certainty and assured quality, and a much simpler process for the customer."
Collinson Construction's product-led approach has given the company a reputation as both a tensile building and national sports facility specialist. Since it provides tensile fabric structures, the organisation has found a niche in the sports sector, and one of its primary offerings is a range of steel-framed superstructures named Challenger, Challenger+, and Evolution.
"Tensile structures like the Challenger are ideal for sport because most sports buildings do not need to be insulated, so they do not need 'traditional' roofs. By using a fabric membrane roof, you get natural light coming through. It's like playing outdoors but without the bad weather," Sam points out. "Although we do operate in other areas—including education, commercial, and industrial—our experience when it comes to things like runoff, court sizes and roof clearance heights, is incredibly valuable in the sports sector."
Project expertise
What serves as compelling evidence of Collinson Construction's capabilities is the delivery of Europe's largest tensile sports facility – Dublin's National Indoor Arena. Its length measuring at 230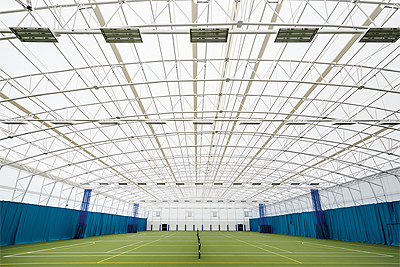 metres and its width at 80 metres, the building features a full-sized football pitch, a half-sized rugby pitch, and an internal ancillary block dividing the two.
Sam gives an account of the challenges the company faced during the project and the innovative practices it employed. "In total, there are 78 steel trusses at three-metre centres and because of the amount of steel involved, we had to use a small crane to build up at ground level and then lift elements into position using two 200-tonne cranes. The trusses were aligned at the apex and then bolted together to create the arched roof. Due to the wide spans, the roof fabric is heavier than what we would usually use, so we had to install it in four sections. As each section required a 20-hour window of little to no wind to be installed, we ran two working shifts. In the first, eight people would release the fabric cover before carrying out the initial tensioning to make the fabric secure. Then, the second team of six people would insert additional, fabric-securing steelwork and complete the tensioning process.
"Another major challenge was that our structure had to be built over the top of a very large building already being erected on the inside of the structure. Effectively, we needed to envelope this internal block with a steel superstructure. This called for a detailed phasing of operations and detailed lift plans carried out by our in-house team. In line with the plan, the trusses were lifted over the internal building and lowered onto the holding down bolts – a process that was repeated until the centre section of our structural framework had fully covered the internal building."
Manufacturing investment
Aiming to create a flexible workspace for large volumetric products, Collinson Construction recently invested £1.2 million in a new manufacturing facility adjacent to its main site. Making use of a large open space, the company introduced a bespoke widespan overhead crane to move modules around the whole factory and to load the transportation wagons.
"As far as designing modules or silos is concerned, we recently introduced structural analysis software called Finite Element Analysis (FEA)," Sam adds. "The system gives us a heat map of a structural part in 3D, enabling designers to see where components are likely to fail first. They can then modify the design in real-time before running the analysis again, repeating the process until the component is optimised to the desired safety factor."
Sam also reveals that Collinson Construction is looking to bring a new automated cold-rolled steel processing line to its factory. "In essence, it will be a coil-fed punch press machine, which takes the cold-rolled steel in its most raw coil form and converts it into finished parts that have been punched to the desired flat shape complete with fixing holes. These are then robotically manipulated into an automatic press brake that will bend the steel to the desired end-product shape before stacking on to a pallet ready for assembly. It will amount to an investment of around £2.5 million, including the processing line, a storage system, and the building to house it all. As part of the same project, we are also looking to upgrade our existing coil-fed line with a robotic bending cell to bring it up to the same spec as the new line."
Earlier in 2019, Collinson Construction assumed its own brand identity, with the wider Collinson group demerging its 35agricultural and construction businesses. Allowing both divisions the space to continue growing and to be more strategic and more focused, the demerger will facilitate the achievement of Collinson Construction's target to reach a £30 million turnover in the next three years.
Sam concludes: "We are starting to engage more with frameworks and tendered work. More important, though, is our approach to offsite construction, which really gives us a competitive edge and enables us to offer our own products. Going forward, we will focus on self-delivery, the aim being to self-deliver as much of a project as possible, and whenever it's not possible, to use only our trusted technical partners and supply chain."
Collinson Construction
Services: Construction of modular and tensile buildings