Colmore Tang Construction
For Birmingham based construction firm Colemore Tang, continued evolution is key to achieving success in a highly competitive industry
Building up
For Birmingham based construction firm Colmore Tang, continued evolution is key to achieving success in a highly competitive industry
With no legacy projects hanging over from the economic recession Colmore Tang Construction (CTC), which was born in February 2014, has undertaken a journey of significant evolution over its first two years of doing business. Established to serve the contracting needs of Birmingham property developer Seven Capital's (SC) 253-bed, four-star Park Regis hotel at the right value, CTC's ability to deliver major refurbishment work to the right standards but at highly competitive prices meant that it secured a significant framework to deliver all SC's refurbishment and new build residential project for the following five years. This represents a pipeline of around 1000 units per year on SC development sites.
When Construction & Civil Engineering last featured the company back in July 2015, MD Andy Robinson highlighted four major projects that effectively kicked off the company's success. The first
being the Park Regis hotel, which was closely followed by One Hagley Road, a 22-storey, 270-apartment conversion project in Birmingham. The year also saw work commence on a 313-unit, part-conversion, part new build project in Digbeth, and the Kettleworks and St George Urban Village scheme in the city's Jewellery Quarter, which includes the refurbishment of an historical building into 313 units, plus a new build 320-unit village.
"The ten months since have been hectic to say the least," Andy comments, looking back at only the business's second operational year. "We have continued with these four large projects and this has resulted in us completing and handing over 600 apartments as well as the four-star hotel. We have also added a further six projects, which we are now on site with, contributing a further 1000 units to our portfolio."
Indeed, as CTC entered 2016 the company experienced a notable flourish of activity topping out four projects in just one day. Such ability is testament to the deeply ingrained knowledge and expertise held within the relatively young company by a tight-knit team of highly experienced individuals from a wide range of operational, development and contracting backgrounds. "The business is always working hard to maintain its 'fast-track' reputation for delivering high quality on time and on budget," explains Andy. "We have developed a strong image within the industry for a no-nonsense, practical approach, which is heavily client focused and allows the client to have complete trust in what we are doing and how we are delivering it. Our long-standing experience within the operational and development sectors culminates in being able to demonstrate a mindset of developer first and contractor second, and means that as a team we are able to approach a range of detailed matters in the right way."
At present, CTC is working on numerous projects that perfectly demonstrate the broadening scope of delivery expertise held within the business. Many of these are centred in Birmingham, however 96 units in Liverpool, 230 units (plus retail space) in Basingstoke and a 200,000 square foot distribution centre in Northampton also feature on its portfolio of ongoing works. "Clearly our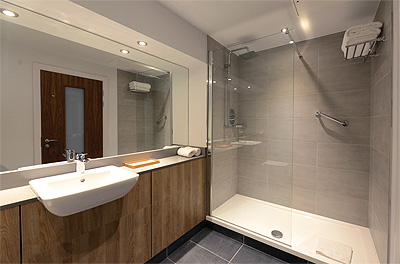 residential pedigree is second to none, especially when it comes to our conversion skills," Andy highlights. "However, it is the Park Regis hotel with the roof-level Rofuto restaurant – a fantastic Japanese-fusion venue and Saki bar – that we are particularly proud of. We were involved in all aspects from the technical conversion work right down to the interior design and branding of the finished product."
Keen to continue the excellent work that has defined CTC's short history, the company is currently undergoing a strong recruitment drive, bringing eight additional key people on board over the last 12 months. "However, we are still facing the challenge of a labour shortage within the industry," explains Andy. "We are doing what we can with South Birmingham College and other educational establishments to help provide placements and permanent work opportunities on our projects for local labour. It is still a struggle though. The discussion regarding off-site manufacture is advancing quickly because of these labour issues and I feel sure they will continue to become more critical to the necessary efficiencies that we need to bring into our processes."
Andy himself demonstrates this commitment to future skills and talent even further, recently being invited onto the board of Dudley Education College for the development of a new Construction Training Facility. "It's a real privilege to assist the board on the new Advance II building," he expresses. "This is being built now to house 400 students who will be able to concentrate on new technologies in the construction industries – something that is very close to my heart. I am really looking forward to lending assistance and ensuring that the courses are focused on delivering practical and relevant skills for the industry."
As far as the future of CTC is concerned, the company will continue bringing new talent on board as well as developing its offering to the market. Andy highlights that finding new large existing vacant office buildings to redevelop in the right locations is becoming more and more difficult, so over the course of 2016 the market will see CTC making further inroads into new build projects. "Ultimately, it's all about ensuring we deliver what we say we will deliver to our clients, whilst at the same time continuing to hone our skills and stay ahead of the game, adding value to their businesses wherever we can," he says. "We will also be looking to expand our capabilities to a wider client base, so more commercial projects, such as the upcoming distribution centre, will start to feature more and more alongside our great work in the residential sector."
Colmore Tang Construction
Services: Leading construction company based in Birmingham specialising in refurbishment and new-build projects