With a strong reputation and robust complement of staff, Coltman Precast Concrete continues to be successful despite challenges in the market
Concrete reinforcement
With a strong reputation and robust complement of staff, Coltman Precast Concrete continues to be successful despite challenges in the market
Coltman Precast Concrete was founded in 1972 by John and Valerie Coltman and has grown to become one of the country's largest independent providers of structural precast concrete," begins Jon Pendleton, Technical Director at the company. Occupying a ten-acre site near Sutton Coldfield, the company is well situated to serve the national market with easy access to the motorway network and with 115 employees Coltman has established a reputable leading position in the market. "During the 43 years since its inception, Coltman has developed its experience and product range to provide a design, manufacture and installation service to meet the demands of today's construction industry," continues Jon.
Central to the company's bespoke product offering is a specialist knowledge of thermal break balconies, terracing, walls and ground beams amongst others with applicable experience in industrial,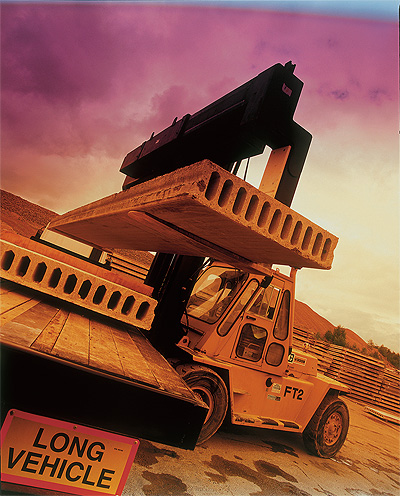 commercial, domestic and leisure projects. Specific advantages of precast concrete became apparent during the mid- 1980s, as Jon explains: "This area of the business 'kicked off' after the Bradford City FC terrace fire when the inherent fire resistance of precast concrete made it the obvious choice for new and replacement terracing/stadia elements."
With attention drawn to the material and the company's services brought into focus after this event, Coltman has been able to grow from strength to strength as it continuously adds to its project portfolio and experience. "Our main market is the traditional build housing sector supplying prestressed hollow core floor units and precast concrete stairs for apartment buildings, sheltered housing projects and care homes together with commercial, industrial and educational buildings," explains Jon. Providing some insight into the extent of the company's success is its operational capacity. Requiring over 70,000 tonnes of concrete and more than 3000 km of steel reinforcing bars and wires, Coltman produces over 215,000 square metres of prestressed hollow core flooring and 3100 cubic metres of bespoke precast concrete products every year.
Drawing the company's abilities together and embodying the knowledge it has is Coltman's experienced workforce. "I believe it was the late Sir John Harvey Jones who said that 'a company's employees are its greatest asset,' and at Coltman this is particularly true," points out Jon. "Our aim is to assist our customers by providing them with high level support from pre-order to completion. Only by employing quality people can you offer a quality product and services. In this sense our employees are our competitive edge."
Also providing structural strength to Coltman is its product quality. "In reality, quality is a journey, not a destination," expresses Jon. "Our customers can be assured that as a BS EN ISO 19001 company, Coltman is committed to a process of continually improving its services and products by ensuring that detailed performance data is collected, analysed and used to establish improvement targets. At Coltman we invest a great deal of time and energy into providing quality products and services to our customers." Backed by its experienced Quality Control department, Coltman products are not only ensured to be of high quality and safety standards, but are also subject to continuous monitoring.
Health and safety also features heavily in Coltman's operations, and continuous improvement is also applied to ensure that the best level of safety is met consistently. A full complement of safety netting, airbags, trailer airmat systems, crane outrigger mats and a proprietary lifting system also ensures that best practice is maintained on site.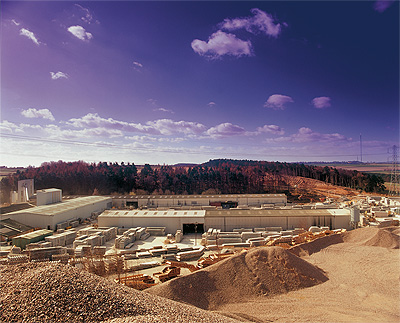 The strength afforded to Coltman by its people and its products has lead to proven reputation within the market and this becomes particularly important in an industry that is highly susceptible to economic conditions and this is evident in the way the company reacted to the recent recession. "During this period market prices for precast concrete plummeted so it was necessary for us to look closely at reducing costs and waste, and improving process efficiencies, wherever possible, throughout the business," says Jon. "As a result, a fitter and keener Coltman is now well positioned to take full advantage of the anticipated growth in the construction sector." This is a growth that is slowly returning as the industry begins to pick itself up. Jon continues by giving his perspective on the market at the moment: "In spite of good order levels, we are finding delivery call-off on some projects to be frustratingly slow and sporadic. We are however confident that as the skill and material shortages ease, and investor confidence improves, the industry will pick up the much needed momentum to return us to sustainable growth."
As Coltman looks ahead its focus is simple and achievable given its leading position in the market. "Over the next 12 months we will be focusing on increasing turnover, improving efficiencies and of course, making a profit," concludes Jon. "The strategic vision for the next three to five years is to consolidate our position in the market by focusing on customer satisfaction and investing in technology and training to enable us to compete in this increasingly competitive sector."
Over its long history Coltman has been able to develop a robust reputation through quality service and strong personal knowledge, and it has proven its ability to react to the market in order to survive even in the toughest economic conditions. What results is a company that is ready to react positively to a market that is showing tangible signs of growth and in this sense the successful future of Coltman looks promising.
Coltman Precast Concrete
Services: Provider of structural precast concrete