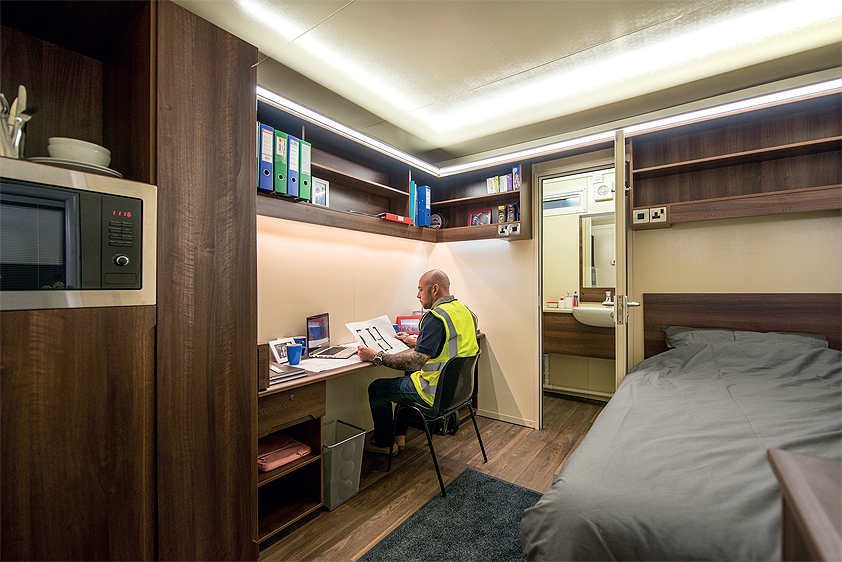 Having sufficient health and safety regulations in place and access to high-quality and safe on-site facilities within the construction industry is of vital importance to workers, as data collected by Bunkabin reveals some of the top concerns of UK workers regarding their working environment.
The research carried out by the temporary on-site provider also indicated that employees aren't likely to make a complaint even if they are unhappy, as only 17 per cent of people surveyed admitted to actually complaining to management about their workplace. However, this could be due to the fact that a quarter of UK workers don't actually know how to make a health and safety complaint to their management.
In this article, we will discuss the challenges construction firms face when organising a site and appropriate working practices based on many of these complaints, as well as issues brought to light due to the pandemic.
Covid-19 Increases the need for improved on-site hygiene measures
While a clean and hygienic workplace should always be essential, the need for stricter hygiene measures has of course increased due to the Covid-19 pandemic. This is something that has heightened people's concerns, particularly within the construction industry, making it vital that employers put in place correct measures.
When asked what people's workplace complaints were, 20 per cent of people answered cleanliness. When asked how clean the communal area is – in which breaks are taken and meals are eaten in the workplace – only 26 per cent felt it was 'very clean' and 23 per cent felt it was 'adequate'. This suggests that there are ways that this can be improved.
Here are some of the things construction companies need to consider when creating a Covid-secure work environment:
Additional PPE should be provided to all staff on-site – these will also need to be regularly disposed of and replaced so you need to ensure you have plenty of supplies
Safety signage also needs to be strategically placed throughout the site to remind everyone of required social distancing and hygiene measures
Create rotas and introduce new precautions for communal areas to limit the number of people using the same facilities at the same time and ensure the areas are regularly sanitised
Ensure the on-site facilities are well ventilated and stocked with plenty of hand sanitiser and other hygiene products – this is not only crucial during the current climate, but air and temperature were also the two issues with the highest number of complaints in the workplace survey
Provide clean and secure on-site accommodation for staff to reduce the need for sharing rooms or using hotels
Control the layout and accessibility of all areas by introducing one-way systems and ensuring you have followed current COVID-19 guidelines
Regularly disinfect all on-site facilities including sleeping areas, toilets and shower facilities
Workers feel toilet facilities are inadequate
In another survey run by Bunkabin, 47 per cent of workers felt their toilet and shower facilities on-site could be improved by their employer with eight per cent claiming they didn't even have access to toilet facilities in some locations, which is against the law.
Having access to toilets is essential on-site, not just in accommodation facilities but also in the normal, day-to-day working environment. Separate toilet cabins would provide a good solution to ensure social distancing and make sanitising quick and easy, with regular cleaning taking place after each use.
Temperature is the biggest concern amongst UK workers
While working on a construction site might not always involve time indoors, time will be spent in their on-site accommodation or communal facilities.
When asked to rate the importance of certain physical factors in the workplace environment, the majority of participants (42 per cent) chose comfortable temperature as their biggest concern. Air ventilation is equally as important, especially at the moment due to Covid-19. These are factors that construction companies need to consider when creating a workspace for their employees.
Managing temperature on a site can be tricky, especially when working outdoors. There are no laws surrounding minimum and maximum working temperatures, but the UK government suggests a minimum of 16°C or 13°C if employees are doing physical work. There is currently no guidance on maximum temperatures; however, it is strongly advised that as an employer you do the following:
Provide clean and fresh air as well as sufficient ventilation
Keep the temperature at a comfortable level where possible
If employees are working outdoors, ensure they have the required PPE to work safely and comfortably in different weather conditions
Some ways that employees can further protect themselves from excessive heat or cold when working on-site include:
Wearing suitable clothing depending on the temperature and type of work – for example, in hot weather conditions, wear loose, cool clothing as well as eye and head protection from the sun and in cold weather wear thermals, hats, gloves and lots of layers
Try to schedule work during the coolest part of the day and take regular breaks in excessive heat, and be sure to spend time indoors to warm up when on shift in the cold
Drink plenty of water during hot working conditions to prevent dehydration and ensure you have hot, filling meals to fuel you for outdoor work in the winter
How to address concerns in the workplace
As a UK worker in the construction industry, it is important that you raise any concerns or complaints you have about your working conditions directly with your management.
As an employer, it's vital that you consider these common complaints and issues reported when adapting your working environment to cater to people's needs.
Benjamin Rothwell is Business Development Manager at Bunkabin, a leading supplier of on-site sleeper and facility units in the UK. It manufactures and supplies high-quality, cost-effective single and twin sleeper units in Oldham, Manchester, providing employees with everything they need for a good night's sleep with its en-suite cabins. The company supplies to the construction, agriculture, education, defence and events sectors.
For more information, please see www.bunkabin.co.uk