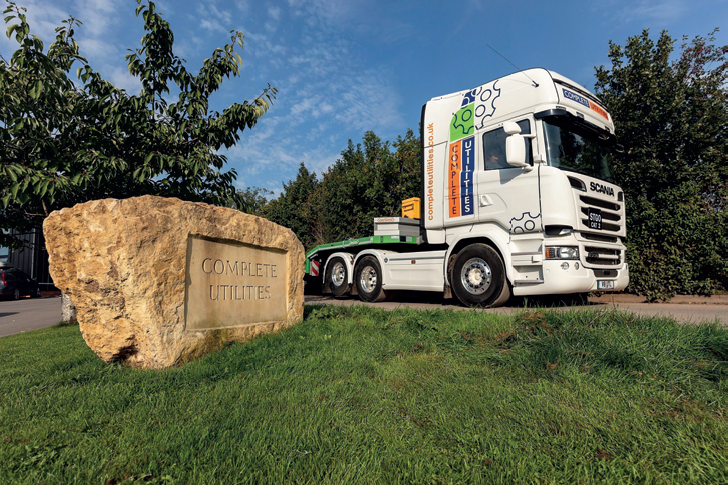 Stronger together
As contractors for the UK's utility providers, Complete Utilities is taking on the responsibility of securing the country's networks to keep the British community connected
Since 1999, Complete Utilities has believed in the importance of maintaining optimal performance of the utility systems, particularly the water networks, that keep the UK going. Not only does the business invest in its equipment and people to incorporate its tools and talent to do the job, it also ensures that a growing agility and dedication to quality service is what will help it to be the UK's most sought-after partner for the delivery of utility infrastructure projects, regardless of the scale or complexity.
What began as a single, hired excavator has expanded to become a reliable partner for the installation of telecoms, water, power and gas networks. Its 22 years of experience has allowed the business to develop smarter and accountable approaches to tackle projects, with over 150 excavators and a 300-strong team of employees to its name. Although such rapid growth has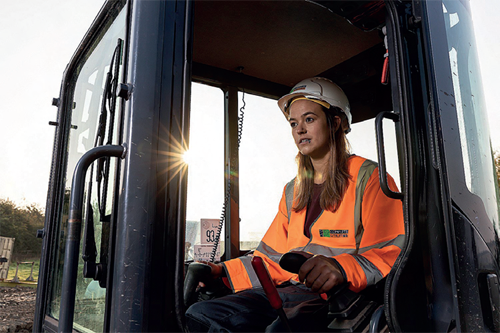 brought it great achievements in recent years, such as being placed 19th on the Sunday Times Profit Track 100, Complete Utilities is determined to stay true to the values and ethos of an independent, family-run business, which is what has enabled it to offer a bespoke and personal service.
In laying down its groundwork this company has established a high level of principles to shape its capabilities. From installation and maintenance, to the upgrade of a telecoms, water, power or gas network, it strives for reliability to get the job done quickly, safely and cost-effectively. This is because it understands that delays in installing, upgrading or maintaining networks, can be expensive and put customers at risk of statutory body penalties and interruptions to their revenue streams. Steve Ryan, the business's Operations Performance Director says that with regards to Complete Utilities' technology, it will strive to use trenchless methods such as directional drilling in order to minimise the impact on the environment. "The other area we are focusing on is to bring more line-stops into our schemes in order to improve customer supply and efficiency," he adds.
Accordingly, the company boasts a proven approach to install networks up to 30 per cent faster than its competitors, and to avoid the bottlenecks that can be caused by relying on third party contractors, it invests significantly in its own equipment and skilled teams instead. This is how it was able to take on projects like The Shambles in Worcester City Centre successfully.
Towards the end of 2020 Complete Utilities was tasked with a mains renewal scheme with tight times frames to support the Worcester Highways' plans for a full redevelopment of the area and replace the existing mains with a new profuse pipe.
As the scheme was located in a busy pedestrian area of Worcester City Centre, it would be a challenge to deliver. In order to overcome this, the company completed several pre-start site visits to build a suitable programme that would help minimise the potential disruption that would be caused by the noise disruption to local businesses and residences.
By breaking the programme down into five sections, including temporary remodelling of the highway layout and reversing a one-way street, which allowed access for deliveries to all the businesses on the street, the business was able to lift and remove the old water main and lay the new profuse pipe in the same trench due to the high density of existing utilities. This method also allowed it to locate all the water services coming off the existing main feeding the surrounding properties. This was very important as it needed to renew all services from the new main to the boundary of the properties.
To reduce noise, the business utilised a solid fencing system with acoustic sound barriers. Hourly noise level measurements were taken and recorded throughout the project to ensure there was minimal noise disruption.
Another recent contract that is part of the business's brochure is the installation of fibre networks on behalf of Fastershire, a partnership between Herefordshire Council and Gloucestershire Country Council to bring faster broadband to the two counties. Set with the task of helping to build a huge rural fibre network linking 150 communities, the business helped improve productivity and reduce the impact of its trenching on local communities. To achieve its aims, the contractor required a trencher capable of installing the multi-duct that travelled through the country lanes while utilising both sides of the verge. In order to complete this successfully, the business teamed up with Italy's Tesmec for their range of trenchers that are more commonly used to install oil pipelines across entire countries. One such trencher, the Tesmec 300, had never been used in the UK before, and after agreeing to an adjusted design, Complete Utilities purchased three machines and shipped them back to its homeland.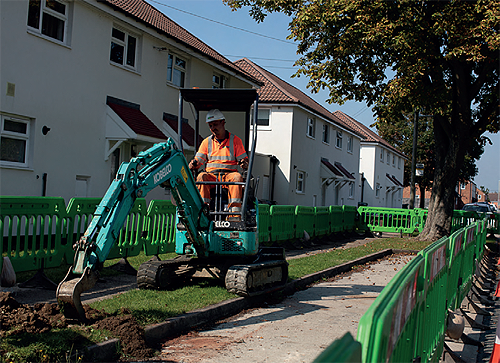 This was an impressive development in the country's fibre installation. The success of its trials helped the business to enter the fibre market with a £90 million contract and consequently attracted the interest of other providers, making it one of the UK's top fibre installers.
Given that these contracts took place during a period of international crisis, it is impressive to see the company succeed in its service delivery, but how did Complete Utilities fare during the pandemic? "While much of our staff worked from home, we implemented an in-house testing regime for all returning workers, visitors and guests. Although Covid-19 has been a challenge for us, we have managed to work excellently by implementing the necessary stringent controls. This approach has been great and we have not had a single Covid-19 infection in the workplace," shares Steve.
This makes it clear that completing the job well is not the only aspect that is high on the company's list of priorities; the company also cares about the wellbeing of the team that keeps its operations churning. According to Steve, "people are our greatest asset and the emphasis on having the right person for the right enables us to support our team in ensuring job satisfaction." Reinforcing this ethos, the business invested in a training facility at its Maisemore HQ to ensure its team is equipped to meet the demands of delivering ultra-fast broadband, mobile networks and servicing the electric vehicle boom. Its training staff also encourages the team to develop their skills in their specialist areas, and accordingly, offers a number of apprenticeships in place across all departments to continue its pipeline of well-qualified team members. This is integral in ensuring a well-oiled company culture that keeps each member valued and motivated. "Having a positive culture where we can promote our successes will assist with attracting the type of talent we need in the business. This we do by celebrating every success and achievement, and by making feedback and our 'pulse surveys' an accessible way for everyone to feel heard and appreciated. Above this, we offer a free life and progress service for employees to access and support their health, financial and legal wellbeing," Steve expresses.
Coupled with this, as the world continues to change, Complete Utilities is also dedicated to evolve with it and has in place steps to ensure the environment is minimally impacted during its construction. To ensure that it maintains its corporate social responsibility to its employees, the environment and local community, it procures practices that guarantee products and services are made with recycled and recyclable materials. Additionally, by purchasing locally, the business' delivery process incorporates fewer chemicals and reduces the carbon footprint associated with its services.
Looking further ahead, as the business strives to provide vital work to keep communities stronger and closer than ever, it is hopeful that its ambition will help it achieve a £100 million turnover in the next few years. Its culture is embedded with a can-do attitude that is sustaining its growth momentum and with a forward focus to deliver quality service, Complete Utilities is set to improve its performance to keep the UK's utility networks strong, stable and secure.
Complete Utilities
www.completeutilities.co.uk
Services: Contractors for utility providers