Complete Utilities assumes full responsibility of the rollout, upgrade, and maintenance of utility networks, thus keeping the process simple and cost-effective for its clients
A reliable partner
Complete Utilities assumes full responsibility of the rollout, upgrade, and maintenance of utility networks, thus keeping the process simple and cost-effective for its clients
The world is changing. In Steve Ryan's opinion, fibre, 5G, and the electric vehicle boom will demand a new kind of connectivity, which will create unprecedented opportunities for network providers in the UK. For them to seize these opportunities, however, Steve insists that they will need a partner they can rely on. As the Head of Business Operations at Complete Utilities, he is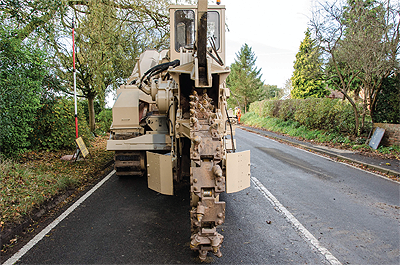 convinced that the company's fresh and flexible one-stop shop approach is best suited to the emerging realities, as it makes its service faster, more efficient, and more reliable than what is on offer by its competitors.
"The traditional model of delivering and maintaining utility networks is inefficient, fragmented, and bureaucratic, leading to unnecessary delays that cost utility providers both time and money," he reasons. "This is why we have invested significantly in our own people and plant to ensure that we have the capability to keep the rollout, upgrade, and maintenance of fibre and communications networks on budget and on track.
"As well as having control of the entire process, we plan effectively and can anticipate challenges and find solutions before they happen. In doing this, we take total ownership and do not depend on subcontractors. Our teams on the ground are empowered to make decisions to overcome any physical or logistical barriers that may stand between our customers and their revenue streams. We have short and clear lines of communication from the senior management to the boots on the ground, and our people have the freedom to address problems as they arise, thus keeping the project on track," Steve discusses.
Highly skilled team
In order to confidently delegate responsibility to its workforce, Complete Utilities has, in the first place, made sure that it has surrounded itself with skilled people with a can-do attitude. It is no wonder then that it specialises in a multitude of sectors alongside telecoms, including water and power networks, civil engineering schemes, specialist plant hire, and support services. The company has also maintained the understanding that it will only be successful if it provides the right support and tools to its labourers, supervisors, and managers for them to do their job, hence the regular investment and upskilling of staff.
Steve adds: "In our experience, relying on third parties only creates bottlenecks. If we take fibre-to-home projects, in particular, they are so fast-paced that there is no room for any hold-ups. Having the ability to deliver every aspect within the lifecycle of a fibre project through competent people certainly makes our proposition an attractive one for our clients."
An accurate representation of Complete Utilities' capabilities can be found in the major £90m fibre-to-home project the company was awarded by Gigaclear in 2017. "Prior to this contract, we had successfully completed an earlier phase of the Building Digital UK (BDUK) project," Steve clarifies. "We now install an average of 60 kilometres of new fibre infrastructure running along the public highway every month. As a rapid-build type of project, our operational teams are constantly planning for eventualities and looking for the best solutions possible. We understand the importance of fibre and how it changes people's lives, bringing inclusivity to rural communities, and we take great pride in being able to provide that connectivity."
It was in 2015 that Complete Utilities commenced its first major fibre-to-home project and it can be no coincidence that the four years since have been particularly successful for the organisation.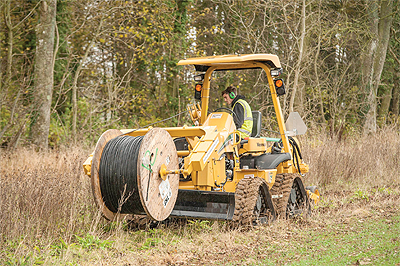 As Steve is keen to note, though, the company – celebrating its 20th anniversary this year – is merely reaping the fruits of two decades of hard work and laying the foundations of the business that it is today.
"Back in the day, our owner and Managing Director, Steve Chaplin, borrowed £250 to hire his first excavator and complete his first job. Today, we own a fleet of over 150 excavators and other specialist equipment, and work with 320 people at our state-of-the-art offices just outside Gloucester. Our size, approach, and experience in the utilities and civil engineering sectors have allowed us to grow to the point where we are now one of the leading companies of our type in the South West. It has to be added, though, that despite our rapid growth, we have maintained the values and ethos of an independent, family-run business."
Ongoing investments
Commenting on the reasons for the company's continued success, Steve remarks: "Having the ability to look back over changes in our industry, coupled with our own experiences over this time, has enabled us to make better decisions for the organisation, as well as for our customers. The ongoing reinvestment into our business has also contributed to our prosperity, as we make sure that we have the latest and most reliable equipment to take on any job. Last but not least, maintaining strong relationships and trust with local councils has given us the ability to scale up when required and opened up the doors for us to trial and test innovative new methods of excavation and reinstatement, which, in turn, has allowed us to install networks faster."
Complete Utilities' vision for the future is to be a sustainable business that lasts for generations. In Steve's opinion, more and more customers will be trusting the company to deliver the networks that will shape the future, but this does not mean that it will get on the road to becoming a corporate entity. "Quite the contrary," he says. "We are happy with our status of a provider of flexible services that are tailored to our customers' individual needs. It is becoming clear that nowadays clients are looking for less bureaucracy and the fact that we choose not to use third parties, means that we hold ourselves responsible and accountable for every step in the process.
"We anticipate that our business model and ethos will allow us to continue to expand, whilst maintaining control over the service we deliver to our customers. One thing we will not do, is sacrifice our reputation and client portfolio, and our goal is to remain surrounded by the best people within the industry who share our vision and values," Steve concludes.
Complete Utilities
Services: Directional drilling; fibre optic; trenching; reinstatement; aggregate and washplant; plant hire; and traffic management