Concept is not a company that follows the script, and has quickly established a reputation for unique, innovative and quality building products
Source of perfection
Concept is not a company that follows the script, and has quickly established a reputation for unique, innovative and quality building products
Concept is a wholesale supplier of building products throughout the UK and was formed with the intention of offering quality products at competitive prices for professional tradesmen.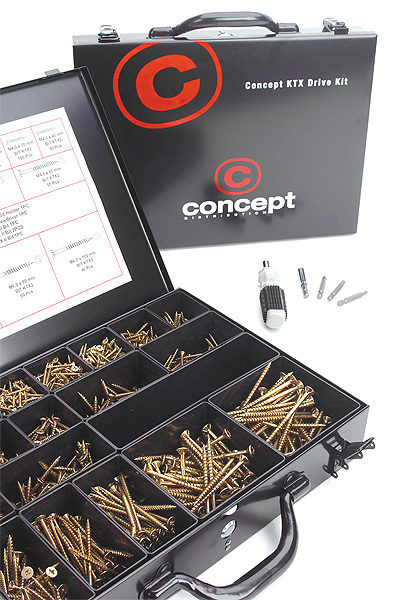 The company has seen rapid growth since trading started and the aim is to adhere to the principles on which it was founded, working in a spirit of partnership and co-operation with its customers and looking to the future.
Practical application of this simple philosophy has seen Concept already introduce a number of unique ranges, including the KTX Locking Drive professional woodscrew and the world's first Impact and Collated Driver, representing two great tools in one.
The KTX Locking Drive Professional Woodscrew has been developed by one of the most prolific developers of screw technology in the world. In terms of its quality, capability, reliability, consistency and value for money, Concept considers the KTX to be the best screw in the market. It has distinct advantages over the other leading brands with the following qualities:
It is usable with Square, Pozi, Philips and the unique KTX drive screw bits
It provides a stick-fit in the head of the screw for Square and KTX bits and good quality Pozi screw bits. The stick-fit means more torque is transferred into the screw, there is no slippage or wobbling and the screws have to be handled less when starting them off.
The screw is suitable for all wood types and there is significantly reduced splitting, allowing close to the edge fitting.
The double-countersunk head leaves a smooth surface finish and the underhead ribs and tips allow perfect fitting.
The head recess is deep, improving the fit of the screw bit. The screw is through hardened for strength and is wax coated, permitting smooth penetration into the wood.
The screws are packaged in durable flip top boxes and every box includes a £2 KTX bit free of charge.
What's more, an outstanding product, the KTX screw has just won an award for one of the Top Products of 2007 by the number one magazine for the Trade.
In November Concept launches its new KTX Torpedo Professional Collated Woodscrews, combining all the qualities of the loose KTX screws with the fast fixing capability of collated strips. There are two sizes for internal use directed at various types of flooring and timber construction and three sizes of external screw for fencing, decking and external timber construction. The external screws have a highly corrosion resistant bronze metallic coating, which provides longevity and a superb finish. Both types of collated screw are of the highest quality and will compliment perfectly the Impact and Collated Autofeed below.
The Impact and Collated Driver is Concept's first power tool and compliments perfectly the range of fixings it supplies, allowing it to offer a system to meet any builders needs.
This is a professional tool manufactured to a high standard by a manufacturer with a reputation for reliability, innovation and excellence. It is unique as it combines a powerful impact driver and collated autofeed driver in one. The tool also offers distinct advantages over other impact drivers and collated autofeed tools, while representing superb value for money.
A large part of the cost of any power tool is the batteries and the Concept Driver is supplied with 2 x 2.4Ah Sanyo NiCd batteries which are better than most batteries found on other tools and means that builders do not have to go to the expense of additional or replacement batteries, as the two batteries alone are enough for most.
As an impact driver the 167Nm of power of this tool sets it apart from the rest that are mostly 125Nm to 140Nm. The collated auto feed takes 25-55mm collated screws. The attachment is easy to operate using an Allan key to take on and off and set the gauge to length of screws being used. A simple dial controls countersink management and the attachment can be set to feed from the top or sides.
A significant advantage of the Concept Driver is the power that allows collated screws to be fitted where other machines which rely purely on spin speed, struggle and fail.
Always looking to create new, innovative solutions, September this year saw Concept launch Durofix power tools, in the UK. Durofix is a new brand but highly successful internationally and manufactured by the same manufacturer as Concept's 14.4V Impact and Collated Autofeed. The first two Durofix tools represent the perfect introduction to Li-ion power tools for the professional, with a 10.8Volt impact driver and a 10.8V 2 Speed Drill. These highspecification, high-quality tools, offer versatility, capability and power with lightweight batteries requiring only 15 minutes charge time. They are manufactured to a higher specification than similar more well known tools and are ideally suited for most trades including joiners, plumbers, electricians and kitchen fitters.
September also saw the long awaited launch of the new LED 360 – a product designed and developed by Concept, which they consider to be the best LED lamp available, offering illumination on one, two or three sides. The lamp is accompanied by mains and in-car chargers, magnetic clip and a shade, and has a multitude of uses for work, home, garden and leisure. This is a very handy lamp for any tradesman and as we move into Autumn/Winter is very popular.
Its refreshing when a company comes along which does not follow a script and which is committed to its products and customer satisfaction and 2008 promises to be another year when the company continues to introduce new, innovative products at great value. There are plans to expand the range of Durofix tools, KTX woodscrews and the overall offering on collated products including a new collated power tool, which the company says will be something a bit special.
Concept welcomes all to visit its website at www.conceptdistribution.co.uk to see its full range of products and to see the latest news and editorials on its products. Watch this space!