Construction Association of Bermuda
For almost 50 years, the Construction Association of Bermuda (CAOB) has helped spearhead the development of one of the world's wealthiest economies, all while ensuring its members have access to quality resources and employ best practices
Building a better Bermuda
For almost 50 years, the Construction Association of Bermuda (CAOB) has helped spearhead the development of one of the world's wealthiest economies, all while ensuring its members have access to quality resources and employ best practices
Made up of an archipelago of seven main islands, and more than 170 islets, Bermuda is a densely-populated British overseas territory in the western Atlantic Ocean perhaps best known internationally for its offshore finance industry. While this well publicised sector has indeed contributed greatly to Bermuda's wealthy economy, so too has tourism, with around 500,000 visitors per year being attracted to its beaches, golf courses, architectural history and subtropical climate.
With tourism in Bermuda showing strong growth in the first half of 2017, with air visitor spend alone increasing by 31 per cent, these are good times for the island and this is one of the trends that are spurring on the development of its infrastructure. As more buildings, such as hotels and those housing key public services, are needed, Bermuda is relying more and more on construction companies to service these demands.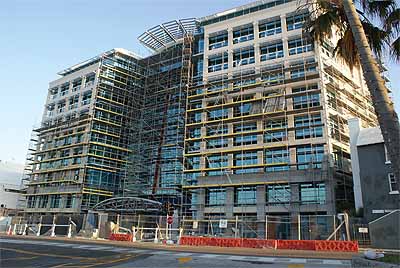 One body that has had a front row seat to the development of the island is the Construction Association of Bermuda (CAOB). Founded in 1968, the CAOB has spent the last five decades aiming to act as the voice of the construction industry in Bermuda. "The late 1960s and early 1970s are remembered by many as being Bermuda's most turbulent era," begins Charles Dunstan, President of the CAOB. "At the time, the island was on the cusp of tremendous development in a number of industries, which meant that construction was particularly vulnerable to the hazards of extreme growth.
"Experiencing a surge in foreign investment, there became an immediate need for and services acceptable to the more sophisticated developer, demanding the most modern building technology, materials and practices available at the time. The traditional building methods were considered outdated and expensive, and as such would no longer allow the local companies to be competitive with foreign rivals. Construction projects were therefore not only larger in scope, but more complex in design."
The result of this was an immediate need to import new building products such as readymix concrete, drywall products and structural steel, as well as a requirement for contractors to be educated on its proper use and installation. "Projects such as the Southampton Princess Hotel and Resort were on the books at the time, requiring massive contractual commitments from an industry that was vulnerable to potential losses caused by unpredictable currency fluctuations, sudden labour shortages and disputes, and a dismal lack of modern equipment or supplies," Charles continues. "Given the rapid growth, the industry was now facing a seemingly impossible window of opportunity for training the workforce and meeting escalating labour demands. It was at this time that leaders in construction determined they must work together and find ways to protect their local industry, and with this the CAOB was born."
Originally providing support to ten charter members, the CAOB has since grown to support a membership of more than 80 companies, which collectively employ over half of all those working within the island's construction industry. A not-for-profit association, the CAOB aims to fairly represent its members and promote the concerns of the industry amongst members, government and other sectors of the economy. In doing so it honours its commitment to making the construction sector safer, more efficient, more competitive and better able to contribute to the development of Bermuda as a whole.
"The CAOB has always been dedicated to helping our industry operate safely, efficiently, competitively and with the utmost integrity, and our list of members is recognised as being the repository for sourcing leading reliable, skilled contractors," Charles states. "We act as an industry watchdog, advocating and ensuring integrity through adherence to an established code of conduct, and help to provide a collective voice that protects the reputation of Bermuda's construction industry."
Those companies and organisations joining the CAOB can look forward to a number of benefits as members, not least of all the increased visibility it provides and the opportunity to increase ones' circle of valuable business contacts through the power of networking. Membership also provides the peace of mind that comes with knowing that the CAOB observes and responds to government issues on its member's behalf, allowing them to be thoroughly briefed on all new legislation and activities affecting the industry. In Bermuda, the CAOB is also an Accredited Training Sponsor (ATS), meaning that all local National Center for Construction Education and Research (NCCER) training, and training facilities, must be approved and monitored by the association. Furthermore, the CAOB offers training for NCCER Master Trainers and NCCER Certified Instructors on a periodic basis.
The association is also proud to have been a key supporter, sponsor and leader of trades training in Bermudian high schools, colleges, the Department of Corrections and overseas educational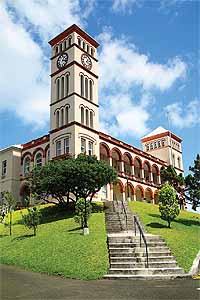 facilities. Its primary aim in this regard is to ensure that the new generation of Bermudan workers have the tools at hand to reach their construction career goals. The CAOB supports this further through annual scholarship awards and the running of special events, including the successful Kids in Construction programme.
Taking place between February 25th and March 2nd 2017, Kids in Construction welcomed students from public and private schools, design and technology teachers, trainers and instructors to take part in an event designed to encourage and showcase the work of students from across Bermuda. The friendly competition encompassed two levels, the first level being 'The Garden Shed' design and build competition. This was open to high school students, with teams of up to four students and one adult supervisor, who were eligible to win prizes for different categories such as design, use of recycled materials, weather resistance, storage components, and more. The second level competition, meanwhile, was open to Middle School Students. Students in teams of up to two, with one adult supervisor, were challenged to build a mailbox, which were judged on design, durability, and also weather resistance.
Commenting in the lead up to the event, Charles explained; "In today's world, students are heavily encouraged to follow an academic career path. That makes perfect sense as long as they are also provided with information about alternate careers in trades and technologies. CAOB has a long-term strategy to ensure students of all ages are provided with accurate and adequate information when considering a career in construction. The Kids in Construction event is part of that plan."
In 2015, a new sense of excitement emerged across Bermuda when it was announced that it was chosen to host the 35th America's Cup, the world's oldest international sporting trophy, in June 2017. "The hosting of the America's Cup has been the catalyst for new development and infrastructure improvements, with examples of these becoming apparent to locals and to visitors from the moment they land in Bermuda," Charles reveals. "For example, the aging airport is now being replaced by a stunning new facility, while hotels that had been resting in a long dormant planning stage for many years have finally broken ground. The increased economic activity that has accompanied these developments has helped create renewed confidence in the Bermudian market and fuelled an influx of new investment."
For the CAOB, the events of 2015 also allowed it the opportunity to revisit its own mission and strategic goals. After careful analysis, the association pinpointed four fundamental commitments that it is always striving to meet. These are:
The CAOB is universally recognised, and well regarded, as Bermuda's 'go to authority' and advocate for the construction sector, and provides the seal of approval for all things construction.
The CAOB has a large, diverse, representative, self-policed membership who adhere to the organisations' fair and open maintenance of standards, and enjoy the benefits of a full range of membership services.
The CAOB established community wide recognition of the value of the construction industry, and facilitates workforce development and certification across the full spectrum of construction employment opportunities.
The CAOB's administrative structure and operation facilitates the implementation of its strategic goals against a realistic and well defined time line.
"In order to achieve the above, new committees with directives to achieve specific goals were established," Charles adds. "As a result, in the past 24 months the construction industry in Bermuda has seen the emergence of an improved safety culture, more opportunities for both skills development and for credentialed professionals, and more community involvement, particularly with youth-centred organisations. An increase in services that provides a more robust value proposition has, in return, resulted in a sharp increase in membership. The CAOB is marking 50 years of providing unparalleled service to the industry and communities, and is positioned to successfully continue on this path well into the future."
Construction Association of Bermuda (CAOB)
Services: Promoting the development of Bermuda's construction sector