Construction Systems Marketing (UK) Ltd
CSM keeps precast competitive for high-rise
Construction Systems Marketing (UK) Ltd (CSM) has developed non-combustible insulation solutions for use with Thermomass® concrete sandwich walls on high-rise and other relevant buildings
CSM was established in 1999 to supply the construction industry in the UK and Ireland with the solutions and expertise to build concrete sandwich walls. It is the exclusive supplier of the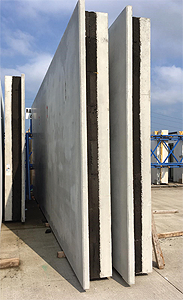 Thermomass® System, a thermally broken fibre composite connector and rigid thermal insulation system. Extensively tested and with over 100 million m2 supplied globally without fail, it is the concrete sandwich wall connector system of choice for use in factory manufactured precast, site-cast tilt-up or cast-in-place projects.
Following the fire at Grenfell Tower in June 2016, there was intense pressure on the UK Government to change the Building Regulations 2010 for England. Following the Hackitt Report, in November 2018 the Government amended Approved Document B, the section in the Building Regulations 2010 for England which covers fire safety in and around buildings. In this amendment, the Government implemented a ban on combustible materials in the external wall of 'relevant buildings'.
The definition of 'external wall' in the amendment includes anything located within any space forming part of the wall, and the regulation requires that all materials which become part of an 'external wall' achieve a European fire classification rating of A1 or A2-S1, d0.
'Relevant buildings' applies to any building with a storey at least 18m above ground level and which contains one or more: dwellings, an institution, student accommodation, care homes, sheltered housing, hospitals, dormitories for boarding schools or a room for residential purposes. The regulation excludes any room in a hostel, hotel or a boarding house.
Concrete sandwich walls made with the Thermomass® System have the inherent fire resistance qualities of concrete. It is impossible for the insulation or connectors to burn; no oxygen can reach them as they are embedded in concrete. To prove this, the Thermomass® system has been extensively tested for fire world-wide, and in the UK a concrete sandwich panel with Thermomass® connectors and an extruded polystyrene core passed a four-hour fire test in accordance with BS: EN 1346-1: 1999.
Despite the fire resistance qualities of the Thermomass® system, the regulatory changes made by the UK Government clearly state that it is illegal to use insulation materials without European fire classifications A1 or A2-S1, d0 in relevant buildings. This means that many insulation materials, despite being sandwiched between two inert, fire-resistant concrete panels, no longer comply with current building regulations.
This change in regulation immediately threatened both the growing market for use of concrete sandwich panels and CSM's customers, many of whom were at tender for projects classified as 'relevant buildings'. As soon as the company knew there would be issues for its customers using 'combustible' insulation materials, it acted quickly to find non-combustible solutions suitable for the Thermomass® System that would not disadvantage its customers against alternative methods of construction.
Any solutions would have to meet the following requirements: Required rigidity to work as an insulation with the Thermomass® System, required compressive strength and non-absorbance for the pouring of concrete, sufficient Lambda value to be a viable insulation solution for concrete sandwich walls, required facing to not react with or absorb concrete when poured and have a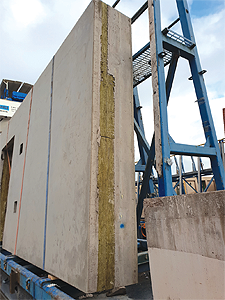 European Fire Classification of A1 or A2 S-1, d0.
With such requirements in mind, CSM knew there were two different types of solutions available in the market that it could potentially supply to its customers, cellular glass and mineral wool. For cellular glass it reached out to the leading manufacturer, Pittsburgh Corning, to see if they had a viable tested product for use in concrete sandwich walls. For mineral wool it reached out to the two leading producers in the UK, Knauf Insulation and Rockwool International A/S, to see what products they had and if a custom solution could be made for CSM's market.
Following these discussions and subsequent full-scale trials, CSM now has two solutions for the concrete sandwich wall market that comply with current building regulations and are being used extensively on several projects by its customers.
The first solution is FOAMGLAS®, the leader in cellular glass insulation and the premium solution for non-combustible concrete sandwich walls. The grade of FOAMGLAS® CSM offers is for exclusive use with the Thermomass® System. With a European fire classification of A1, it is a high-performance, waterproof and durable insulation which is easy to handle, cut and store. Composed of millions of 100 per cent closed glass cells, FOAMGLAS® is impervious to water vapour and has a time-tested permanence of insulation.
The second solution is TROK®, a proprietary, cost-effective and non-combustible stone wool insulation that CSM has developed with the two leading UK mineral wool manufacturers, for exclusive use with the Thermomass® system. TROK® is made from molten mineral stone, providing panels with not only the benefits of the Thermomass® System, but also the compressive resistance required for concrete pouring, increased vapour resistance to ensure a low U Value panel and a European fire classification of A1.
Given the changes to UK regulation, it has become clear that insulation is now a forethought in the construction of buildings and not an afterthought. CSM has always worked as partners with its customers from the very start of a project at the specification stage, to tender and ultimately to completion.
The two non-combustible solutions that it offers, FOAMGLAS® and TROK®, and its ability to advise and adapt to project specifications are winning projects for its customers. They know that they can continue to offer precast and concrete sandwich walls as solutions for 'relevant buildings' using the Thermomass® System at a competitive rate to other methods of construction.
CSM offers tried and tested solutions for non-combustible concrete sandwich walls; if a project requires a non-combustible insulation for use with the Thermomass® System, the company's customers know there are solutions CSM can provide in confidence.
Construction Systems Marketing (UK) Ltd
sales@csm-uk.co.uk | +44 (0) 1246 853528
www.csm-uk.co.uk
Services: Leading supplier of solutions and expertise for concrete sandwich walls