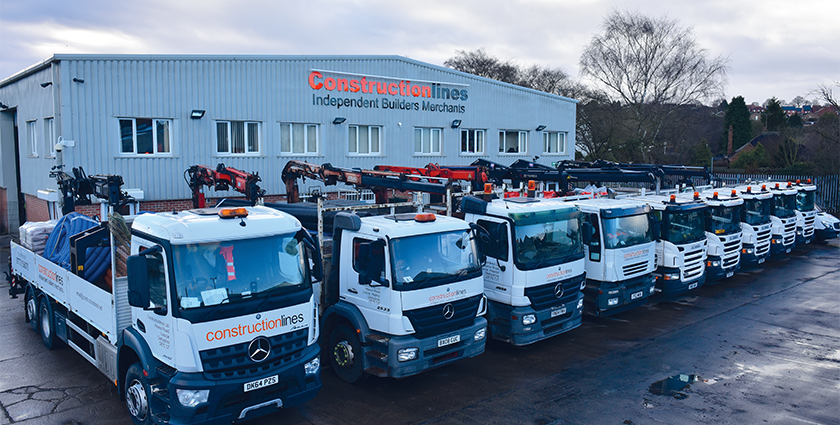 All-in-one service
Having weathered the storm of Covid-19, builders merchants Constructionlines is once again proving that its single-branch approach can deliver the optimum result when it comes to customer service
Established in 2006, independent builders merchants Constructionlines boasts an annual turnover in excess of £35m. A specialist civils-orientated builders merchants, the company began life with two strong years of trading, before it was forced to navigate the challenge of the 2008 financial crisis. Nevertheless, Constructionlines emerged in a position of strength, and toyed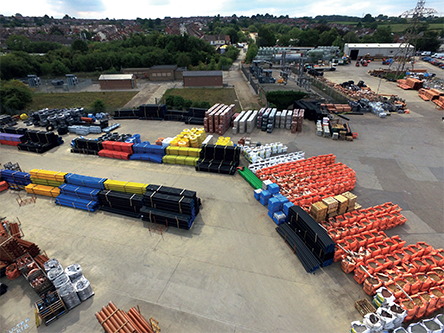 with the possibility of opening branches throughout the Midlands, before deciding to consolidate its assets on a single large site in Loscoe, Derbyshire, where it remains today. Home to more than £1.6m of stock, including 14 crane lorries, according to Steve Tame, Director and Co-Owner at Constructionlines, it's a site that sets the company apart.
"I'm not aware of another civils only merchant which has that capability from a single site, with all the control it gives us," he says. "When clients place orders with your competitors, with branches dotted across the country, they'll find on occasions that they've got to deliver from perhaps three or four different, smaller locations, at three or four different times. By delivering from a single, large branch, we're able to streamline that process, making it more cost effective, which we can pass on to our customers while at the same time delivering the quick delivery times and level of service all round."
There have been a number of new developments at Constructionlines in recent years, as the company has sought to expand its customer base, branching off into new ventures across gas installation, chemical, and waterproofing supply. "We could have launched these through Constructionlines directly, but these services aren't what our customers might typically expect of an independent, civil, heavy-side merchant," Steve tells us. "By launching these services under new businesses, it therefore provides more opportunity."
The first of these new businesses to launch was Sigma 360, a specialist supplier of waterproofing and gas membranes and associated materials. The company then went a step further, launching Omega Lining Solutions 18 months ago, as a specialist partner for gas membrane installations and lining solutions across the UK. "It's all worked very well," Steve comments. "Because it all sits within a single umbrella, it's easy for me and fellow directors to keep an eye on things. One of the issues of going down the multiple-branch route is that you find your time consumed on the motorway, moving between sites. Now, our challenge is to show our customers just what we can do from that single branch."
Given Steve's optimism about all that a single branch has to, and can offer, it's little surprise to hear that the company has few plans for further branches in the near future. "We've decided to invest in a single, large branch, expanding the area we serve," Steve explains. "At the moment, we deliver on a virtually daily basis to a huge area, stretching as far as Bedfordshire and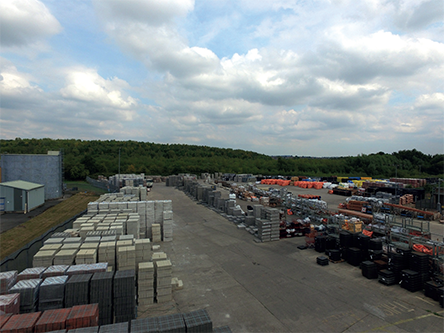 Hertfordshire in the South, all the way up to South Yorkshire, along with the majority of the West Midlands and Lincolnshire.
"Although we have higher fuel costs as a result, when you compare that to the cost of opening new branches and the associated overheads, and if we look at our growth over the past few years, we don't believe we need to look further afield," he insists. "If we opened a new branch somewhere like Leicester, we'd instead have to be very careful, as we already have a number of clients in that area, all of whom are very happy with our service as things stand. The one difficulty in servicing a large area from a single large branch is that some potential customers won't take us seriously when we say that we can offer a very high level of service in areas that could be 100 miles away. It is absolutely the case that we can, and it can sometimes a challenge to be given the opportunity to prove it!"
The last two years have proved tricky for Constructionlines, as the impact of the Covid-19 pandemic in early 2020 threatened the business with temporary closure. Nevertheless, Steve and his employees kept working, serving major construction clients in their efforts to meet crucial deadlines.
"We chose to go down to the bare bones," Steve says, when looking back on that period. "We only had two or three people in the office, down from around 25. We had half the number of drivers, and the same for those in the yard. Thankfully, within three or four weeks, we started to get busier once more, and we had almost all our staff back within a month. People would call us, saying that we were one of the only merchants they could find who were still open. As a result, we've actually gained as much business as we've lost due to Covid-19.
"One thing about the pandemic is that the supply of materials was just very difficult," he goes on. "Anything you thought you could get within two days, you were instead waiting two months for. For that reason, we had to increase our stock levels substantially to maintain service for our customers."
It's a period that has shone a light on the vital importance of strong supplier relationships. "We worked closely with our suppliers to search for available stock, and to ensure that we could continue to supply our customers with the high level of service which they expect. Unless you have good relationships with your suppliers, you're simply not going to get the service level and price out of them you'd need to compete, especially with the national builders merchants.
"Now, we're toning those stock levels back down at a rate that doesn't impact on customer service," he concludes. "Our main concern at the moment is the price increases we've seen throughout the industry over the last 18 months, which are closely tied to the spiking cost of energy. Although I think we're in for a bit of a rocky road, we've always been fairly aggressive. We continue to approach people about new business, and I see no reason why that won't remain the case."
Constructionlines
www.constructionlines.net
Services: Independent builders merchants