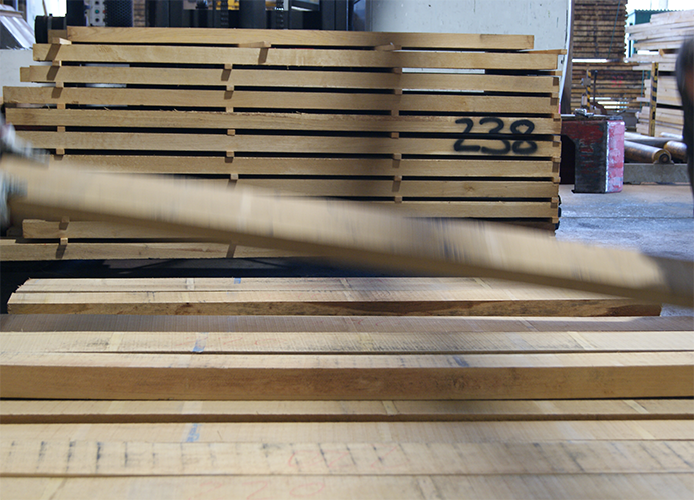 Branching to new heights
Under Chris Powell's leadership, CP Timber Ltd has become a leader in timber supply and distribution with a pride in quality products and practices, making the company the ultimate tree huggers
With a particular consideration of its environmental responsibility and the requirements for due diligence concerning legal supply under the UKTR Timber Regulations, CP Timber Ltd's team of industry experts source timber from around the globe, and specialize in trading hardwood and softwood timber products.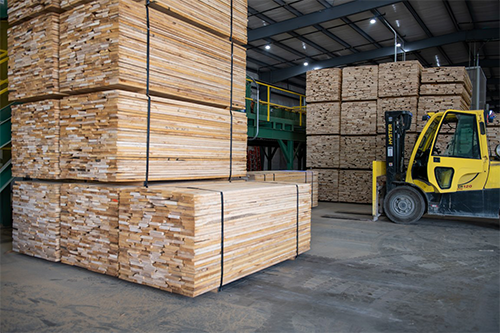 Chris Powell, the Managing Director and founder of the business, sits down to share with us how the business is navigating pressing issues in the timber marketplace. Having had his first introduction to the working world at the spritely age of 12, Chris is no stranger to an industrious work ethic. Throughout his vast career, he has learned a few tricks to help create a company that prides itself on strong supply chain relationships, and developing a knack for effective sustainable sourcing. Through his experience, he has gained a wealth of insight into the construction industry's inner workings that he hopes will inspire those looking to join his sector.
Before getting into the grit of Chris's conversation, he shares with us a bit of background regarding CP Timber's history. "When I began this business, I wanted us to increase our capabilities to cover an array of operations. So, we specialize in getting timber into the market place with the capacity to hold 5500 cubic meters of stock at any one time. We export wood to quite a few countries and continents as well, including the British Virgin Islands, Europe, Africa, and many other places across the globe, but our main market is England and Ireland. In addition to that, we do a lot of landscaping in oak sections and African timbers, which are often used for exterior constructions like gates, windows or frames. Then, there's our European Oak for high end joinery, which our clients have utilized to complete a few fairly prestigious projects over the years in hotels and museums. In the last couple of years, we have started doing more soft wood from the Baltics, such as garden products, which was in high demand during the lockdown. Above that, we also do laminations for solid wood," he explains.
Chris shares that, at the start of the pandemic, the company received a delivery of £5 million worth of timber, and considering the enormity of this stock, it goes without saying that the infrastructure to house such a large quantity is equally as impressive. "Although our head office is based in Hertford, we have always stored most of our wood with a few companies in Liverpool so we can get the wood off the quay very quickly and efficiently via container. There is a warehouse in the area where we partner with a distribution company that assists with our distribution and deliveries, and we have used the same one for the last five to ten years. This is a great example of how I strive to build long-term partnerships. I'd like to think that I can ring CP Timber's partners up on a Sunday morning, for example, and check in with how they're doing. Throughout the years, I've learned that the key to strong relationships and making operations work smoothly is working with people in a way that goes beyond business," he begins.
The care Chris takes in nurturing strong partnerships can also be seen in the company's operations, where sustainable sourcing, lead times, and thorough training are held as a priority.
It may come as a surprise that sustainability within the timber industry has been a longer standing concern than one might assume. According to Chris, in the States, for every tree that is removed, between two to six trees are replanted in its place, and it is these sorts of methods that Chris is staunchly passionate about supporting. "We work with some very serious people across Africa that spend a very large amount of money and time on education and awareness to demonstrate how to effectively harvest forests in a way that does not take away from nature, as well as teaching how to look after our forests for the future. However, in South America for example, where the legality of certain practices is not thoroughly checked, we refuse to purchase wood from some areas because we have no confidence that the current promotions regarding certain forests are true, but that is only from my perspective," he informs us.
On the other hand, another issue at the moment is an industry fear of felling older trees. "What we need to remember is that old trees die and if they aren't removed, they take up nutrients from younger trees and prevent them from growing, which causes a massive problem for the next generation of trees to grow," he expresses, adding that it is education around these practices that could be a vital contribution to how we tackle issues like climate change.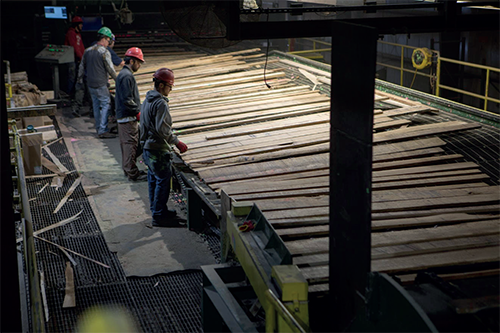 In addition to his belief in responsible timber management, Chris shares his concerns regarding the current challenges of the industry, such as Brexit and a lack of incoming trainees; issues which have the potential to destabilise the timber industry. "I am a proud Englishman, but my fear is that the increase in bureaucracy inflicted by our removal from the EU is going to turn international business away, and considering how hard Covid-19 hit us, that's the last thing we need right now," he states.
So how does he plan to overcome these issues? The way he has always known: hard work. "As far as I'm concerned, my team has managed to pull through each challenge that has come their way. We worked through the pandemic without closing, and even when we experienced a small Covid-19 outbreak at the office around Christmas time, we overcame it without any significant loss in productivity. As a business, we have been on a positive trajectory ever since," he says.
Looking forward, Chris is taking a pragmatic approach to how he wishes to see his company grow. "I am hoping the business can keep building and growing and our challenge will be supply around the world. The real obstacle I feel is going to be logistics, which goes back to what I was saying about Brexit, and finding ways to deliver our products to customers. But in all my years in this business, there has not been a problem that we haven't been able to solve. One area in particular that I would like to focus on is training and recruiting. At the moment, we have two youngsters who have joined us, and I'm looking forward to seeing them rise through the ranks, but we need to somehow make this trade more appealing for others to join.
"I am very proud of this company and we are hopefully working towards a strong and lasting future for our industry. There are challenges, and if we can get the message across about encouraging training for young people, there will be a greater prosperity for the timber industry. This business is very exciting and presents opportunities to travel and see forests across the world. There's so much potential in wood and it requires very little to grow: water and sunshine. What other products are available where the only resources needed are water and sunshine? This is why I am so passionate about this industry; we have the ability to work closely with engineers and architects to create beautiful infrastructure, we just need to stretch our imagination a little more and aim for quality over quantity, which will be something that CP Timber strives for, for as long as the business survives," he shares.
As he has emphasized, Chris is determined to see his company's name continue to grow as a leader in the timber industry, and with zero intentions of retiring until he is at least 100, that vision looks highly achievable.
CP Timber Limited
www.cptimber.com
Services: Timber suppliers