Through the utilisation of a range of flexible modular units, industry-leading experts Cramo Adapteo ensure the process of adding extra space is smooth and quick
Making room for great days
Through the utilisation of a range of flexible modular units, industry-leading experts Cramo Adapteo ensure the process of adding extra space is smooth and quick
Operating as a sub-brand of the Cramo Group, Cramo Adapteo offers high-end, flexible modular units to buy or rent to those requiring space primarily in the school, daycare, office or accommodation sectors. "We are a Finnish based company that has a history dating back to 1955," begins Petri Moksen, Senior Vice President at Cramo Adapteo. "Today we operate in 14 countries in two business areas – the rental of modular space and the construction sector. Because of our long history in the market, we have developed a solid reputation for our capabilities in delivering the best possible solution to customers in a competent manner."
In order to give customers optimum flexibility, the company works with modular units that are easy to combine as they can be lined up or placed at an angle and stacked on top of one another. This
way of operating means there are virtually thousands of modular units ready to go via a range of specialised modules that can be built from, each of which has its own unique strengths. The main modular systems within Cramo Adapteo's portfolio include C10, a cost-effective system that is the perfect solution for those requiring space while also seeking to keep rental costs low; C30, which lets customers design their own perfect solution, whether they need space for a short-term project or for a number of years; C40, a modular system that provides all the comforts and quality of a permanent building as well as the freedom to customise the unit.
More high-end solutions include the C80, which creates optimal indoor comfort while also boasting high-energy efficiency, and the C90, which is viewed as the next generation for modular space. Indeed, developed in Scandinavia for Scandinavian conditions, the C90 is suitable for schools, daycare, offices and accommodation and uses the most innovative ideas over the last 30 years to merge functionality, working environment and energy consumption in a modern design. Another of the company's latest modular innovations is the C100, a state-of-the-art solution for modular schools and daycares that meets all demands in terms of comfort and efficiency.
Discussing the benefits of modular units, Petri comments: "For one thing, we are delivering parts of a building that are ready to go and to the customer's satisfaction. We have designed and developed these units ourselves before ensuring fast delivery and a better control of costs." Furthermore, modular solutions can be stacked on top of each other, up to three floors high, can have underfloor heating or ceiling heating and cooling, offer the option of an elevator in addition to stairs and a short time frame of one to three weeks from an empty ground space to customers moving in.
Firmly aware that there is more to creating a space than putting up walls, the company offers customers the option of leaving all aspects of filling and running their temporary space to its highly competent and knowledgeable workforce. Packages are tailored to suit each client's particular needs in terms of function and atmosphere; Cramo Adapteo also covers all service and maintenance that is required with the goal of transforming a room into a room for great days.
Recent projects include adding two modular classrooms to the Plavniekkalna School in the Kekava district, Latvia, in order to provide additional space for schoolchildren in 2010. Following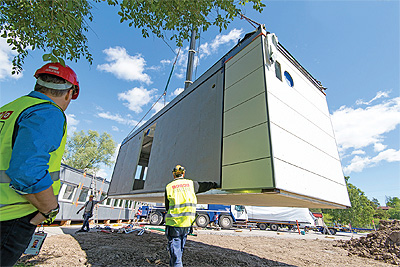 the addition of two classrooms, a second floor was added in 2011; using 14 C40 units in two floors, the new classrooms offer a warm welcoming environment. Another project involved the production of a new office building that consists of 99 modules for Det Norske Verita, which is situated a few metres from Hovik's shore in Norway. Despite being comprised of two buildings on three floors and totalling 2500 square metres, the solution was quickly constructed and left the customer impressed with the end results.
Although its modular solutions tend to be used as schools, offices or daycare units, the company is also able to meet the needs of those seeking a solution for accommodations, gas stations, embassies, shops, laboratories, hospitals or clinics. With plenty of room to expand its services, Cramo Adapteo will be seeking to branch out into central European areas while also targeting the growing accommodation sector. "We have a two-year strategy to capitalise market share in the accommodation sector and are currently working on a number of accommodations projects in both Nordic countries and Germany. It is really about developing significant growth in this business area through organic growth and acquisition."
Alongside this focus on accommodation, the ISO 9001 and 14001 certified company will also continue to generate revenue from the school and daycare market, which has remained strong over the years, while also seeking to develop more energy efficient products to meet all energy requirements across EU countries. "Looking further ahead, we have a market day coming up in September 2016 where we will explain our strategy in more detail. However, for now I assume we will continue to strengthen our position in Europe over the coming years by offering a more enhanced service than our competitors," Petri concludes.
Cramo Adapteo
Services: Offers flexible modular units to buy or rent