Revolutionising the building industry, Cree's innovative timber-hybrid modular construction system allows for buildings to be designed and built offsite, and assembled as a 'core and shell' faster than any other technique
Brave new world
Revolutionising the building industry, Cree's innovative timber-hybrid modular construction system allows for buildings to be designed and built offsite, and assembled as a 'core and shell' faster than any other technique
An international sensation in the construction world, the LifeCycle Tower (LCT) One – an eight-storey building in Dornbirn, Austria, proved to be the first realisation of what has since become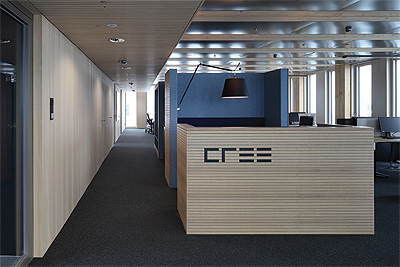 known as the Cree system. In its essence, the technology offers a sustainable building solution, beginning with the premise that the building industry does not automatically have to rely on concrete and steel for urban buildings. Instead, it demonstrates that timber can be significantly more efficient, with wood being a renewable resource.
"Our journey began with the realisation that every building that is built, is a prototype. Every time we begin, we start from scratch, make a good building, and then leave. In this entire process, around 40 per cent of current resources and energy consumption is wasted by the construction industry, and this is way too much. We had to find a substitute for traditional construction practices, in which the building process is rethought in every aspect. This led to the creation of the first medium-rise building to be constructed in timber, based on the Cree system. Back in 2012, it was just a prototype for the concept of building towers with prefabricated timber modules, and today, it attracts thousands of visitors every year from around the world," begins Cree's Managing Director and COO, Bernd Oswald.
Since the building industry has made limited progress in industrialisation and modern manufacturing processes, the Cree system could understandably be viewed as a boon for the sector with the introduction of an industrial method to the planning and construction of buildings. The utilisation of the approach places at the heart of the construction process not the builders, but rather the assemblers, the software developers, and the designers, allowing a new way of building, based on guaranteeing performance.
"It was developed according to a system that can be the 'shell and core', offering flexible planning solutions and architectural and aesthetic possibilities to make each building unique. One of the core aspects of the system is that we integrate technology in prefabricated elements during planning, but at the same time, we limit technology to what is essential, thus reducing costs as a whole. We follow the principle that no components with different lifespans should be connected in a way that does not allow for replacements. For example, facades that have a lifespan of 25-50 years can be exchanged without interfering with the load-bearing structure that has a much longer lifespan. All components are designed using a BIM model, thus creating a digital twin of the building before actual construction starts," Bernd explains.
"For example, we prefer wireless sensors over hardwired ones, knowing that technology evolves fast and replacement of hardwired components is costly. We use IoT for electrical components like sunshades. From a manufacturing point of view, we learn from other industries, such as car manufacturing, so that we install prefabricated components into the elements," he adds.
Developing system
Inclusivity and collaboration are an integral part of Cree's philosophy. All of the system's processes and physical components are made available only through the company's licenced partners, which are general contractors or developers. "The technology transfer is then synchronised with licensees in combination with a pilot project. In every project, clients benefit from our knowledge,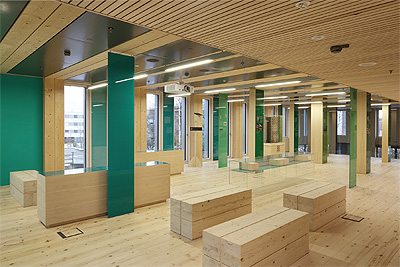 market expertise, and experience in value engineering. Every building that is built, is then available for all partners on our evolving platform, thus ensuring that the system itself is developing and everybody involved benefits from that. Our aim is to develop a modern process to guarantee the performance of buildings. The system allows planners to form virtual teams or firms and realise major projects, while developers can look for specialists," Bernd comments.
Continuous improvement
Alongside the famous LCT One project, which is intended mainly for use as an office building, Cree has constructed a wide range of buildings over the years, both public and residential, in its home markets of Austria, Germany, and Switzerland, as well as in countries like Denmark, Luxembourg, and Singapore. Bernd notes: "Our very first external customer order was a showpiece project. The IZM (Illwerke Zentrum Montafon) project built for Illwerke AG is a LifeCycle Tower, which is 120 metres long and has a surface area of 10,000 square metres. It is a water power centre of excellence with a restaurant and visitor centre that was completed in December 2012."
This year, Cree launched a webinar series to train architects and planners on its system to ensure that no replanning of buildings that have originally been designed in a traditional way, is necessary. In parallel, the organisation is working on an online building configurator that will let planners, architects, and developers create Cree buildings. "Furthermore, on the technical side, we have developed floor slabs that already contain heating/cooling inside of the concrete layer to further reduce construction time and allow for all-year construction, as the building can be heated as soon as core and shell are installed," Bernd adds.
"Matching the needs of the market, in 2019, we will further refine and develop a residential building system to cope with the increased demand for living space in urban areas," Bernd shares some of the future plans the company has laid out. "We are also looking to finalise our rollout to Western Europe and establish a presence in North America. Crucially, we will continue improving our platform offering. We want to include more architects, building engineers, and manufacturer partners, so that we can provide a one-stop shop for clients looking to build a Cree building. Collaboration, joint learning, and maximum intelligence in building systems will be the key drivers of satisfying our clients' needs and transforming the construction industry as a whole. Last but not least, we will eventually also enter into manufacturing Cree components on an industrial level, ensuring high and repeatable quality at affordable costs, using the best available technology in robotics and artificial intelligence to be as efficient as possible."
Cree
Services: Timber-hybrid modular construction system