CRH Structural Concrete Belgium is an agglomerate of companies specialising in pre-cast concrete. Belonging to the global organisation CRH Plc, the transnational business leads the market, delivering innovative products into the heart of the construction industry
Reinforced future
CRH Structural Concrete Belgium is an agglomerate of companies specialising in pre-cast concrete. Belonging to the global organisation CRH Plc, the transnational business leads the market, delivering innovative products into the heart of the construction industry
"CRH Plc began to focus on opportunities within Belgium in 2000, and one of the valuable acquisitions made was Ergon, a company founded in 1963 and recognised as true specialist in prestressed and reinforced concrete," says Stephan van Buggenhout, managing director. Supported by over five decades of experience, the group today is well positioned to provide its services for the construction of extensive structures such as bridges, wide spanned buildings and large parking areas to name just a few of its projects.
Responsible for CRH Structural Concrete within Belgium, Stephan points out there are also advantages gained from its geographical position: "Our market actually extends on a 300km radius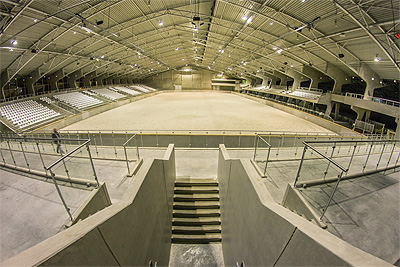 around Belgium, and as such we work in a number of countries that also include France, the Netherlands and Germany. The distance from Belgium to London is 300km, which is the same distance as the nearest UK factories are to London, so the UK is also an interesting market for projects, particularly with Ergon."
As a designer and manufacturer of precast concrete, innovation plays a key role within the business, particularly at a time when focus towards stricter environmental considerations becomes more relevant. From the perspective of innovation, at the top of the agenda for CRH Structural Concrete is addressing sustainability. "This is something that the European community is pushing within its legislation. We are investigating how we can develop more sustainable products. As an example within housing, we are examining the benefits associated with supplying finished elements that incorporate insulation and bricks in order to fulfil the legislative demands, which must be met by 2020 within Europe," explains Stephan.
Its innovative drive pushes developments one step further, and highlighting this, the business targets the production of new products with higher load bearing capacity over a greater span width. The company's commitment to achieving these targets is commendation to its vision, and desire for success. In the construction industry, innovation and growth often come hand-in-hand, and in 2013, CRH intervened in the rescue of a troubled company, Echo, by acquiring personnel and assets that included two manufacturing plants. Following swift integration into the group, today Echo makes up one of the most important companies within the Belgian division. Having identified suitable companies to work within the region and maintain a local brand, each company manages its own business at an optimum level whilst contributing to the group's success.
"CRH Structural Concrete in Belgium is made of six companies; Ergon, Echo, Prefaco, Schelfhout, Oeterbeton and Douterloigne. Growth through acquisition has been very important throughout the last ten years, but now that we have reached our target as number one manufacturer of pre-cast concrete in the Belgian industry, we move forward targeting more organic growth. In doing so we are looking to geographical strengths and improving our position in the UK, France, Netherlands and Germany," says Stephan. Operating on a European scale with companies across different sectors that include commercial, residential, and bridge construction, the business gains strength from a broad spread of its interests. "Whilst one segment may be performing well, another may be weaker, and we take strength from our ability to shift from one to another, continuing to remain successful in business," he adds.
Supplying to numerous clients, CRH Structural Concrete can adapt to the varying demands through the utilisation of the entire range of its brands. As an example, if a client proposes a tender for a fully integrated project that includes a calculation study of the building, through to the production of all the drawings and direction on the building site, then Ergon has the capabilities to do this. For clients that prefer a supply only contract, other brands such as Prefaco are able to offer this. "Over the past 12 months the market has differed across each country in which we work. In the Netherlands construction has been very slow, and France is significantly weaker than in past years. In contrast, Belgium and Germany are quite stable markets, and the UK is picking up," Stephan points out.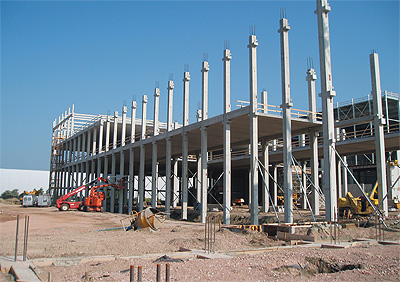 With well-trained engineers in production, design and sales, CRH Structural Concrete aims to benefit its customers through the years of experience within the industry. A close collaboration with other CRH group companies, allows the business to work on some of the most interesting technical challenges in recent years. "Within Belgium we are the market leader in twin wall elements, and the growth for demand of this product within the UK has increased somewhat. We have the capacity to produce 300,000sqm annually, so it is important for us to access all markets so that we may reach maximum potential. Some of our most recent projects within construction include a large parking area for the rail company in Belgium, and warehouse construction for Nike and IKEA," highlights Stephan.
Focused on addressing the need to further define itself within the global community, Stephan comments on the targets that lay ahead: "Looking forward, expansion within the UK, Netherlands and Germany will play a huge role in our future, and part of our strategy to achieve this is though the continued development of products. As such, we have been working on a new product range for use within the renovation market. Generally our products are quite heavy but through concentrated innovation we have been able to develop a range of lightweight alternatives that we expect to launch into the market in 2016."
With market conditions expected to stay predominantly flat over the next few years, for all business within the industry it is important to recognise that the potential within target segments may be exploited through fresh and innovative approaches, as CRH is displaying with the new range within its portfolio. "The trends within the market show that we are evolving towards a service orientated business and that is something we need to develop for the future. Specifically, our clients are looking to us to develop services for them, and as we do so, our ability to comfortably deliver a fully integrated project continues to strengthen," concludes Stephan.
CRH Structural Concrete
Services: Manufacturer and supplier of concrete products