A strong commitment to technical proficiency across all products and services has been vital to Cygnum Timber Frame's success
Technical excellence
A strong commitment to technical proficiency across all products and services has been vital to Cygnum Timber Frame's success
Timber frame is a very ancient method of building that has evolved into an advanced technology in the modern age. Considerations such as energy savings, build speed, design flexibility and environmental acceptability, have made it the world's most popular method of house building. Research indicates that in the developed world 70 per cent of the population live in timber frame homes. Furthermore, with the UK Government's aim of carbon neutral housing by 2016 and the introduction of the Code for Sustainable Homes – an environmental impact rating system for housing in England, which sets new standards for energy efficiency and sustainability – the demand for timber frame solutions is steadily increasing.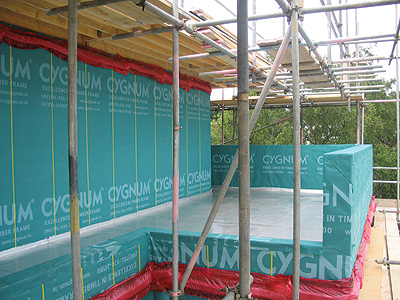 One company geared to service this expanding market is Cygnum Timber Frame. Cygnum is one of Ireland's leading suppliers of timber frame buildings. Its reputation for supplying high quality solutions is unsurpassed in the industry. Stuart Scott, UK sales director for the business comments: "Cygnum was established in 1996 initially as a small company servicing the Irish market. However, in recent years the business has grown substantially and now we have a turnover of approximately £18.5 million a year, which equates to about 2000 units a year.
"Today, one of our key strengths is our ability to offer a one-stop-shop to our clients. Cygnum undertakes all services in-house, from engineering and design through to manufacturing and installation using our own direct labour out on site. This means that our customers only have one contact to deal with, and we can, therefore, build strong relationships with them and they learn to trust us," he adds.
Cygnum's success in the Irish market has provided the company with the ideal stepping-stone for it to expand further a field. In November last year, the business opened its first office in the UK. Headed by Stuart and based in Stowmarket, Suffolk, this office will enable Cygnum to optimise the vast opportunities present in the UK construction sector.
Stuart elaborates: "The Irish construction market has been building too many houses on the crest of a wave for a number of years. This has allowed us to grow and develop an excellent reputation, but the market has now started to slow down. Therefore, because of the size of the operation we have developed in Ireland, Cygnum decided it was time to venture into new areas. Initially, we have set up a sales office but we are planning to develop a manufacturing facility once we have built the business' turnover up to about £10 million."
Cygnum is now aiming to make its mark on the UK market, as it has done in Ireland. On its way to achieving this, the company has recently signed a deal with developer Nicholas King Homes PLC to supply the total timber frame complement of 12-apartment blocks three to five storeys high in St Albans near London. The timber frame units will be designed and manufactured in Cygnum's Macroom plant in Ireland. They are then shipped to the UK and assembled on site by their own direct labour.
Looking at the project in more detail, Stuart comments: "The apartments provided to Nicholas King (NK) Homes PLC will have 140mm CLS external walls, sheeted with 9mm OSB boarding prefixed to panels, tear resistant breather membrane fixed to OSB board with stainlesssteel staples. The floors and roofs are factory assembled using engineered joists with a plywood decking to form the cassette, the roof incorporated a large overhang and hidden gutter detail pre-formed in the factory. We have received great feedback from our clients on this project and other completed projects in the UK. For example, David Potter – special projects director for NK said: "We would recommend the overall service provided by Cygnum and certainly the quality of their kit together with the workmanship of their own direct on site labour force. This has surpassed previous timber frame supplied to us."
Alongside the typically manufactured open panel timber frame solutions in the UK, Cygnum has the ability to offer complete closed panel solutions. This offering has recently been enhanced through its investment into new state-of-the-art manufacturing facilities built in Macroom in 2005. The new factory has allowed Cygnum to increase output and has been designed to be extended in the next few years to cope with further growth.


This investment was made at an ideal time for Cygnum. The current credit crunch, and the subsequent slow down of the housing market has significantly reduced the number of opportunities available. However, as a result of the company's new state-of-the-art facilities, the business now has the ability to tailor its solutions to venture into new areas.
Stuart explains: "Due to the current market situation, we are now concentrating more on the social sector. This means, in addition to housing, we are also looking at commercial schemes, such as schools, hotels and hospitals. Furthermore, the Government has introduced a new target of zero carbon for commercial buildings by 2019. Therefore, developers are looking for modern methods of construction and timber frame is ticking all their boxes as it is the only real natural solution with true green credentials."
The main challenge Cygnum now faces is to try and increase the local authorities'
awareness of its products and to develop a respected name in the UK construction market. Looking to the future, Stuart concludes: "We are operating in a very uncertain market at this moment in time, but from our perspective we are covering the areas, which we believe are going to provide the opportunities to grow our business.
"The main aim for us over the next few years is to ensure that Cygnum establishes itself as a market leader in timber frame. We want to be amongst the leading players in this sector. In addition, our five-year business strategy outlines our plans to develop a manufacturing facility, which will be operational within that time period. This facility will have the capability, kit and personnel to provide complete closed panel solutions, which meet and exceed our clients' needs."