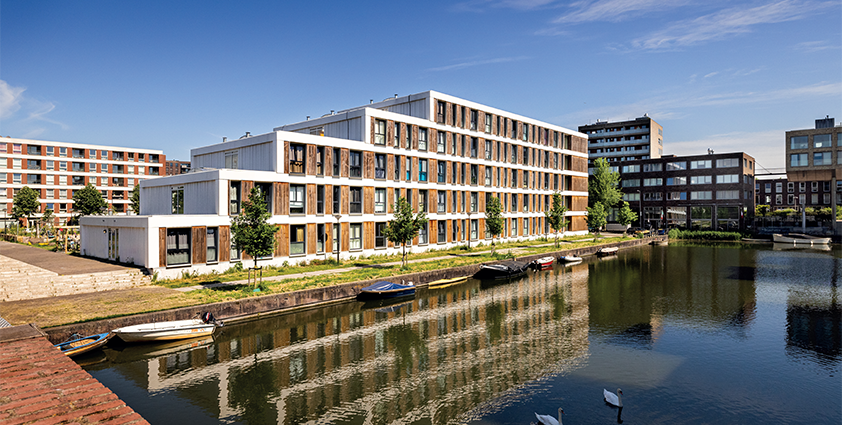 Daiwa House Modular Europe
The perfect solution
With significant investments supporting its ambitious growth plans, the next five years should prove to be very exciting for Dutch modular construction company Daiwa House Modular Europe
The past six decades have witnessed the evolution of what is now known as Daiwa House Modular Europe. Beginning life as Jan Snel, the business developed from transporting milk churns to becoming the Benelux market leader in modular construction, and so it is a company well used to change, development and growth. The past five years have actually seen some of the most significant changes within the business, with the Snel family selling 70 percent of their shares to private equity firm Parcom in 2017, who subsequently sold its shares in 2020 (plus another ten percent from the family) to Daiwa House, the biggest industrial builder in the world.
Daiwa House Modular Europe (the combination of Daiwa House and Jan Snel) opened an office in Germany three-to-four years ago, and 18 months ago, a UK office was opened. The last year has seen growth of 20 percent and turnover of more than 200 million euros, and as Richard Brinkman, Chief Financial Officer reveals to Construction & Civil Engineering (CCE),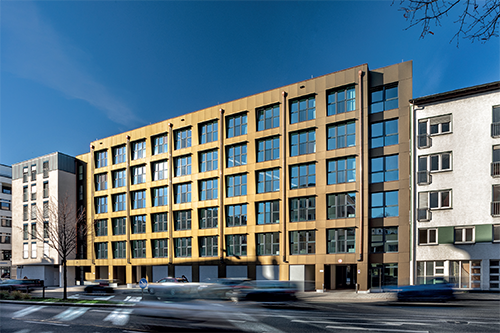 continued advancement and increased capacity are key to the organisation's future plans. He notes that to deliver on these ambitions requires facility expansions and large investments in the latest technology. "We needed a bigger factory and so we have almost doubled our capacity in the Netherlands, creating extra halls and fully automated solutions that feature robotics and industrialisation," he says.
"We are also setting up a big partnership with an alternative investment manager called Capital Bay in Germany, and together we want to build more than 10,000-to-20,000 modules a year. To deliver this, we are about to start and set up a very big factory in Germany, with a capacity that could be up to 50,000 modules a year and we are working on that as we speak.
"At the same time, we are looking for opportunities where we could set up a factory in the UK because that is somewhere I see as the next step – overall, we want to be able to cover the three areas of Benelux, Germany, and the UK. I foresee our turnover at least tripling towards 600 million euros or more over the next three-to-five years, but with the new factory in Germany, it could even be close to a billion."
Richard's predictions for growth are based on the back of strong demand for modular buildings in the market, and the delivery of these is where Daiwa House Modular Europe excels. "Everyone is requesting modular solutions and there is a shortage of these in these geographical areas," he notes, before giving a few more details on how the organisation currently delivers its offerings. "We have three brand names – Daiwa House Modular Europe in the UK, Germany, and The Netherlands for housing construction, Jan Snel for our short-term rental business in The Netherlands and Belgium, and Medexs, which covers all our modular, medical solutions."
Manufacturing all the major components of its solutions under controlled conditions in its own production facilities, Daiwa House Modular Europe then assembles these at the project site, going beyond prefab construction into the realm of industrialised modular construction. This means that, for example, entire residential modules combine to form a single building. Richard describes the process as 'a kind of Lego'! "We produce it all in the factory – the frame, floor, walls, bathroom and kitchen, and we transport the complete 3D module to the building site.
"We can do everything as part of a contract as the main contractor, from the initial design and the groundwork to the foundations and the modules. Personally, I prefer to be the main contractor for the whole project and be involved from the start, designing with the customer and the architect. That way we can align the design with our modular solution. Sometimes we are subcontractor, with a main contractor doing the foundations and then we deliver our modules to the site. My preference is always that we do 100 percent of the project ourselves.
"Constructing as little as possible on the building site itself gives huge advantages on quality assurance, including from how we monitor and manage production flow through the factory to making it easier for staff to manufacture and construct."
The sustainability of modular buildings is also important, as Richard points out. "The use of materials is crucial, and our carbon dioxide footprint is 50 percent less than a traditional build because we use a lot less." Emissions are reduced too, as the finished module is only transported to the building site once. "Steel frames and concrete floors are currently the best solution," adds Richard, "but I foresee a time where we will be producing modules that are made completely from timber, and I see a growing market for that."
Further adding to the company's green credentials is the ability to reuse the modules, which is particularly useful for clients that are looking for non-permanent solutions. "Sometimes permits in the Netherlands only last for ten to 15 years, and once that expires, we can take it all away and reuse the modules and the building again, which is not something traditional builders can do," highlights Richard. "If the permit does become permanent, they can just keep the building at that site because we build everything according to the required regulations, so it can stay for 75 years.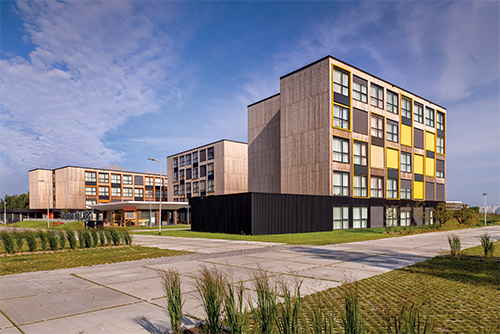 "In The Netherlands there is a lot of pressure on the housing market and getting temporary permits is much faster than permanent ones. This is great for us, as we can promote to investors that after ten-to-15 years, they can move the modules to a different place, reuse them and still have a great building that they can rent out." Social housing is often delivered this way in The Netherlands, and Daiwa House Modular Europe has family houses, apartments, and student apartments on the order books, too.
Continuing with details on some significant projects that he and his team have delivered, Richard highlights an international school in Brussels, which was built in nine months, and a scheme of its own that is nearly complete (at time of writing). "We are now designing and developing a hospital near Amsterdam, which will be ready in 2024," he adds. "In Bochum, Germany, we have also almost finished a 12-storey building containing 737 micro apartments. We are usually running around ten projects, but we will be scaling up with the addition of our German factory, and we will be able to accept orders for boarding houses, student housing, homes for the elderly, apartments for families, and hotel rooms."
Add a UK factory to the mix, and Richard predicts even more success, as he states: "That is a very attractive market, which is keen to build in a modular way. We are very well positioned to get a good share of that, with our offices in Swansea and Manchester. For now, we are keen to have one to three projects that we deliver from The Netherlands, leading to our own factory in the UK, with a view to reaching a turnover of 100 million euros by 2026."
Looking to the future, it's clear that Daiwa House Modular Europe has very ambitious plans for development and a determination to elevate the standing of modular building both in Europe and further afield. "We are about to sign a contract in the US in Boston, which is worth more than 80 million euros, and that is because of our experience in delivering high-quality housing solutions," concludes Richard. "The big projects we have completed in the Netherlands and Germany have given us the credibility needed to prove we can successfully deliver modular solutions into residential markets. Now that we're combined with the name Daiwa House and its long tradition in industrial building, our customers feel they have a partner that is financially strong, has a lot of knowledge and has the capability to be the main contractor and see a project through from start to the finish. I don't think there are many companies that have the track record that we do."
Daiwa House Modular Europe
www.daiwahousemodular.eu
Services: Specialist in permanent and semi-permanent modular buildings