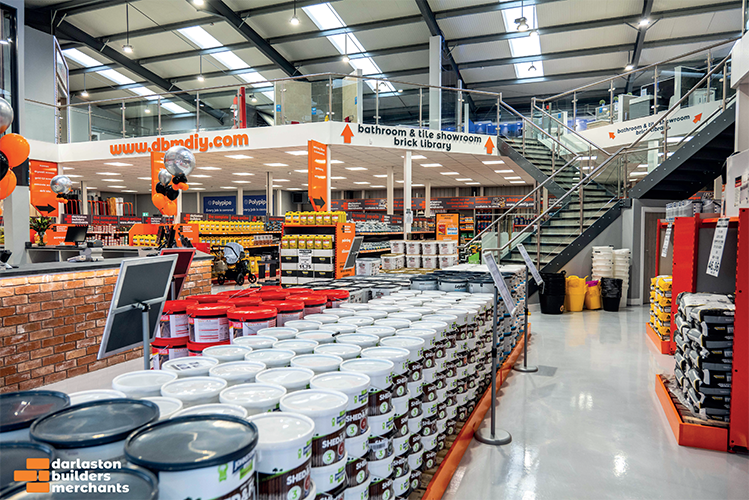 Darlaston Builders Merchants Ltd
Built to last
Darlaston Builders Merchants Ltd is proud of its heritage; the company's long-standing history is fuelling its ambition to continue to grow, and be a leader in the construction industry
One of the largest independent and leading suppliers of building, landscaping, civil and DIY materials is determined to be a household name across the UK. As a conglomerate of four sister companies that include BrickExpress, 4Bathrooms, DBMcivils and GreyShire Homes, Darlaston Builders Merchants Ltd's (DBM) long-term goal is to be the go-to independent merchant and civils supplier in the West Midlands. Construction and Civil Engineering magazine speaks with Ricky Jutla, the company's Director, about the developments currently underway at DBM, and the prospects of the business's future as it rivals its competition on price, quality, and customer service.
"We operate a total of six branches around the Midlands, including Birmingham and the Black Country, and employ around 90 employees," Ricky begins. "Our well-earned reputation
stretches across a 35- year history, which has allowed us to refine our expertise, and provide the best customer service possible, including high quality materials at very competitive prices."
The company has grown impressively during its tenure. Since its first depot was established in Darlaston, it has expanded substantially across the West Midlands to include sites in Wednesbury, West Bromwich, and Birmingham, in addition to the well-established plumbing outlet in its home town.
Despite becoming a dependable name, DBM is continually looking for ways to up its game, and recently underwent a rebranding to uphold its marketing edge. "As a company, we believed it was time to take DBM to the next level. Rebranding has allowed us to widen our target audience and hopefully appeal to a wider demographic. We felt our image had become outdated and by repositioning ourselves, we can truly stand out in the marketplace. The opening of the new super depot in Walsall meant this was the perfect opportunity," shares Ricky.
Ricky was proud to announce that DBM welcomed a super depot to the company's infrastructure. "In November of 2021, we opened our new 15,000 square foot depot in Walsall, and in 2022, we will open an additional super depot in central Birmingham," he shares. "Work on the next site in central Birmingham has already commenced, and I believe it will allow the regeneration of an overgrown and disused scrap yard, providing DBM with a 27,000 square foot site. In addition to that, we also have plans in the pipeline to open a further two sites within the West Midland region," he says.
Undertaking an expansion of this size requires strategic thinking, and calculated actions. "As a company, we looked at our long-term growth strategy and our present resources to evolve. Choosing our sites has been carefully decided in order to widen our parameters enough and establish new clientele, whilst continuing to ensure we remained linked to our present sites," Ricky expresses.
He continues to share that DBM works methodically. Behind each milestone in the company's history is years of learning from customer feedback to provide quality products and services. So, what have been some of the core specialisms that have brought the company the success that it enjoys today? Well, Ricky pins this down to the expansive catalogue that enables DBM to be a one-stop shop for its clients. "We have a wide range of materials on offer. Among our selection, we are proud to specialise in the areas of building materials, garden & landscaping, plumbing, bathrooms, timber and civil materials.
"Having been part of the community for over three decades, local people are familiar with the Darlaston brand in this area, which is why we are confident that they wouldn't have experienced a merchant like us before. DBM has a winning combination of choice, quality, and value. Even during Covid-19, when others were struggling to obtain supplies, DBM was able to continue supplying for our customers, and this was all as a result of the great relationships we've built with our supply chain network," he says.
For Ricky, a successful business is about providing the right products at the right price when customers need them, while ensuring that this is done in a professional, friendly, and welcoming manner. "We believe that DBM offers the perfect environment to serve the needs of the local community; whatever the size, or type of project they are working on, our branches provide a one-stop shop for all building products."
With a typical clientele that varies from national house builders to your everyday DIY enthusiast, DBM takes pride in a company culture that looks after its people. This, according to Ricky, is rooted in values that stem back to the business's origins. "DBM is deeply connected to its humble beginnings," he says, "when we started as a small family-oriented business, with good community spirit. As the Company as evolved and expanded over the last 35 years, we have never lost sight of our family values, and have strived to ensure this remains part of our core, and of our collaborative culture. From my time working here, I have seen this come to fruition in the hard work that our team invests into the success of the business, and this then manifests in maintaining a loyal customer base. I believe that our culture is a fantastic tool for ensuring our partnerships last."
Tying in with this sentiment, DBM also considers the importance of sustaining excellent working relationships with its supply chain. Ricky shares more details on this topic as it is one that echoes the essence of the company's ethos. "There are several key elements that we abide by when establishing and retaining strong relationships with our customers, suppliers, partners, and employees. We pride ourselves on our ability to treat everyone with mutual respect. Clear communication with a good flow of information helps us to connect effectively, building trust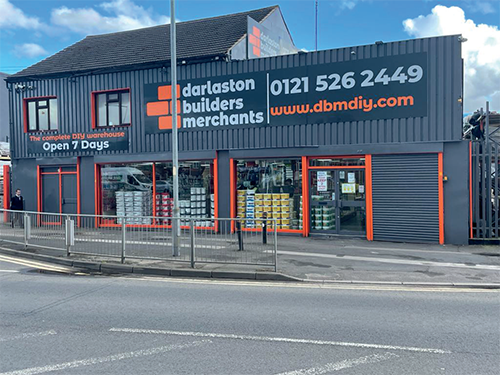 and understanding. Problem solving and facing challenges are dealt with as a team, with excellent leadership, solutions and good decisions encompass our working relationships.
"Pure hard work, a strong workforce and a focus on our clients' needs have been paramount from the beginning to guarantee DBM's success. Since the start, our primary focus has not only been our customer's needs, but we have also worked closely with our supply network to plan accordingly throughout the year regarding supply and demand," he says, hinting at the supply chain issues that have arisen as a consequence of Covid-19 restrictions.
"We have strived to meet the needs of our customers by providing a wide-ranging variety of high-quality materials, sourced from a broad spectrum of carefully selected suppliers to provide both quality and affordability. In the unprecedented previous couple of years, we provided accessibility to quality materials for our customer base and ensured strong working relationships with both suppliers and customers," he says.
This approach to its relationships allowed the company to stand itself in good stead during the past two years when businesses across the world faced a multitude of challenges. Fortunately, DBM was able to continue its operations, while ensuring that its staff remained safe and healthy. "The pandemic meant operating in conditions of radical uncertainty. Classed as an essential business, we were one of the lucky sectors where demand for our materials increased. However, this brought other significant obstacles. During the first lockdown, several of our suppliers ceased their manufacturing, and materials were in high demand. This, of course, had a severe impact on the economics for the business. As a company, we had to look at other supply avenues to meet the demand that continued to grow. And so, with sheer determination, teamwork and effective communication between both suppliers and customers, we were able to meet the demand, and keep DBM operational," says Ricky.
Although we may not yet be rid of the pandemic, Ricky is keen to see DBM move forward with the same level of determination that kick-started the business. Looking towards the future, he shares that the company is preparing itself for an exciting time of growth and expansive developments. "As a new year brings an end to some long-running issues and many more uncertainties are set to remain, DBM will focus on changing workplace relations and the resurgent pandemic.
"2020 saw the next phase for DBM, where the business stepped up to a substantial buying group to allow us to compete effectively with the nationals, and put us on a more substantial footing with the major suppliers. Going forward, this will ensure that we grow our business further, particularly with two new branch openings we have planned. Joining a new buying group means we are already impressed with the remarkable scope of deals that have opened up to us, and given us access to more new, innovative and profitable product ranges," he expresses.
Ricky concludes his thoughts by sharing that 2022 will see the opening of DBM's new site in Birmingham, creating 20 new jobs, while also continuing to focus on the marketing of its new site in Walsall. "Further to this, we will be concentrating on meeting new expectations whilst servicing current demands, the speed of change in consumer behaviour, and identifying customers' needs from our brand."
Darlaston Builders Merchants Ltd
https://www.dbmdiy.com
Services: Building material suppliers