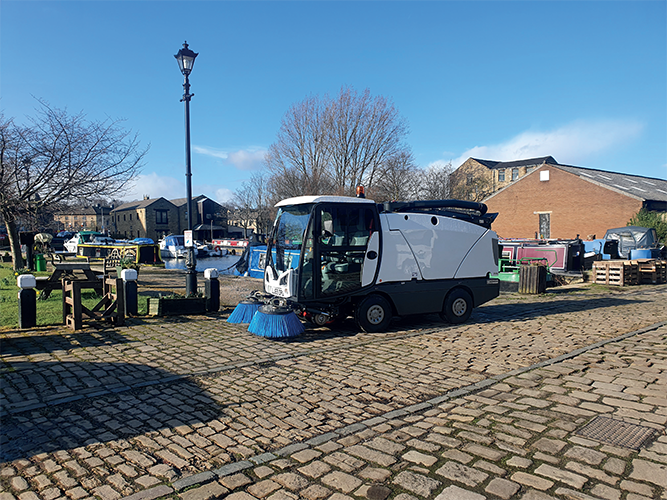 Sweeping giants
Diversification has been central to the growth of Dawsongroup sweepers over the last few years, according to MD Glen Carruthers. Despite the name, the group now operates one of the largest and most diverse hire fleets in the country and has seen business grow over the last year as pandemic-induced shifts in certain sectors has led to increased demand for hire vehicles
Dawsongroup sweepers might be mainly known for its sweeper hire business – that is, after all, where it all started – but investment in diversification has seen the group double in value in the last five years. Now, Dawsongroup operates more than 35,000 vehicles and spends more than £200 million a year on assets.
"This enabled us to grow by seven percent last year, even though the sweeper market contracted," says Glen Carruthers, MD, of Dawsongroup sweepers. "If you speak to any of the sweeper manufacturers, they will confirm that it is mainly Dawsons buying sweepers – they are our bread and butter."
According to Glen, this success is down to having good people in place – both on the sales and service side – and the backing from the group. The group consists of eight different businesses,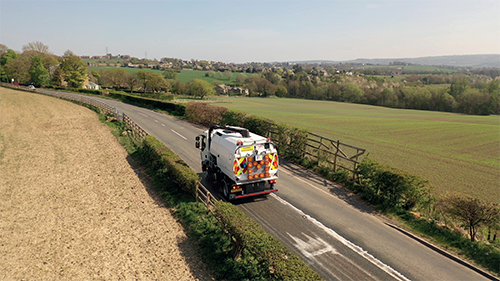 all run independently, but all answering to the CEO, Steve Miller. The business originated in the 1930s and is still going strong. The third generation of the Dawson family still wholly owns the company, with no involvement of equity companies.
The increase in infrastructure projects such as HS2 has contributed to the company's growth, one of the areas into which the group has expanded. Another is the gulley tanker sector. Dawsongroup's diversification began in 2014 with the purchase of a Whale medium volume tanker, and this market has since proved particularly successful for the hire giant. In May 2020, Dawson handed a 50-truck order to Whale Tankers, which included medium volumes, KiloWhales, plus 18-tonne and 16-tonne wastewater trucks. The group has also ordered over 20 JHLs from Bucher, which are used mainly for deep sewage, another new area for the business.
"Within six years, we have established ourselves in this tanker market with a strong local authority base," says Glen. "Councils mainly buy the 18-tonne volume machines. The sewer treatment companies often choose this option and we supply to many contracts directly or indirectly, including Yorkshire Water and Thames Water. On the back of the 18-tonne tanker market, we are also expanding into the higher tonnage tankers, including 26 and 32 tonnes."
Another new market is utilities, which covers gas, electricity, and water as well as high-speed internet cables. The increase in home working has seen been a major growth in demand for these services.
"We supply 32-tonne tippers, grabs and hot boxes to the utilities sector," says Glen. "The demand for these vehicles has been off the charts – so we ordered another 60 from Thompsons."
Strategy
Dawsongroup might operate one of the largest specialist vehicle fleets in the UK, but it all started, says Glen, with sweepers. The group is mainly active in the public sector and has long-term contracts with Birmingham City Council, Glasgow City Council, Manchester City Council, Leeds Metropolitan Council, and Cardiff City Council, supplying them with compact sweepers.
"We were fortunate that we started with sweepers because these are difficult vehicles for local authorities to maintain. We built up our business and grew our sweeper fleet on the back of good service – it is as simple as that. Service reputation is everything in this industry.
"Our first-time fix rates are up at 90 percent. Our vehicles are back on the road within 24-hours. We are even in the position where the manufacturers let us self-warranty on their behalf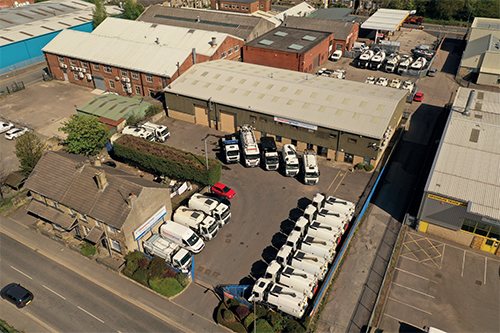 because they will turn up in five days, but we will be there within five hours. We negotiate with the manufacturers when we buy their machines because our customers don't want to wait that long. They want the equipment able and functioning on the same day."
Dawsons operates 30 mobile service engineers across the country – this number is growing all the time – supported by 20 workshop engineers. The engineering fleet is expanding as the complexity of the hire fleet increases, and the group prides itself on prides in maintaining and servicing all types of vehicles the company supplies, employing specialist bespoke engineers for any kind of equipment it supplies.
"Some hire companies don't supply sweepers because they are hard to maintain, and they don't want to rely on the manufacturers to fix them," Glen says. "This is why we employ highly trained engineers that specialise in each vehicle type. We have national coverage for sweeper engineers and the most extensive part stock holding in the UK, apart from what Bucher keeps in stock.
"We also have specialist gully tanker engineers that fix our gulley kit. The large tankers are exceedingly complex, so they need highly trained specialists to maintain and repair them. We constantly aim to keep our service levels to the highest standards. Our strategy of always buying premium-quality equipment has paid off. The average age of our fleet is under two and a half years – so they are all Euro VI."
FORS Gold
Dawson introduced its own telematics system, called Dawson Track, in all vehicles the hire giant supplies. According to Glen, more operators want their own tracking solutions now, including in the sweepers, which the company supplies with Bucher connect – an OEM telematics and safety solution provided by CMS SupaTrak. The group is now going through the process of achieving FORS Gold in January 2022.
"Our entire hire fleet will have achieved FORS GOLD standard. We are fortunate that the main percentage of our business is based on long-term hire – at least 70-80 percent – so we need to maintain the highest standards for our clients and provide them with the latest technology backed up by excellent service."
Glen is confident about the future. "The market is buoyant – there is no doubt about that. Anyone you speak to is extremely busy. We had a strong year in 2020. In times of uncertainty, people will hire, not buy. They want all their money in the bank to keep hold of their capital for if they have to react to unprecedented circumstances, where they have to change business strategy."
Glen is hinting at a significant change for 2022. "We are called Dawsongroup sweepers at the moment. Without giving too much away, we probably won't be called the same in 18 months. So, watch this space," concludes Glen.
Dawsongroup Sweepers
www.dawsongroupsweepers.co.uk
Services: Sweepers