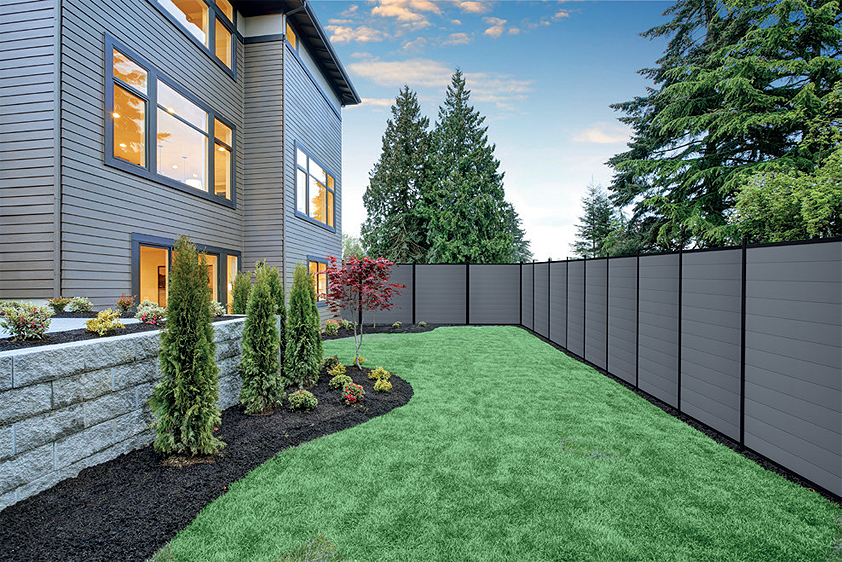 Wood Plastic Composite fencing is an emerging trend which has been gathering momentum in the USA, Germany, France and Japan. Once a trend catches on in these markets, it's only a matter of time before it starts to pick up steam in the UK. But when it comes to fencing, which is better: Wood Plastic Composite (WPC) fencing or more traditional timber?
Timber has always been a popular choice and the big decision is whether to keep the cost down with a soft wood timber or think about the long-term by using more expensive hard wood. Traditionalists will always enjoy the look of real timber fencing, which can be varnished or painted. It is often more suited to older homes – and wood fencing certainly won't go out of fashion altogether.
However, the increasing availability of long-lasting and designer-friendly composite fencing is turning it into a force to be reckoned with. Thanks to technological advances it looks incredibly realistic too.
Market share
The market for WPC products in the US alone is forecast to rise 3.7 per cent per year to $4.9 billion in 2024, according to a new Freedonia Group study. In the UK, WPC fencing is still a developing area and there certainly isn't a mature market for it here yet; but given its clear advantages, its market share looks set to increase.
High end composite fencing is sleek and low maintenance. It is perfect for a contemporary and luxury garden, with consumers seeing it as increasingly desirable because of its durability.
Composite fencing will maintain its good looks for longer and with less effort, is more weather resistant and comes in a wide range of colours. In many cases, it can be hard to tell the difference between WPC and timber.
Fencing made of timber is typically cheaper to put up initially, especially if soft wood is used. However, it will need more maintenance, such as annual treatments of sealant or varnish to keep it watertight, plus treatments to prevent mould, rot and warping. Interestingly, over time, composite fencing is more cost effective because it is more durable. Once put up, composite fencing does not require staining or painting. It is also fade, stain, mould and scratch resistant, so will stay in great condition for longer than a timber option.
Timber fencing made of oak and chestnut can last 20 or more years. However, most fencing is made of soft wood which will often fail within just two to five years. To counteract this, timber is pressure-treated, extending its lifespan to ten to 15 years.
Some composite fencing brands come with a guarantee of 20 years but given the right care and attention could last for 40 years. So, in terms of durability it is the clear winner.
Strong and lightweight
Due to their lightweight structure, WPC fencing panels are very quick to install and easy to work with, saving both time and labour on any development. They are installed with the same tools used for erecting timber fences. WPC fencing panels simply slot and interlock together, creating a perfect durable fence in a fraction of the time.
Some WPC fencing can be affixed to existing timber posts and other brands can be slotted into existing concrete posts, but look much better when used in conjunction with aluminium fencing posts for the complete finish. However, when using aluminium fence posts and trims, tools which can handle aluminium such as cutting blades will be required. It's worth noting aluminium fence posts are also resistant to rot and will far outlast any timber alternative. After all, it is the posts that tend to fail before the fencing planks.
Timber fencing sourced from sustainable forests clearly has strong eco credentials. However, some composite fencing can be equally green, with brands using recycled materials such as recycled plastic bags and wood fibre, resulting in certification from the Forestry Stewardship Council.
It's important to consider that WPC fencing will only require hosing down once a year and won't need any chemicals or detergents to clean it or protect it from rotting.
Composite fencing is much stronger and resistant to wind than timber due to the materials it's made from. It will stay in place much longer and any installation will be better placed to withstand high winds or challenging environmental conditions.
WPC is also splinter proof which means it will retain the same look for many years, while splinters naturally occur in traditional timber fencing. This also makes it safer for children and pets. In addition, using WPC removes the need to fill in gaps from splintering or knots in the wood. It will also reduce the cost of fence repair following adverse winter weather conditions.
Composite fencing comes in a range of natural colours, such as cinder, coffee or stone. There are also different styles available, from modern and contemporary to traditional, with some mimicking real wood such as redwood. These variants are also UV resistant pre-coloured, removing the need to paint or stain the fence which is certainly a major selling point for composite materials.
If a development would suit a sleek and contemporary finish, this would be a fencing system that will stand the test of time. Timber will always have its place, but now it's faced with a real rival.
Tony Hobbs is Managing Director at Southern Sheeting. Southern Sheeting is a family business supplying building materials to roofing contractors, builders, farmers, building owners and the general domestic market. Founded more than 40 years ago, the business is based at Hill Place Farm in East Grinstead, West Sussex.
For more information, please see: www.southernsheeting.co.uk