Benefitting from a co-operative model, which can be described as "all are one, and one is all", DEG is expanding its network with new branches appearing in the middle-west part of Germany, while deftly adapting to the higher digital requirements of its customers
Co-operative building
Benefitting from a co-operative model, which can be described as "all are one, and one is all", DEG is expanding its network with new branches appearing in the middle-west part of Germany,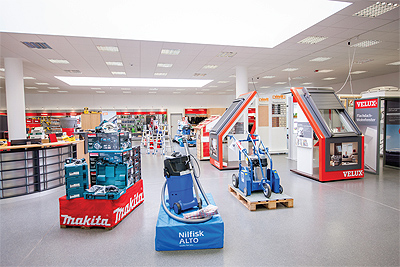 while deftly adapting to the higher digital requirements of its customers
More than 3000 guests gathered to celebrate DEG Dach-Fassade-Holz's 70th anniversary in 2017. Headquartered in the city of Hamm, in Germany's most populous state – North Rhine-Westphalia, the roofing material supplier is run as a cooperative, which means that it is an organisation of roofers and carpenters who established this business model in the wake of World War II to help each other get the necessary timber elements for their construction purposes. The company started with just seven founding members, but today, it numbers a total of 1713 shareholders. Last year, the glamorous party for DEG's jubilee brought together the 500 staff and their families, as well as representatives of the 450 suppliers the company is working with, who all congregated to celebrate the organisation's lasting legacy.
The 70th anniversary coincided with the business recording its highest-ever turnover, as it hit the 240 million euros mark, notching a growth of 7.4 per cent, compared to 2016. "It is important to make it clear that the profit we earn, we give back to our members," DEG's Managing Director, Jörg Lecke explains the company's philosophy and the structural features of co-operatives in Germany. "These organisations are widespread in the country, but ours is a true market leader for roofers and carpenters. We have 500 employees and 20 branches, which has allowed us to extend our network in North Rhine-Westphalia," Jörg points out.
"We have attracted interest from employees working for our competitors and have managed to establish new contacts and bring new customers who had not bought from us before," Jörg discusses. "There is a lot of competitive displacement in our industry, so we can increase our market share only if we get new customers, shareholders, and members from our competitors.
"Our shareholders are essentially our customers. We have a really good team of employees who take care of clients' needs. We have worked together for so long that our staff not only know what the customers want, but we collaborate as if we are one big family. This connection is vital. We stay close to our clients and they see each of our 20 branches as their home and a true logistics centre, where they can get valuable support," Jörg maintains, adding that it is the human factor that should be considered the company's core strength.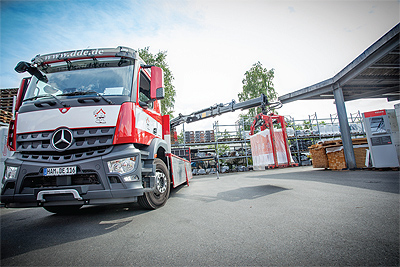 Logistics investment
Over the years, DEG has specialised in the provision of elements for both flat and steep roofs, as well as for façades, as its full name suggests. "We are fully concentrated on supplying and distributing all the wooden items that belong to a roof. This is the niche where we have made a name for ourselves, and the one we would like to grow in the future."
In order to keep its service standards high, DEG has invested continuously in the development of its fleet, taking into account the specifications of the region the supplier chiefly operates within. "There are big traffic jams in North Rhine-Westphalia every day, meaning that we need to find more optimal ways to deliver our articles to the various construction sites. We have already got a fleet of 100 trucks and we are aiming to continue strengthening it through investment in new vehicles. Together with investing in people and enriching the range of items we offer, this will help us become more flexible in our services," Jörg reasons.
"Our ambition for the immediate future is to keep on improving the service and logistics sides of the business. We have made some significant investments in logistics management," he reports. "We recently hired a dedicated Logistics Manager, but we also have at least one person in every branch, who is responsible for its logistics activity. It is crucial to strengthen this area of the business, so that we can cope with traffic issues and with special delivery requests."
Jörg observes a trend among customers that has seen online shopping become a more and more popular method for placing an order. "We have had an online shop since 2002 and we can see that it is growing significantly. This has led us to further invest in streamlining the digital interaction we have with our clients." Having worked tirelessly on its IT services, DEG introduced the OBIS online system and mobile app as part of its strategy towards digitalisation. "We do our best to explain the specifications of each article we sell, and present the necessary information about how customers can work with these and what they need to take into consideration when using them," he comments.
The record turnover DEG enjoyed at the end of 2017 is a strong indicator that the co-operative roofing material supplier is progressing firmly on its development path. Determined to perfect its services and foster new and existing customer relationships, while increasing its digital capabilities, the company is poised for an exciting future of even greater growth.
DEG Dach-Fassade-Holz eG
Services: Roofing material supplier