Delivering resilience to climate change, JBA Consulting is taking charge
JBA is an environmental, engineering and risk group, committed to exceptional client service that helps improve the environment, business, and infrastructure.
Since 1995, JBA Consulting (JBA) has grown to become a specialist consultancy with an inter-disciplinary approach to its offering. In 2011, the business split into two arms – a technical engineering and environmental consultancy (JBA Consulting), and a natural hazards data provider and risk modelling company (JBA Risk Management). With these two pillars, the business is now one of Europe's leading specialists in environmental engineering and environmental management, with a strong track record of major studies for national governments and international bodies.
"We are engineers, data analysts, environmental consultants, scientists, and designers," says Managing Director, Marc Pinnell, "and much more besides – managing climate, weather, flood and environmental risks and opportunities for our clients."
Marc explains that JBA's stated ambition is "to lead in society's pursuit for resilience". To achieve this, the company provides services in broadly five areas: resilience and water management; engineering; sustainability and environment; modelling and assessment; and technology, data and software.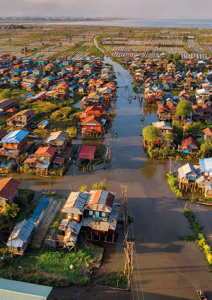 Delivery of these services is underpinned by the organization's values, which are to share, innovate and be different – the JBA Way. "We have a passion for sharing, collaboration and innovation, and it is our independence that gives us this freedom." Marc says. This is what truly distinguishes the company from its competition. "Our expertise in modelling and assessment, and in established and emerging best practices from the UK, is sought after internationally and supports growth of our work in Europe, South-East Asia, Africa and Australasia. We influence global best practices too. We continue to work closely with overseas risk management authorities and our support to international finance institutions has increased significantly," says Marc.
Wherever JBA operates in the world, its focus is on climate adaptation and resilience – a reflection of what the business is, and a demonstration of the importance it places on contributing positively to global sustainability. "Our teams are global leaders in their fields of expertise, and we place a great deal of value on the support provided through partnerships, and with local consultants and organisations too. We have been hugely successful in this regard, delivering more than 40 international development projects in the last five years alone."
Investing in resilience
For Marc, by far the biggest contributor to JBA's success is its people, and the business invests heavily to continuously develop talent, skills, and expertise. "We invest in our innovation and technology too. This is also what sets us apart from others. We have many examples of technology implementation that has transformed the services we offer, the solutions and advice we provide and even just the ways we work."
One such example is how the company supports service delivery with robust and streamlined information management. "Through work on national-scale flood mapping projects across the world, JBA has had to master the ability to securely store, and to make accessible, petabytes of spatial data. We have achieved this through a combination of Cloud storage and our own dedicated UK-based datacentre. We have also invested in hardware such as IBM Netezza® and GPU-based grids that are designed for multiple scenario modelling and massive spatial queries. By offering an enhanced capability to undertake work at portfolio level, this helps in the delivery of more traditional services, such as engineering design too."
As the largest UK provider of flood, hydrological, and hydraulic modelling. JBA not only has licenced capacity to use all the leading software packages, but is also able to deploy its own in-house software, such as JFlow®. "JFlow was born out of our investment in research and development. It is a world-leading software package for simulating flood risks at anything from local to continental levels, including river,
surface water, coastal and dam break floods. It was the first modelling package of its kind to make use of GPU technology, meaning that simulations are completed faster and more efficiently. Our owned and operated GPU-based grids, and dedicated UK-based datacentre, support multiple scenario modelling and massive spatial queries at a continental, and even global scale, using JFlow."
Marc then goes on to discuss projects that have positively impacted the communities in which JBA works. "Those that stand out to me are the ones that support our ambition to lead in society's pursuit of resilience. More precisely – the projects that are helping communities, businesses, and the environment be more aware, and better able to adapt, respond and recover from the impacts of climate change.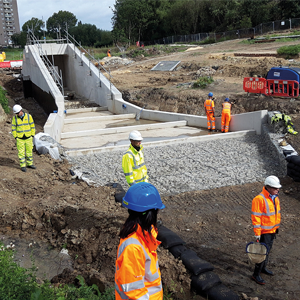 "This is most clearly evidenced by our international work, particularly for those developing countries and communities that are most at risk of flood, water and environmental threats, and most in need of resilience. For example, our support to the Start Network, with its network of over 80 aid agencies, to develop Disaster Risk Financing systems, allows civil society in-country to proactively manage disaster risks such as droughts, heatwaves, and floods. Their aim is to reduce the impacts of weather extremes and disasters by quantifying risks in advance of disasters, pre-positioning funds, and releasing them according to pre-agreed plans, enabling earlier action, reducing the costs of disasters and increasing climate resilience. In Pakistan and the Democratic Republic of Congo, and working with the African Risk Capacity, in Cote D'Ivoire, Madagascar, Mozambique, Togo, Ghana and Malawi, JBA's research in science and real-time modelling and forecasting is directly supporting development of systems to estimate populations likely to be impacted by flooding at a range of timescales from one to ten days ahead. We are able to draw on our existing investment in JBA research, models and datasets to deploy such forecasting systems rapidly upon project initiation, and support clients to integrate local models and data. Building local capacity and expertise to keep the DRF systems insurable and fit for purpose," he expresses.
Original thinking
It is also evidenced, at a project level, in the support the business provides clients in developing new policy, strategies, or tools to increase resilience or adapt to climate change. For example, the National Infrastructure Commission (NIC) tasked JBA to develop a model that could estimate the optimal investment in managing flood risk in England over the next thirty years. The NIC needed to investigate the economic and fiscal feasibility of national standards for flood risk management that all communities could expect to receive. It needed to explore the trade-offs between standards of protection and percentage of gross domestic product in more detail than existing tools could. "The analytical tools we developed involved identifying the range of adaptation activities and likely cost requirements for achieving different standards of protection across the country. The model informed the drought and flooding chapter of the National Infrastructure Assessment, specifically providing the scale of costs that would be required to meet different standards of protection. The NIA's recommendations for reducing the risk from flooding, taking account of the findings from the model and tools we delivered, went on to inform Defra's Policy Statement on Flood and Coastal Erosion Risk Management and the National Flood and Coastal Erosion Risk Management Strategy for England," shares Marc.
Through such projects, each of which is at the cutting edge of JBA's collective efforts to increase society's resilience to climate change, the team brings expertise, application and original thinking. "This draws upon our knowledge in catchment management, flood impact analyses and mapping, and climate services standards, alongside proficiency in statistical analysis, software development, and climate data needs and assessment. Together, we lead in flood and coastal erosion and climate resilient services relevant to the needs of a rapidly changing water environment," he says.
Sustainable solutions
Regardless of the work JBA has already completed, this multi-award-winning business is not done yet. With extreme weather events such as floods and drought more likely in future years, society needs to be prepared. Currently, one million homes in the UK have more than one per cent chance of flooding in any given year, and there is a one in four chance of a severe drought before 2050. The demands on our water and wastewater systems are increasing as the population grows. To avoid the risk of severe drought, analysis by NIC suggests that additional water supply and demand reduction totalling 4000 million litres per day needs to be delivered by 2050. "This is an important moment for our sector. The drive for resilience is critical, but it is also exciting and presents opportunity. JBA is and will continue to be an independent, employee-owned business, with exceptional people doing exceptional things. Nobody is better placed than JBA to lead in the pursuit of flood, water and environmental resilience," Marc concludes.