Phill Davies asks if logistics are the forgotten piece of the smart city jigsaw
By 2050, more than six billion people1, or 75 per cent of the world's population, is projected to be living in cities and therefore the need for this growing urban population to live safely and prosperously will require financial investment in disruptive technologies. Cities will need to operate more efficiently without compromising environmental issues associated with urbanization such as traffic congestion and air pollution.
Plans for future cities include a range of smart systems designed to provide a sustainable environment for its citizens to live in. Energy, buildings, infrastructure and governance are such examples. Often, new developments tend to focus on the movement of people without considering the issues surrounding freight transportation and how to service these growing populations.
When we talk about the future of transport or smart mobility, the focus is often on measures designed to tackle rising traffic congestion, such as IT and communications technology, autonomous vehicles, congestion charging, car-pooling and traffic-free zones. While these are all sensible and worthwhile solutions, one aspect that is often overlooked is how to improve logistics and reduce the number of freight deliveries throughout our cities. This issue is a significant contribution to air pollution and therefore presents one of the biggest barriers to local authorities reaching their net-zero goals.
Even in pre-pandemic times, the number of delivery vehicles on our roads was growing at an alarming rate. The Department for Transport reports that in the last 25 years, between 1993 and 2018,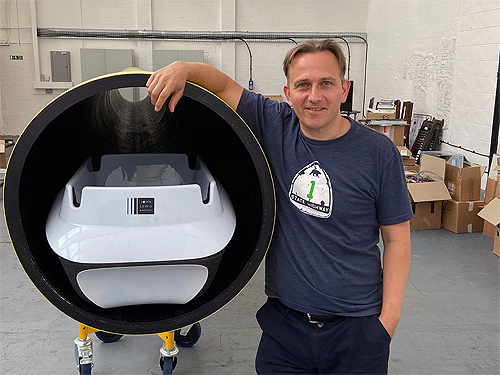 van traffic saw the fastest growth of any motor vehicle, almost doubling to reach a record high of 51.0 billion vehicle miles (BVM). These miles are clocked up by vans and articulated vehicles delivering more than 2.5 billion parcels and an estimated one billion online grocery orders to homes throughout the UK. The dramatic rise in e-commerce has exacerbated urban congestion, while the global pandemic has accelerated this trend as societies adapt to working and shopping from the safety and comfort of their homes.
To reduce our reliance on the increasing number of delivery vehicles, Magway has developed a ground-breaking goods and services transport system that will rely on a network of underground pipes to initially deliver parcels between distribution centers and consolidations centers and from there to large campuses such as airports; the aim being to substantially reduce vehicle emissions, accidents, maintenance costs and traffic congestion.
Underground freight systems could provide the logistics backbone for future new smart capital cities such as those planned in Indonesia and Nepal and other major international developments such as Dubai and Jakarta. Closer to home, there are several major infrastructure projects and greenfield new developments in progress or early proposal stages. For example, Fawley Waterside, billed as the MagwayUK's first 'Smart Town', Old Oak and Park Royal (OPDC), five garden towns along the OxCam corridor, HS2 and plans for new bridges such as the 'Celtic Crossing' could easily incorporate such pipeline delivery systems.
Within cities themselves, new apartments and office blocks have a ready-made receptacle for deliveries with underground car parking generally already incorporated into the designs. With an expected decline in car ownership these, as well as underutilized car parks, present a great opportunity for smart cities to embrace such technology. In areas such as London, there's potential to recommission and incorporate some of the unused infrastructure already installed beneath the city. The abandoned 6.5 mile 'Rail Mail' network is a prime example, as is some of the gas network, which is in the process of being replaced.
Working alongside civil engineering partners, Magway will use a combination of new and existing infrastructure where possible. Initial plans will be to provide short delivery routes to alleviate the stress on local freight traffic travelling in and out of major airport hubs, such as London Heathrow. Following this, construction work will commence around 2023 on the first of its longer routes of up to 100 kms that will ultimately form a network of delivery pipes connecting the UK, which will run either along motorways and A-roads and/or railways or alternatively under fields.
The strict Covid-19 lockdown measures witnessed throughout the UK's major cities have perhaps provided a glimpse of what future cities might look like. Fewer cars and articulated vehicles on our roads, cleaner air and safer, more sustainable ways of moving from A to B, such as increased provision for cycle lanes, are at least a few positives to have emerged. Continuation of such environmental progress will also require a step-change in our approach to reducing traffic congestion; one that embraces innovation and adopts a more visionary approach.
Like all revolutionary transportation systems, there will be challenges. We are at a crossroads where the interests of governments, the public and commercial organisations are aligned. What is clear is that a more holistic approach to smart city design is required; one that should include provision for the construction of sustainable infrastructure to allow freight and e-commerce deliveries to be made in a safe, more efficient and environmentally friendly way.
1 https://assets.publishing.service.gov.uk/government/uploads/system/uploads/attachment_data/file/526238/Smart_Cities_Pitchbook.pdf
Phill Davies is Co-founder/Commercial Director, at Magway. Magway is a revolutionary e-commerce delivery system that improves air quality and congestion by removing significant number of parcels and the delivery vans that carry them, from highways and urban areas. Combining its proprietary technology with existing tried and tested solutions Magway delivers goods more reliably, with greater predictability and at a significantly reduced operating cost.
For more information, please see: www.magway.com