Derbyshire Specialist Aggregates
One of the largest manufacturers of aggregates in the UK, Derbyshire Specialist Aggregates (DSA) is the natural first port of call for business customers, domestic clients (via its Decorative Aggregates brand) and even celebrity gardeners
Covering all the bases!
One of the largest manufacturers of aggregates in the UK, Derbyshire Specialist Aggregates (DSA) is the natural first port of call for business customers, domestic clients (via its Decorative Aggregates brand) and even celebrity gardeners
Having significantly evolved and grown over the past 34 years, the array of products available from DSA is so extensive that the business can help with projects in an impressively diverse range of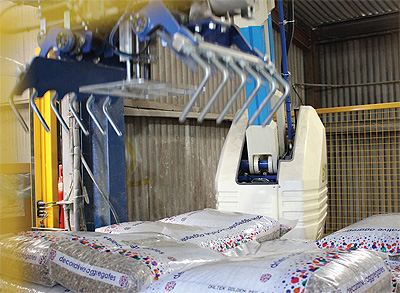 areas, including decorative landscaping, flooring, pebble dashing, rubber play and landscaping, industrial and dried minerals, coloured quartz, thermoplastic and anti-skid surfaces, decorative concrete, filtration or terrazzo flooring. Moreover, DSA has also built an expertise in resin bonded and resin bound applications, adverse weather solutions and roofing.
"The rich catalogue of products allows us to operate in many different sectors, which makes us stand out from the competition and gives us a relative robustness against market conditions," comments Sam Buckley, Managing Director of DSA. "Over the years, our flexibility and willingness to work together with customers on bespoke projects means we have developed an ability to identify different market opportunities as they arise. This strength of expertise and breadth of knowledge gives us some resilience to potential market changes – if one particular market takes a dip, we can make the most of another emerging opportunity and are more than capable of dealing across multiple sectors."
DSA sources materials not just from the UK, but also the rest of the world, meaning that the company can offer an unrivalled range of colours, sizes and shapes to suit all applications – for example, white marble from the Dolomite Quarry in Spain, and calcined flint from plants in Denmark and France. The business prides itself on offering 100 per cent stock availability at all times and keeps thousands of tonnes of raw material and finished product ready for next day delivery.
These stocks are held across five UK sites, including Ryder Point, Bridgend, Port Penrhyn and Garston. These facilities have the capacity to produce many types of industrial and decorative materials, while the Arbor Low plant offers custom processing, resulting in washing, drying, screening, crushing and bagging to a variety of sizes. DSA has the ability to package materials in a variety of different ways to suit the customers' requirements, and this approach requires the company to invest in and maintain the most up-to-date machinery and equipment. The latest investments – a dual bagging line and an automated hooder – have both increased efficiency, helping to ensure that aggregate bags arrive on site in pristine condition.
"Over the last three years, we have invested around £4 million in capital, which included the purchase of the bagging line, as well as the construction of a new distribution centre. In addition, we are planning to implement capital projects in excess of £1 million this coming winter," Sam clarifies.
Given the breadth of expertise in aggregates that is on hand at DSA, it was a natural extension for the business to offer a wealth of technical support and experience to its clients, either in-house or on-site. Utilising its large aggregate library and expert staff, DSA is able to assist clients in finding the materials they need and even offer a matching service for existing sites, or provide guidance when embarking on new projects. Furthermore, its specialist processing means that it can tailor-make products for the most unusual or bespoke applications.
Thanks to a huge range of in-house samples, DSA can provide a match for virtually any material for any project, as well as create sample boxes for clients to take to their customers, including individual samples of any products required. DSA has full confidence in the benefits of this approach, as the company believes that clients have a vision or expectation of what they need – be it technical or aesthetic – and a sample shows their expectations have been met.
Customer requirements
DSA's services also extend to nationwide delivery, where its transport network supports customers across the UK. Thanks to a variety of transport methods through reliable subcontractors, DSA can be flexible enough to adapt to customers' requirements, making sure they get the right product when they need it, where they need it. What unites all the partners in the logistics network,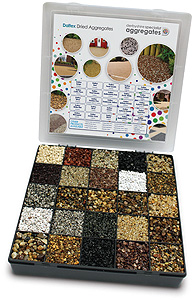 whether they be quarries, hauliers or contractors, is a passion to deliver quality materials to the customers.
"The recent boom in the market is around the resin bound sector," Sam remarks, moving onto current industry trends. "We are in a very strong position there, because of our ability to source almost any aggregate to meet our customers' requirements, and have also become known as the go-to supplier in the industry. For instance, between 2012 and 2014, we worked on the Government's ECO scheme, which involved supplying thousands of social housing units with dashing grade insulation. We also supply Buckingham Palace and have done work on a number of football grounds. In total, 50 per cent of our business at the moment is taken up by the resin bound sector in the domestic market and our DALTEX brand is fast becoming recognised as the number one choice for resin bound."
DSA has developed a website for resin bound aggregates specifically – https://resinbondedaggregates.com. This comprehensively answers any question a newcomer to the sector may have as well as providing experienced installers with the range of products and equipment they require.
While resin bound and resin bonded systems sound similar, they look and perform very differently. Put simply, resin bound provides a smooth surface, which is both porous and SUDS compliant, while resin bonded offers a rough, non-draining surface. To ensure that customers find the ideal resin solution for their needs, the website includes advice and videos to help them make informed decisions prior to purchasing. The company is so committed to ensuring the highest standards of resin bound installation are promoted, it has heavily invested in an on-site training centre and offers a one-day training course which is run by independent contractors. One free place is available to every company.
Raising the profile
Although B2B sales constitute the majority of DSA's turnover, there is still some 25 per cent that are generated by the business' 'Decorative Aggregates' brand, through which it sells directly to the consumer. "This business started in 2008, right at the start of the recession when we could see issues coming up with the general market. We have been able to harness the potential of ecommerce, growing the brand through a superb website and a fantastic product offering," Sam enthuses.
When you have a culture of quality and excellence such as that embraced by DSA, staff have to be not only fully involved, but also closely and demonstrably valued. Given the robust environments in which aggregates are created, it is just natural that the safety of employees is of utmost importance to the company. As such it ensures a culture of safety is embedded throughout its operations, with the wellbeing of employees, ontractors and site visitors viewed as a number one priority.
It would be easy to think of the world of aggregates as simply stone and gravel, but DSA can be used as a case study for the range of options that is actually available in the market. Whether it is supplying Scottish Cobbles to an Alan Titchmarsh design on the TV programme Love Your Garden, or generously donating resin bound paths to DIY SOS – The Big Build, DSA is raising the profile and reputation of aggregates, demonstrating their wide variety and scope and proving that through hard work, dedication and investment, it is possible to grow an extremely successful and industry leading company – even from humble beginnings in a garden shed!
Derbyshire Specialist Aggregates
Services: Producing and supplying specialist aggregates